No rest for the wicked... managed to wake up in time... got to Orchestra Hall with 30 minutes to spare... Freeway traffic was moving quickly... although I haven't seen so many big 38-wheel trucks in ages.... must be some really heavy trucking here in Detroit...
I'm sitting at the conductor's feet right up front, along with the other members of the "folk ensemble" who are seated in a semi-circle around him... to my right is banjo player Alan Ayoub from Detroit... next is mandolinist Allan Slutsky from Cherry Hill, New Jersey.... then soprano saxophonists Erik Ronmark and Dan Graser...
Rehearsals without soprano soloist this morning and afternoon, with a one-hour lunch break... and the orchestra (and I) needed the work-out! really tricky meters and counting... metric modulations abound... really great music... but difficult to play.... I asked DSO Personnel Manager Stephen Molina if he had a metronome I could borrow.... He DID! Happiness is a steady metronome... now maybe I can master these tricky parts...
Got back to the hotel, grabbed a bit to eat, and then fell asleep on the bed... needed a nap... practiced a bit... At 6 pm Bob Berta--former president of the Michigan Accordion Society and friend for the last 16 years since I met him in San Francisco when I performed for the San Francisco Accordion Club--picked me up and took me to the ConCorde Inn of Rochester Hills where I was scheduled to play a solo recital for members of the Michigan Accordion Society...
Bob uses a GPS unit in his car to get around... he told me the event was north of the city off I-75... I was curious why he turned west on I-696 instead of east... but I didn't say anything.... he followed his GPS and went in a big 10-mile circle and ... lo and behold... I see the sign for Orchard Lake... the exit for my hotel.... We had just wasted 15 minutes driving in a circle! Bob laughed it off... he's a dedicated follower of his GPS... He told me, "I just do what she tells me. Maybe it takes longer... but she always gets me to my destination." Me? I'd rather have a good road map...
Such a beautiful facility... owned by a member of the MAS... the bar was open... drinks were only $2.00... can't beat that! Bob bought me a Gin & Tonic, and later a Dewars & Soda Water....
Played about an hour... works by Brahms... Schubert... Guido Deiro... Pietro Deiro... Astor Piazzolla... Richard Rodgers... and I told stories about the music between playing....
I was a bit concerned as many of these pieces I hadn't played for months.... I guess I don't show much of an example for aspiring musicians.... playing a concert from memory and not even warming up.... but I've played these pieces dozens of times in concert before... and I wasn't terribly worried.... in any case, it went pretty well... I was (mostly) pleased with my playing, and the audience was attentive and responsive and appreciative....
After the concert Bob took a collection and passed my accordion case, into which audience members tossed in five and ten dollar bills... then I sold a fair amount of CDs and books.... I actually made more during that hour than I would playing an hour for the DSO!
Then Bob treated me to dinner along with two other MAS members.... didn't get home till midnight... but it was a great day... non-stop and little time to catch my breath... but productive and enjoyable...
Maestro Leonard Slatkin and Composer David Del Tredici embrace.
Wednesday, March 1, 2012
Today, , Instead of taking I-75 to Orchestra Hall, I thought I'd take a shorter route: Highway 10 from Farmington Hills.... but I hadn't prepared... I didn't know which exit to get off on... but I figured I'd guess and I'd be alright.... Well, I managed to be alright but for about 10 minutes I was mighty bewildered... didn't know which way to go... I was about to turn around and I saw Woodward Ave... That's the street I'm looking for... but I was still about 4 or 5 miles too far west.... zoom.... zoom... got there with 10 minutes to spare... I think sometimes my life is not exciting enough... so I have to subconsciously do things like that to get my adrenaline rush... coffee must not be enough for a passionate guy like me...
Rehearsal this morning with soprano soloist Hila Plitman... wow! I'm always impressed with her voice, her musicianship, her stage presence, her prodigious memory and her warmth and affection....
This is the third time I've had the pleasure of serving in an orchestra with her as soloist.... twice before with the Pittsburgh Symphony Orchestra and the Cleveland Chamber Symphony...
Today's rehearsal was really good... I felt good today after reading through the piece yesterday... and during the break I practiced some particularly difficult sections with banjo player Alan Ayoub and mandolinist Allan Slutsky...
12:30 pm... we're done! I'm free for the rest of the day... After visiting the local library where I posted these three notes, I think I'm gonna find a good cigar bar and relax for a couple hours.... I believe I deserve a break!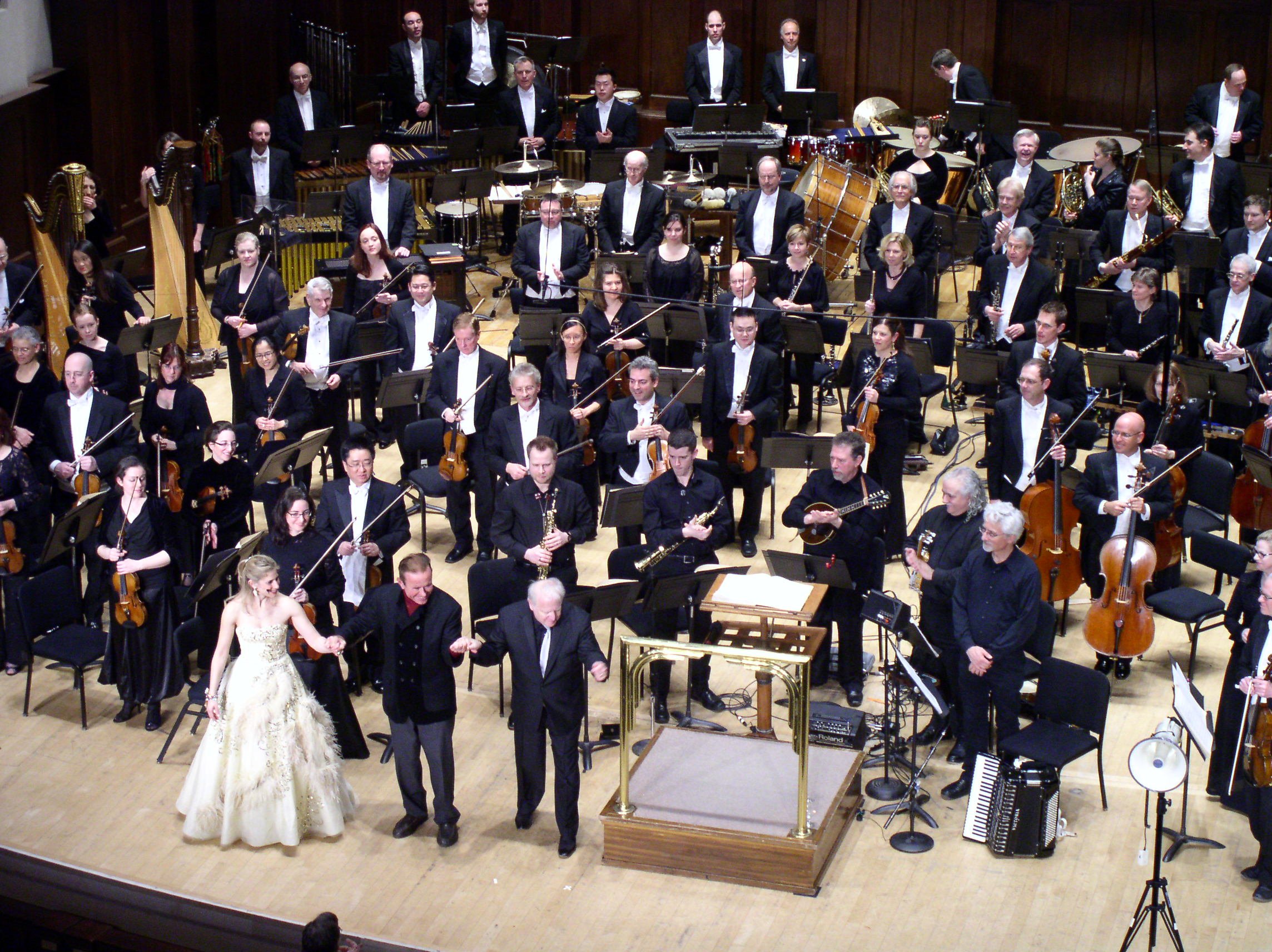 Soprano Hila Plitmann, Composer David Del Tredici and Maestro Leonard Slatkin acknowledge audience applause.
Thursday morning, March 2, 2012
haha! I never did make it to a cigar bar yesterday, but maybe I will today! (after I finish typing this report on a public computer at the Farmington Community Library). Am I the only dinosaur who doesn't own a laptop? :)
This morning, we had our dress rehearsal... and nobody was dressed (in concert attire, that is)... While the orchestra was playing Prokofiev's "Peter & the World," banjoist Alan, mandolinist Al & I found another auditorium in the building and practiced a few sections from our Folk Enesemble parts... I think we've finally got it down!
Everything went really well during our dress rehearsal... I was pleased with my playing, and everybody sounded good... During my tacet sections I took the liberty of taking photos of the orchestra & Maestro Slatkin... when I get home next week I'll pick the best ones and create a facebook photo album...
I should mention that both Maestro Slatkin & Soprano Plitmann appear to me to be exceptional human beings.... Quite a few conductors and sopranos have reputations as egomaniacs--persons with an obsessive preoccupation with their selves possessed by delusions of personal greatness. The word "diva" exemplifies this; it is derived from the Italian noun diva, a female deity.
However, both Slatkin & Plitmann appear to be humble at heart, despite their greatness. Truly they are both, in my opinion, great musicians, but they also realize that they are not perfect and that they sometimes make mistakes. Yesterday Maestro Slatkin stopped the rehearsal and asked the viola section, "did I make a mistake?" I notice he is careful not to hurt the feelings of the musicians, even when they do make a mistake and he has to stop and correct it. He seems to want to "build up" the musicians, not "tear them down." I've heard stories about Lorin Maazel and other PSO conductors who were very difficult to work with... like a military sergeant perhaps...
Another time, Ms. Plitmann had been standing between me and the house for some time during rehearsal, and during the break apologized to me, as if she thought I did not appreciate that she would be blocking the audience's view of me! I was surprised by her concern. Truly I don't care if people can see me or not. After all, she IS the featured soloist for the concert. HER photo (not mine) appears with the DSO media releases. I smiled and said, "You're the soloist. You can stand anywhere you want on stage. I'm just a humble accordionist." She countered, "No. You're a great musician."
Slatkin & Plitmann are people that I can admire on many levels... not simply on a musical level, but as great human beings whom I consider more advanced in consciousness than the average...
Our first concert is tonight at 7:30.... I'm looking forward!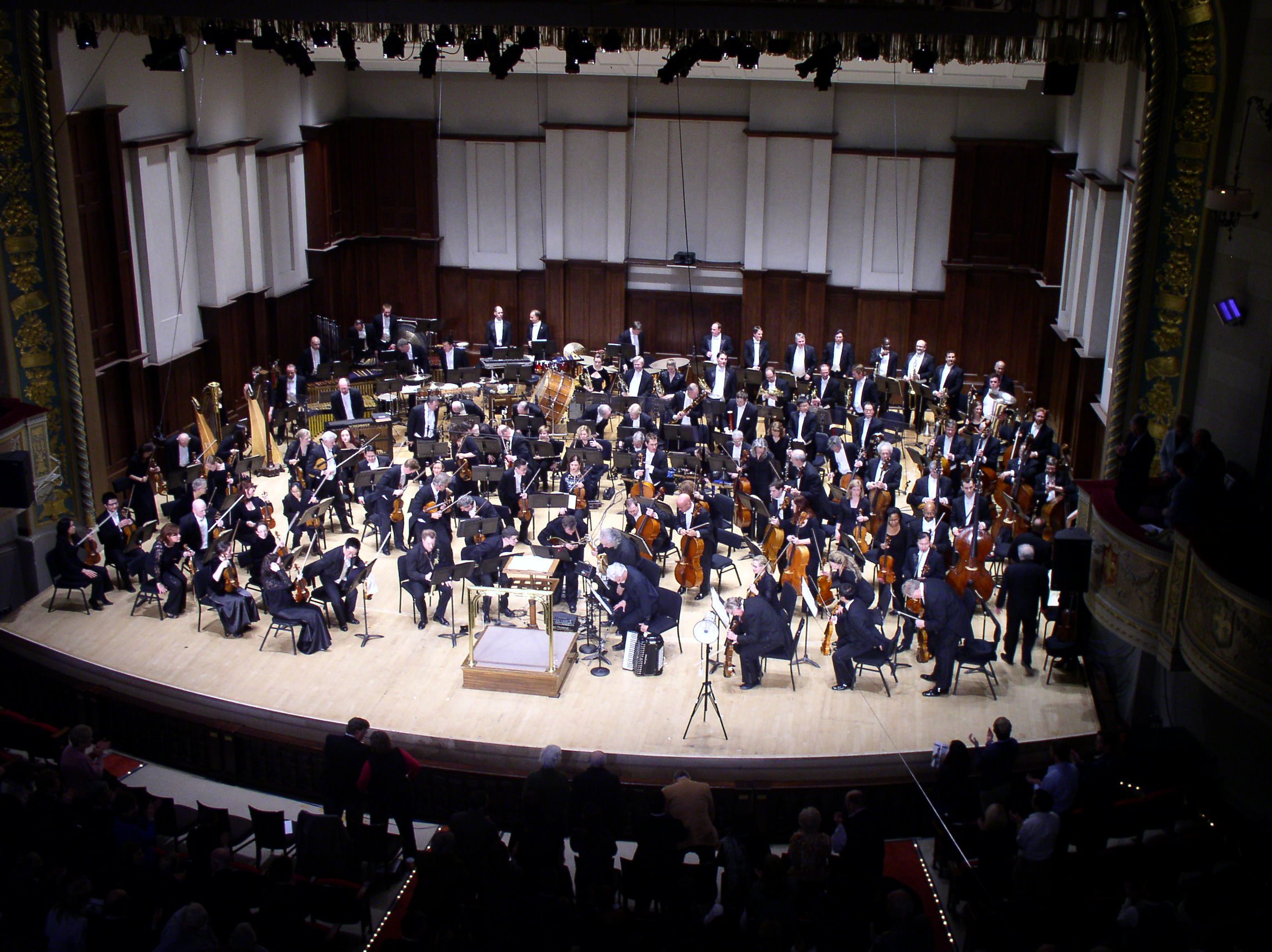 Musicians sit down after acknowledging audience applause.
Thursday evening, March 2, 2012
Tonight was the premiere performance of David Del Tredici's "Final Alice" with the Detroit Symphony Orchestra. Once again, Allan & Alan & I practiced some of our parts while the orchestra performed Prokofiev's "Peter & the Wolf." Around 8 pm the first piece on the two-part program was finished and we walked on stage, set up and warmed up some more.
This piece is a challenge, by all accounts. For one, it is written for a large orchestra. DSO Personnel Manager Stephen Molina (who, by the way first started his musical career by playing accordion) told me he had to hire 51 extra musicians for this concert. The orchestra is HUGE! consisting of:
Orchestra:

strings: full compliment of first & second violins, violas, celli & double basses
woodwinds: 4 flutes, 2 piccolos, clarinets, oboes, English horn, 4 bassoons, contrabassoon
brass: trumpets, trombones, 6 French horns, tuba
8 percussionists playing: anvil, bass drum, bongo drums, chimes, cowbell, crash cymbals, crotales, glockenspiel, hi-hats, marimba, ratchet, siren, snare drum, suspended cymbal, tam tam, tambourine, temple blocks, tenor drum, theremin, timpani, tom toms in 4 pitches, vibraphone, whip, wind chimes and xylophone
keyboard: celeste
2 harps


Folk Group:

2 soprano saxophones, mandolin, banjo & accordion
The atmosphere was charged with excitement as the musicians warmed up, then tuned... soon Maestro Slatkin appeared on stage amidst audience applause and he spoke about the piece for a few minutes, explaining how he happened to be at the premier of this piece in Chicago in 1976 and how it revolutionized contemporary music, because at the time, modern music was written in a 12-tone academic style which was in vogue at the time. David Del Tredici's piece blew the lid off the pot, so to speak, because it was written in a tonal style with some absolutely gorgeous melodies. Maestro mentioned that the audience left the hall that night in Chicago humming the tunes...

When he finished speaking, Ms. Plitmann began the opening narration while entering through the orchestra on stage left.... she was wearing a gorgeous formal gown...

The concert went very well and the audience seemed appreciative. It was quite a pleasure for me... not everyday I get to perform great music in a great hall with a great orchestra with a great soloist under the baton of a great conductor... Our second & final concert is Saturday at 8 pm.

Tomorrow, my friend Bob Stead, webmaster for The Classical Free-Reed, Inc. website (which I started in 1997) is taking me out to lunch & dinner and visiting the Henry Ford Museum. It really is great to have some friends in Detroit, like Bob Stead & Bob Berta (who took me out Tuesday night).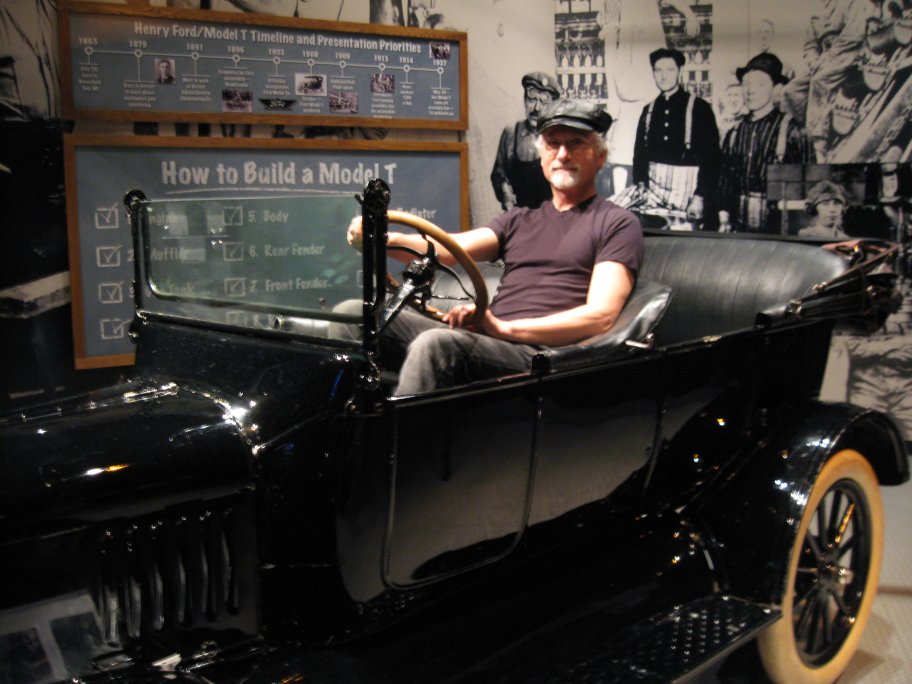 Yours truly having some fun in a Model T at the Henry Ford Museum in Dearborn, Michigan. Photo by Bob Berta.
Friday, March 2, 2012
Today was our day off.... no rehearsal or performance, so my accordionist/flutist friend Bob Stead first took me out to lunch and then to the Henry Ford Museum in Dearborn, Michigan. We had a great time.... I recommend this museum to anyone visiting Detroit.
Curiously, he mentioned that the day before he had received a facebook e-mail notification that someone had posted a comment on the Michigan Accordion Society's facebook page, something like, "Why is it that although we have so many great accordionists in the Detroit metropolitan area, the Detroit Symphony had to hire an accordionist from Pittsburgh, Pennsylvania?" Bob said that he continued to rant for some time, but when Bob went to the MAS facebook page, the comment had been deleted, either by the poster or by the administrator. I said, "maybe he thought that HE should have been hired to play the part," and Bob let out a hearty laugh.
Of course, I do not mean to create any animosity between myself and anyone else, especially another accordionist, but what can I do? I was asked to play the part, and I accepted. I'm sorry someone was angry about this.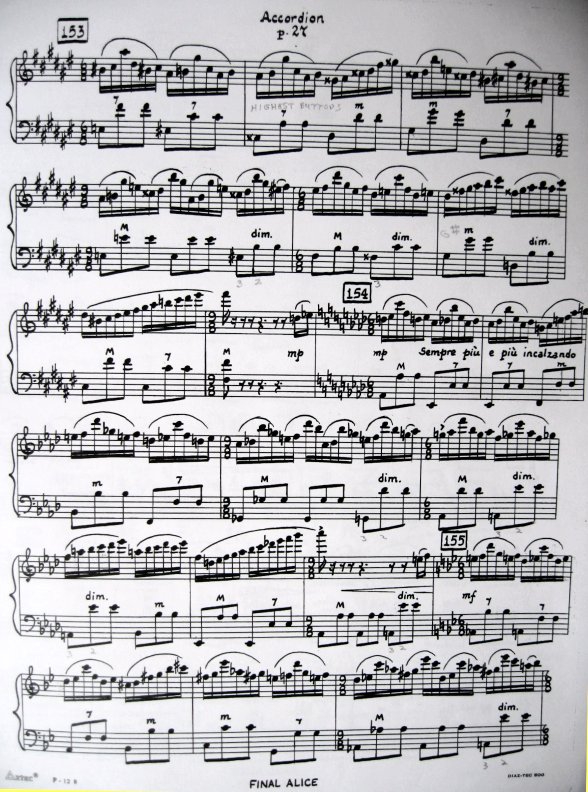 One page from the accordion part. Photo by Henry Doktorski.
Saturday, March 3, 2012
Tonight was the second and final performance of David Del Tredici's "Final Alice" by soprano Hila Plitmann and the Detroit Symphony, and it was my favorite performance of the two. For one, the hall was full and the audience was more attentive... I could hear them laugh at funny lines during Ms. Plitmann's narration. It is always more fun to perform when the audience responds so favorably... that is one of the great pleasures of the performing artist...
After the performance, I happened to see composer David Del Tredici backstage and I congratulated him and shook hands. He was extremely excited, and spoke something like, "This was the first time I ever heard all the notes in the accordion part [at rehearsal number 151]." This is the extremely difficult three-page section of the accordion part which goes like a bat-our-of-hell for three pages.
He seemed to recognize that I played the piece last year in Pittsburgh and then asked me if I had played when the piece was performed in Washington D.C. in 2009. I said, "no, I first played it last year in Pittsburgh."
He suggested that in the future, whenever the piece is performed, that I, along with other members of the "folk group," be contracted to play wherever it is performed in the U.S. He said that would improve the quality of the performances, as it is sometimes difficult to find musicians who have the skills needed to play these virtuosic parts.
I replied that I would be happy to travel around the country and play this music. Before we parted, Hart Hollman, violist in the DSO and professional photographer, took a picture of Mr. Del Tredici and me.
All in all, it was a wonderful time for me in Detroit, and I hope, as Mr. Del Tredici suggested, that I get to play this piece whenever Maestro Slatkin programs it.
---
All photos by Craig Weiland, unless noted otherwise.