Composer
Henry Doktorski began composing music around the age of ten, when he wrote solo pieces for accordion, and, a few years later, original music for his 8th-grade musician buddies who played with him in a rock band. In high school, he composed an anthem in Gospel style—We Are Chosen—(and other compositions) which was performed in concert by the Saint Peters High School Chorus in New Brunswick, New Jersey. While working on his undergraduate degree, he studied composition with Dr. Gerald Kemner at the University of Missouri at Kansas City. At Duquesne University in Pittsburgh, Pennsylvania, he studied with composers David Stock and Dr. Joseph Wilcox Jenkins, and received a Master of Music degree with a major in composition in 1997. Henry's original music has been performed in concert by Duquesne University faculty and by members of the Pittsburgh Symphony Orchestra, recorded on compact discs by Boston Records and Alanna Records, and broadcast on classical radio stations in the U. S. and Canada.
His works are diverse, ranging from short didactic pieces for solo instruments to a three-movement symphony for large orchestra: SpiritVision Triptych (based on the Native-American-inspired artwork of William Tracks—which served as his thesis during his graduate studies at Duquesne University); from simple liturgical chants to a monumental seventeen-minute set of nineteen piano variations for three players on the Dies irae theme, performed in recital at Duquesne University. Three original compositions—Serenade, Dance of the Angels for piano and accordion, and Dance of the Shepherds for string quartet—appeared on the 1993 CD release by Alanna Records: A Classical Christmas. His anthem, We Are the People, for vocal soloist, chorus and rock band, was commissioned by the American Labor Party, and performed at the David L. Lawrence Convention Center in 1998.
Henry's four-movement Sweet Toot! was commissioned and performed by the Duquesne University Tuba/Euphonium Ensemble and also performed by the Dutch accordion orchestra—Alphen Opus 2—during their U. S. tour (April 2000). His Rondo Polka for solo accordion appeared on the CD Classical Accordion Recital and was published by JANPress Publications, along with other original compositions. Henry's Three-Part Canon on "Stabat Mater" appeared on his 2007 CD, Ave Maria: Hymns to Mary, and was performed in concert by mezzo-soprano Raquel Winnica Young and the Bell'Art Ensemble.
He composed and directed two musical theater productions during his tenure as Minister of Music at the "City of God" (New Vrindaban) Interfaith Community in West Virginia: Journey to the City of God (1990), based on Swami Bhaktipada's book of the same title (an adaptation of John Bunyan's 1678 classic Pilgrim's Progress), and Prabhupada Lila (1991), based on episodes from the life of Swami Prabhupada, the founder of the Hare Krishna movement. During this time, he also composed liturgical music for the three daily services at the temple. A link to a recording of his orchestration of Within Vrindaban's Woods and Groves, one of the liturgical works he composed, can be found below.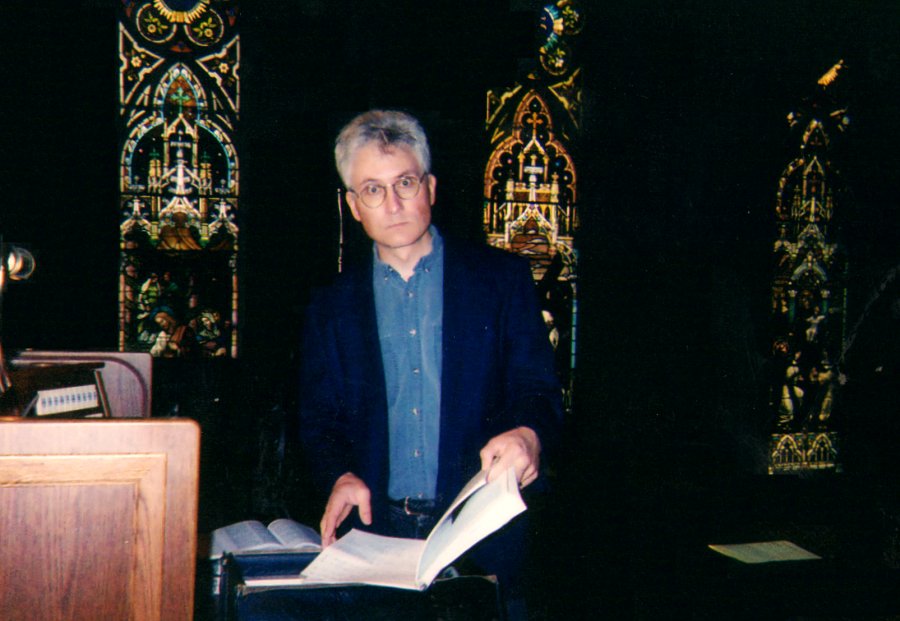 Henry has been recognized for crafting exceptionally beautiful melodies. Music critic Jeanne Belfy recognized his deceptively simple yet hauntingly beautiful Serenade for Harp and Oboe, recorded on Boston Records by Pittsburgh Symphony members Gretchen Van Hoesen and James Gorton, as a "tuneful bon-bon" in a review published by The Double Reed, and music critic George David Exoo wrote, "The melodic beauty of Henry's [three] compositions [on the CD A Classical Christmas] recalls Ralph Vaughan Williams' memorable comment on atonal music: 'And just what's wrong with a good tune?'"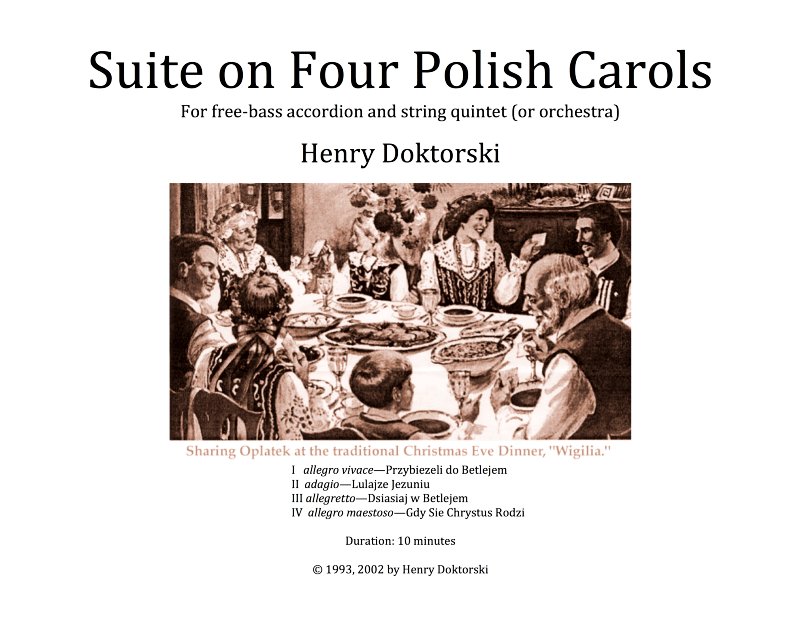 Henry's ten-minute-long Suite on Four Polish Carols for accordion and strings is probably his best-known work due to broadcasts by classical radio stations during the Christmas season. This piece was also performed by the Pittsburgh Civic Orchestra under the direction of Maestro Warren Davidson, and the Ames Iowa High School Orchestra under the direction of Maestra Mary Kay Polashek. For more about Suite on Four Polish Carols, Click Here.
In addition, Henry's 6-minute-long Fantasy on Marty Haugen's "Gather Us In," for organ, was appreciated by the well-known Catholic and Lutheran liturgical music composer, who wrote, "Dear Henry, I watched your excellent video on YouTube. Well done! You have a real gift for creating new and fascinating sounds, and a real talent for arranging. It sounds like the organ you are playing is an extension of your spirit. I am honored that you put such time and energy in re-creating my piece. Blessings to you in your ministry.―Marty"
Soundfiles and Videos of some of Henry's Original Compositions and Arrangements
Suite on Four Polish Carols (1st movement) for free-bass accordion and strings
Suite on Four Polish Carols (2nd movement) for free-bass accordion and strings
Suite on Four Polish Carols (3rd movement for free-bass accordion and strings
Suite on Four Polish Carols (4th movement) for free-bass accordion and strings
Jazz Fantasia on "Carol of the Bells" for free-bass accordion, string quintet and percussion
Serenade: Sleep, Baby Jesus for free-bass accordion, harp, string bass and percussion
Gigue: Dance of the Shepherds for accordion, piano and string bass
3-Part Canon on "Stabat Mater" for accordion quartet
Bach's "Polka" for accordion quartet
Fughetta on "Happy Birthday" for accordion trio
Rondo Polka for solo accordion
Theme and Variation on Richard Rodgers' "Edelweiss" for solo accordion
Romance for Chord Buttons for accordion left hand
Minuet: Dance of the Angels for string quartet
Within Vrindaban's Woods and Groves, for cantor, congregation, harp, flute, piccolo, string quintet, and percussion
Fantasy on Marty Haugen's "Gather Us In," for organ
Improvisation on "Easter Hymn," for organ
Improvisation on "God Rest Ye Merry, Gentlemen," for organ
Why Am I Here (with text by Rev. Gregory S. Clagg), for SATB choir, piano and hand bells
Blue Belle, for solo piano
Birthday Boogie-Woogie, for voice and piano