Chess4Kidz Team Wins State Championship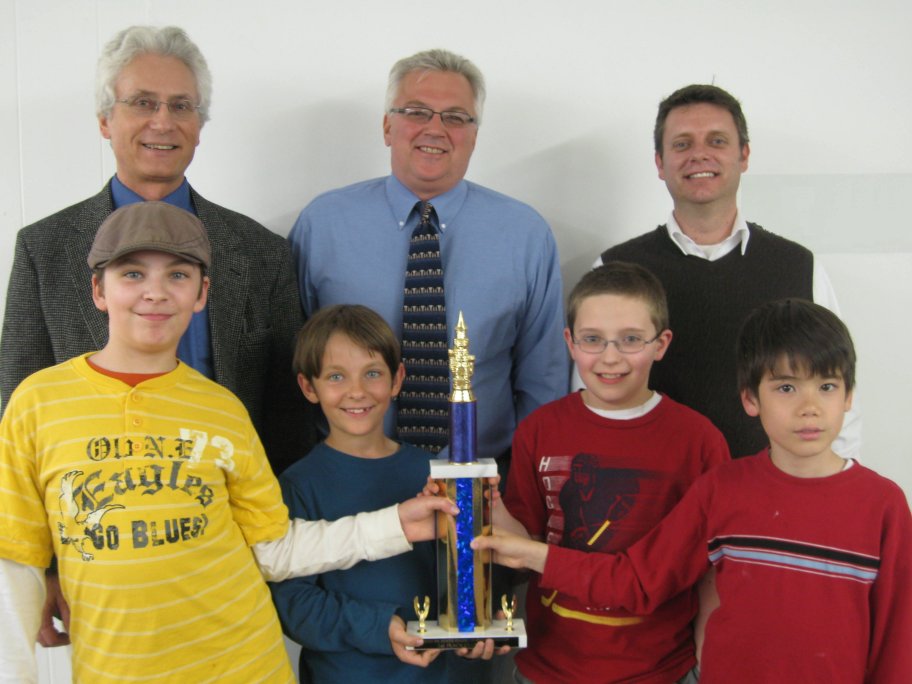 March 20, 2010: Henry's North Fayette Township Chess4Kidz team won the 1st-place trophy at the 2010 Pennsylvania State Game/29 Scholastic Tournament held at the University of Pittsburgh Student Union.
Henry said, "Two of my Chess4Kidz classes entered teams in the tournament: North Fayette Township and Bethel Park. Our teams competed against each other and also against teams from State College and the University of Pittsburgh in a five-round United States Chess Federation-rated tournament. After round four, North Fayette Township was listed on the score board in last place with 9 points. The leading team, State College had 10.5 points. I gave a pep talk to our team before round five and said if they won most of their games this round, we could perhaps win the second place trophy. Imagine my surprise when the dust had cleared and our team emerged as the first-place winner! State College did poorly during the final round, and our team won three games to secure our place as first place winners with 12 points, edging out our nearest contender by only a half point! I congratulate our team members, all between the ages of 9 and 12: Joshua Bennet, Isaac Bennet, Billy Robertson and Ko Prescott."
Team members also won trophies based on their individual performances. Joshua Bennet won the third place trophy in the entire scholastic division (out of 23 players), and his brother Isaac won the 1st-place trophy among players rated under 600. Billy Robertson won the 2nd-place trophy among unrated players.
Team members spoke about their experience competing against and beating the other teams. Isaac Bennett said, "It was a new and exciting experience for me. I haven't been in a tournament quite like that before. I really enjoyed it. I won a few and lost a few but all in all I had a really good tournament."
Joshua Bennett said, "It was one of the greatest experiences I've had. It was my first tournament so I didn't know what to expect, but in the end I came out third which made me feel that I was a lot better of a chess player than I thought I was."
Ko Prescott said, "It was a tough day, but I enjoyed the tournament. I was surprised and very happy to hear 'North Fayette' when they announced first place."
Bob Brozovich, director of the North Fayette Township Department of Parks and Recreation Department, which sponsors Henry's Chess4Kidz classes, said, "We are REALLY proud of our team. Our trophy will be displayed prominently in my office and I invite other youngsters to study chess with Henry and join our team."
Henry currently conducts Chess4Kidz classes at the North Fayette Township Community Center in Imperial, and also at the Bethel Park Community Center in Bethel Park, Pennsylvania.