Chess Instructor
Chess4Kidz
Henry Doktorski is not only a musician, he is also a Chess4Kidz instructor, tournament director, and trophy-winning chess player. He began playing the game at the age of three, he was president of his high school chess club, and today he is a member of the the United States Chess Federation, the Temecula (California) Chess Club, and a former member of the Pittsburgh (Pennsylvania) Chess Club. Mr. Doktorski plays in about a dozen tournaments a year.
In 1997, he won first place in his division at Pittsburgh's largest annual tournament, the Pittsburgh Open. In 2012 he tied for first place in his division at the same tournament. He tied for first/second place in the 44th Fred Thompson Memorial Tournament at the Pittsburgh Chess Club (June 21, 2014). He achieved the ranking of a Class A Player (his highest recorded rating was 1951 points) in August 2014. Currently he is ranked in the 92nd percentile among 61,668 USCF-rated players in the U. S. He taught Chess4Kidz classes in Allegheny and Butler Counties (Pennsylvania) from January 2007 until December 2015, and since February 2016 has been teaching classes in Riverside and San Diego Counties, California.
In Pennsylvania, Mr. Doktorski has taught at Bethel Park Community Center (2006-2013), Robin Hill Park in Moon Township, and the North Fayette Township Department of Parks and Recreation (2008-2010) where his team won the First Place Trophy at the Pennsylvania State Game/29 Scholastic Tournament at the University of Pittsburgh (March 2010). He has taught at the Cranberry Township Community Center, Bradford Woods Elementary School, Fanny Edel Falk Laboratory School, and Saint Kilion Parish School.
In March 2010, Mr. Doktorski's North Fayette Township Chess4Kidz team won first place in the Pennsylvania State Game/29 Scholastic Tournament held at the University of Pittsburgh Student Union. In June 2015, Mr. Doktorski's student Shane Patrick Mills won first place in a field of 22 other players in the Beginner Section at the 22nd Western Pennsylvania Scholastic Championship Chess Tournament.
Since moving to California in January 2016, Mr. Doktorski has taught Chess4Kidz at:
America China International Exchange After School Program in Temecula
EEE Learning Center at Grace Presbyterian Church in Temecula
Erle Stanley Gardner Middle School in Temecula
Harvest Hill STEAM Academy in Winchester
HomeSchool Campus Charter School at Murrieta Church of Christ
HomeSchool Charter School at Christ the King Lutheran Church in Fallbrook
Independent Learning Academy at Faith Community Church in Carlsbad
Linfield Christian School in Temecula
Rainbow HomeSchool in Canyon Lakes
The LAB includEDucation Homeschool in Lake Elsinore
Thrive Learning Center at Seacoast Community Church in Encinitas
Van Avery Prep in Temecula
Vintage Hills Elementary in Temecula
Henry has also served as Coordinator of Educational Programs for the Temecula Chess Club.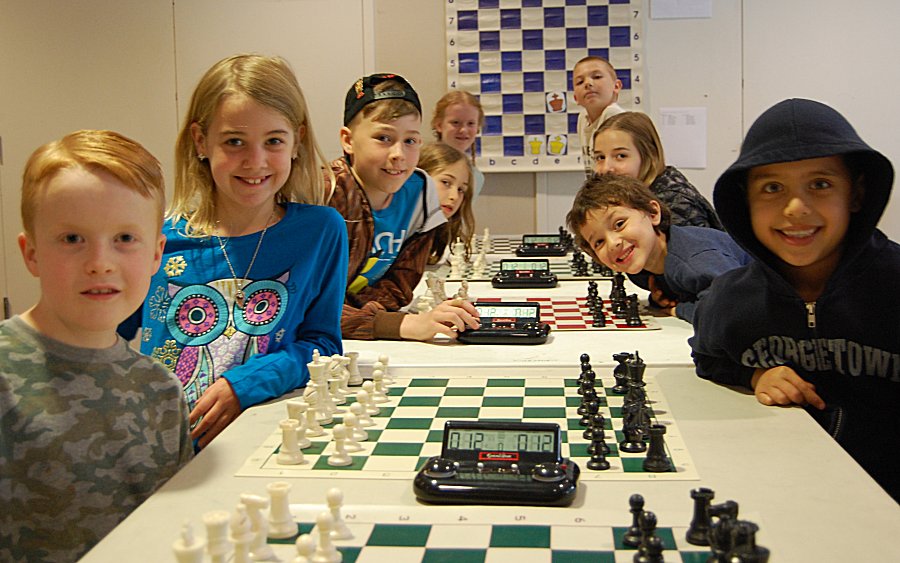 Mr. Doktorski's Chess4Kidz classes can provide the following benefits to its participants:
• helps develop mental concentration, self-discipline, and patience,
• encourages students to think before acting, to examine and accept the consequences of one's actions,
• teaches thinking on one's feet,
• helps develop good sportsmanship and moral character.
Benjamin Franklin noted, "The game of chess is not merely an idle amusement. Several very valuable qualities of the mind, useful in the course of human life, are to be acquired or strengthened by it."—On the Morals of Chess (1779)
Chess4Kidz classes are educational and entertaining, and consist of classroom lessons and actual games between students. Skills taught range from basic checkmates to rudimentary tactics and strategies such as pins, forks, skewer attacks, opening traps, opening theory, pawn structure, etc. Students examine memorable and instructive games of famous grandmasters. During tournament games students are paired against opponents of similar strength. Mental discipline and good sportsmanship are encouraged. All chess supplies are provided.
For more about Mr. Doktorski's Chess4Kidz Classes, click on the following links.
Chess Class Teaches Game, Life Lessons
Chess4Kidz Team Wins State Championship
Testimonials from Parents
•Mr Doktorski's Chess4Kids class is stellar to say the least. Not only does he teach his players great chess skills and tactics, he also teaches them good sportsmanship, proper etiquette in both winning and losing the game, and respectful consideration of classmates and elders. This class has been such a gift to my eight-year-old son, who continues to love chess and blossomed under Mr Doktorski's tutelage. We will continue to enroll every semester at Thrive Learning Center, guaranteed!—Cortney Olmstead, Encinitas, California
•My eleven-year-old son, Hudson, absolutely loves chess because of Mr. Doktorski and his Chess4Kidz class at Thrive Learning Center in Encinitas, California! My son has developed an understanding of chess tactics and strategies, and has an appreciation for the brilliance of the game. We are so pleased with what he has learned from Mr. Doktorski and he will be a student of his for years to come!—Kimberly Hawkins, San Elijo Hills, California
•My son has taken classes for over two years with Mr. Doktorski. During the last two years, my son has gone from an inexperienced chess player, to a skilled competitor. While I have enjoyed watching my son grow in his chess savvy, what I have loved most is what he has learned about sportsmanship and respect. Mr. Doktorski pushes his students to compete with all their might all while showing respect towards one another. In all the years my children have played sports, I have never had a coach that demanded that level of esteem for our opponents. I truly believe that the lessons my son has learned in Mr. Doktorski's class will benefit him long into adulthood. I cannot recommend Mr. Doktorski enough. He is an excellent teacher and a quality person.—Jennifer Helton, Murrieta, California
• Mr. Doktorski's Chess4Kidz class was the one class at the HomeSchool Campus in Murrieta which my son looked forward to the most. He has really started loving chess and I have seen so much improvement in his ability to play and concentrate. Even though he was one of the youngest in the class he was able to make some really strong gains. He also really enjoyed Mr. Doktorski as a teacher.—Camille Mora, Murrieta, California
• My son, Josiah, became interested in chess after his Dad sent him a hand-carved set while he was deployed overseas. Because my son missed his Dad and valued this gift so much, he made it his goal to learn as much about chess as possible. I began teaching him how to play. Chess is more than a game, especially to my son. I found it ironic how the concepts I was teaching him were similar to what his Dad was living in real life overseas. Chess teaches risk, sacrifice for the goal of the mission, tactics, value, utilizing your resources, understanding how your enemy thinks, moves and captures. I quickly realized this depth and immediately enrolled my son in class with Mr. Doktorski, whom I heard raving reviews about from other parents at the Murrieta HomeSchool Campus. My son can be shy, but was put at ease by Mr. Doktorski's calm and even-keeled demeanor. He is always approachable, friendly, and wears his intelligence and talents lightly for someone with such an extensive background/experience. This is my son's favorite class, hands down. Thank you so much, Mr. Doktorski, for your promptness and punctuality with follow up emails about the lessons and game results each week. Your professionalism is clearly on display and my son really has enjoyed getting to know you.—Brittany Greer, Murrieta, California
• Mr. Doktorski's chess club at Vintage Hills Elementary School has been a great learning experience for my son. Not only is my son learning chess skills and enjoying the game, he is also learning valuable life lessons. In the first session, he placed very last and wanted to give up. However, he had a change of heart and decided not to quit, but instead to practice and work hard to do better. He is learning that hard work and practice pay off. He improved tremendously in the second session. He is learning that it feels better not to quit, even if you lose sometimes. He is learning about sportsmanship, how to be a good loser and a good winner. Chess has become a game we play often at home, which has also been a great bonding experience for the family.—Blythe Wilson, Temecula, California
• I love that our school, Van Avery Prep in Temecula, offers the Chess4Kidz sessions. Mr. Doktorski's teaching style resonates with the kids & fosters a true enjoyment of the game. My son Jacob enjoys playing but I can also see the improvement in strategic thinking skills. Great program.—Lisa Perez Houghtaling, Menifee, California
• My son Joel has really enjoyed Mr. Doktorski's chess classes at HomeSchool Campus, Murrieta. Joel has learned so much in a short time. He thinks Mr. Doktorski is a fun and nice instructor! As a parent I was very pleased and impressed with the way Mr. Doktorski interacts with his students. He teaches them to think and improve their skill in a very positive and fun way. Strategy, focus, sportsmanship are just a few benefits learned through playing chess that will last a lifetime.—Paula Smith, Lake Elsinore, California
• I have three children taking Mr. Doktorski's chess classes at HomeSchool Campus Fallbrook and they all look forward to them each week. Each child has improved in their chess game, and more importantly thinks about strategy, and are less impulsive in their moves. I have seen this strategical thinking play out in other games that we play at home.—Melissa Burke, Fallbrook, California
• My son William had never played the game before, but Mr. Doktorski taught him the fundamentals of the game, strategy development, and patience. Mr. Doktorski is a great teacher, and my son left each session excited and wanting to play again!—Carla Lund, Temecula, California
• Mr. Doktorski's positive and unique instructional methods created an interest in chess that my son Connor will undoubtedly have for the rest of his lifetime; he introduced my son to chess and then took him to his first U. S. Chess Federation tournament.—Ken Summit, Pittsburgh, Pennsylvania
• My son Harrison not only improved greatly by taking in all of the lessons, but more importantly he has really developed a love of chess, a desire to play, think, and develop strategies. Mr. Doktorski's passion for the game is contagious, and it's evident in his students' shared excitement during each class. We cannot recommend a chess teacher more highly!—Katie Salvi, Pittsburgh, Pennsylvania
• Mr. Doktorski's chess class is the best chess class my kids have taken. He is an enthusiastic teacher and his love for chess is infectious. My kids truly enjoyed his class and significantly improved their game!—Aimee Chaudry, Pittsburgh, Pennsylvania
• My son Bryce really enjoyed Mr. Doktorski's Chess4Kidz sessions, the competition, and the friends he made in the classes. He learned strategy and sportsmanship. Chess has provided our family an activity we can all enjoy together for a long time.—Mark Sekera, Pittsburgh, Pennsylvania
• My son Shane, who attended Mr. Doktorski's Chess4Kidz classes for several years, recently told me, "Mr. Doktorski's class was always so much fun! I learned many things—tactics and strategies—that I still use when I play in my tournaments." To those who are considering sending their children to Mr. Doktorski to study chess, I would like to say: Mr. Doktorski's professionalism and expectations for the children were exceptional. Each student was able to nurture their game while learning in an engaging environment. The kids truly had a great time. We never experienced this with any other chess class or instructor. Thanks again, we really miss him here in Pennsylvania.—Judy Mills, Pittsburgh, Pennsylvania
• Hey, Mr. Doktorski! My son, Chase, just completed your 16-week class/tournament at Murrieta HomeSchool and next semester I want to sign him up for TWO classes each week. I have never seen him so focused and so determined. He truly loves your class. I was brought to tears by what you said in class today about the odds being stacked against you and choosing to fight. You said you are proud of the older, more experienced students because they are improving their skill, concentration and mental discipline, and showing it by winning many games. But you also said you are more proud of the younger, less experienced students, who lose most of their games, but keep fighting even though they know they are sure to lose. You said if they learn that lesson to keep trying even when the situation looks hopeless, they will overcome many life obstacles as they get older. I found that inspiring. Because of my son's speech delay and all his educational struggles and ability to stay focused, he never has people see him. And I have to thank you for what he is learning in class. It goes beyond chess and my son needs this. I can show him, teach him at home, but for him to learn it elsewhere is a gift for me. So I really wanted to thank you. You are doing an amazing job setting an example that goes far beyond chess.—Brittny Hylkema, Temecula, California
• Dear Mr. Doktorski, Just wanted to let you know my son, Colt, is excited to be continuing Chess class next semester! Thank you for all your hard work teaching this class. It's been so wonderful to see my son grow in skill and confidence. I've really seen a positive difference in his ability to problem solve and use logic in all subjects since he's been taking your class. Also, he's pretty pleased that he can now beat his mom at chess!! Sincerely,—Jamie Rzasa, Murrieta, California
• Of all our extra classes we have have taken, your Chess4Kidz class has been our favorite! I have seen tremendous growth in my son Ben as a chess player, but even greater growth in his attitude and sportsmanship. Thank you so much for being a teacher and example setter of healthy competition mixed with grace and class!—Jennifer Helton, Murrieta, California
• My seven year old daughter studies chess with Mr. Doktorski at the Independent Learning Academy homeschool program at Faith Community Church in Carlsbad, California. She always comes home with fun stories from the chess classes. She says Mr. Doktorski is a fun teacher. She has been learning chess for 4 months now and already she is winning most games using the moves learned in the class.—Signija Graham, Escondido, California
Testimonials from Students
• Chess is fun. I like it when I win.—Shane, age 8
• Mr. Doktorski is awesome and explains it more.—Ameya, age 8
• Chess is very strategic. Chess has no mercy. Chess gives you an opportunity to crush your opponent.—Idan, age 8
• It's a challenging game, it's like checkers, and it makes me think.—Grant, age 8
• I love playing chess and Mr. Doktorski is nice. Also, it is fun to get medals!—Josephine, age 8
• Cause it's fun. I can play against my brother. It's a game that my whole family can play.—Bridget, age 9
• Mr. Doktorski makes us think, and he rewards everyone for participating. He also teaches us a lesson; not just playing.—Luke, age 8
• You get to slaughter your opponents. You get to go to chess tournaments.—Connor, age 7
• It works with your mind. You can learn what you did wrong in the previous games.—Renhan, age 12
• I love chess. I want to make new friends.—Harrison, age 9
• Chess is fun, we get to compete, and we can WIN PRIZES!!!!!!!!!!!!—Marie, age 10
• Mr. Doktorski makes it fun to play. I like to vs. different people each time my friends are in my class.—Derek, age 10
• It is fun; it is a hard game; it is challenging.—Eddie, age 8