Accordionist
Henry Doktorski became a professional accordionist at the age of twelve when he played his first paying gig: a birthday party in Menlo Park, New Jersey (1968). He received $20.00 for about an hour of music. Since then, he has become one of the leading concert accordionists in the United States and a recognized figure in international classical accordion circles. He was the first-place winner in the American Accordion Musicological Society Virtuoso Solo Competition (1990: King of Prussia, Pennsylvania) and has delighted hundreds of thousands with his tasteful and sophisticated musical interpretations, including radio and television appearances and performances on accordion with the:
• Alia Musica Chamber Ensemble (Pittsburgh, Pennsylvania)

• Ames Iowa High School Orchestra (Ames, Iowa)

• Atlanta Opera Orchestra (Atlanta, Georgia)

• Bell'Art Ensemble (Pittsburgh, Pennsylvania)

• Butler County Symphony (Butler, Pennsylvania)

• Carnegie Mellon Philharmonic (Pittsburgh, Pennsylvania)

• Civic Light Opera Orchestra (Pittsburgh, Pennsylvania)

• Cleveland Chamber Symphony (Cleveland, Ohio)

• Detroit Symphony (Detroit, Michigan)

• Duquesne University Contemporary Ensemble (Pittsburgh, Pennsylvania)

• Erie Philharmonic (Erie, Pennsylvania)

• Fairbanks Summer Arts Festival Orchestra (Fairbanks, Alaska)

• Glimmerglass Opera (Cooperstown, New York)

• Loudoun County Symphony (Leesburg, Virginia)

• McKeesport Symphony (McKeesport, Pennsylvania)

• New Philharmonic Orchestra (Chicago, Illinois)

• Northwest Indiana Symphony (Munster, Indiana)

• Opera Theater of Pittsburgh (Pittsburgh, Pennsylvania)

• Pittsburgh Ballet Theater (Pittsburgh, Pennsylvania)

• Pittsburgh New Music Ensemble (Pittsburgh, Pennsylvania)

• Pittsburgh Symphony Orchestra (22 concerts playing accordion)

• River City Brass Band (Pittsburgh, Pennsylvania)

• Tanglewood Festival Orchestra (Lenox, Massachusetts)

• Wartburg Community Symphony (Waverly, Iowa)
Besides classical music, Henry is equally adept at popular and international music as well, and performs for private parties, receptions and special events such as Oktoberfest celebrations. His extensive repertoire ranges from Bach, Brahms and Piazzolla to George Gershwin, Cole Porter, and Henry Mancini, and tunes from hit Broadway musicals and Hollywood movies like The Sound of Music, Fiddler on the Roof and Titanic.
Henry has recorded with the Cleveland Chamber Symphony and the Pittsburgh Symphony. You can hear him on the Sony Classical hit CD Cinema Serenade. Henry has also appeared on stage and performed with violinists Itzhak Perlman and Gil Shaham, cellist Mstislav Rostropovich and soprano Hila Plitmann, under maestros Lorin Maazel, John Williams, John Adams, Mariss Jansons, Howard Shore, Leonard Slatkin, and others. In addition, he is the featured soloist on six compact discs:
Before moving to California in 2016, Henry served as Instructor of Accordion on the faculty of The City Music Center at Duquesne University (1997-2015), and also served for two seasons as Instructor of Accordion at the Fairbanks Summer Arts Festival at the University of Alaska Fairbanks (2005-2006). He is the founder of The Classical Free-Reed, Inc.—a nonprofit educational organization devoted to the accordion and classical music. He is in demand as a recitalist and clinician and often presents concerts and workshops at national and regional accordion conventions. He has performed on accordion in:
• Alexandria, Virginia—at the Coupe Mondiale (World Cup for accordionists)

• Ames, Iowa

• Atlanta, Georgia

• Bessemer, Pennsylvania

• Birmingham, Alabama

• Bloomington, Indiana

• Chicago, Illinois

• Cleveland, Ohio

• Dallas, Texas

• Erie, Pennsylvania

• Escalon, California

• Fairbanks, Alaska

• Grove City, Pennsylvania

• Indianapolis, Indiana

• Kailua-Kona, Hawaii

• Las Vegas, Nevada

• Milwaukee, Wisconsin

• New York City, New York

• Orlando, Florida

• Petaluma, California

• Philadelphia, Pennsylvania

• Pittsburgh, Pennsylvania

• San Diego, California

• San Francisco, California

• San Jose, California

• Superior, Wisconsin

• Waverly, Iowa

• Wheeling, West Virginia

• Wilmington, Delaware
Henry also teaches accordion students, from beginners to advanced professionals.
During a radio interview on WQED-FM (Pittsburgh), Henry said, "I never tire of performing classical pieces on the accordion—both transcriptions and original works—for audiences, however small. It really gives me a thrill when I watch the faces in the crowd. Initially, I see indifference or skepticism or outright joking; but after the first few bars, I see amazement. Then after a minute or two, I see enjoyment. Most people simply have not been exposed to the possibilities of the instrument."
Reviews and Testimonials
• Brilliant in his diverse experience.—Dr. Helmi Strahl Harrington
• Real musical depth.—The Washington Post
• No accordion jokes, please.—Pittsburgh Magazine
• The humble accordion will never be the same.—Philadelphia Standard and Times
• A real find.—Detroit Free-Press
• Doktorski will make a believer out of all who are fortunate enough to listen.—Pittsburgh Catholic
• A fresh surprise.—CBC Radio, Canada
• Imaginative and original.—Public Radio Music Source
• An absolute delight.—Quartermass Music (London)
• An outstanding performer.—New Music Connoisseur (New York)
• As for Henry's performance, it was top shelf—just wonderful!—The Accordion Express (Milwaukee, Wisconsin)
• One of America's top-call concert accordionists.—Paul Johnston, WQED-FM
• Truly a master musician in the traditional sense of the term.—Jim Cunningham, WQED-FM
• A magnificent player.—David Del Tredici, composer
• I was just stunned by the virtuosity of this guy.—Dennis Colwell, River City Brass Band music director
• You not only displayed great virtuosity; it was a pleasure to make music with you as well.—Stephen A. Olans, Cleveland Chamber Symphony Managing Director
• It truly was an honor to have you work with the orchestra—nothing but high words of praise!—Robert J. Skavronski, Carnegie Mellon University Ensembles Manager
• Your performance of Tres Tangos by Piazzolla was beautifully executed. We applaud your musical talents. We thank you for your part in making the evening such a success.—Robert C. Shoemaker, President of the Butler County Symphony Association
• Regarding your Dallas performance: Great Job! However, I expected that from you. You live up to your great reputation. —Norman Seaton, Founder and President of the Texas Accordion Association
• Henry's performance of Piazzolla's Adios Nonino was a hit with everyone—our orchestras, our audiences, and the students who attended his outreach programs. Hire him; you'll be glad you did!— Kirk Muspratt, Music Director, the Northwest Indiana Symphony and the New Philharmonic
• Henry is an absolute delight! He made true believers out of the orchestra and audience alike with his energetic performance of Piazzolla's Concerto. His inspired playing wins him the title of "Tango Master."— Mark Allen McCoy, Music Director, the Loudoun County Symphony
• Henry's performance of Piazzolla's Tres Tangos was a hit, and I was most impressed with his fine musicianship and his ability to relate to the audience. His playing was superb and he was a joy to work with! I wouldn't hesitate to recommend him to any orchestra.—Dr. Janice E. Wade, Music Director, the Wartburg Community Symphony
About Henry's Accordion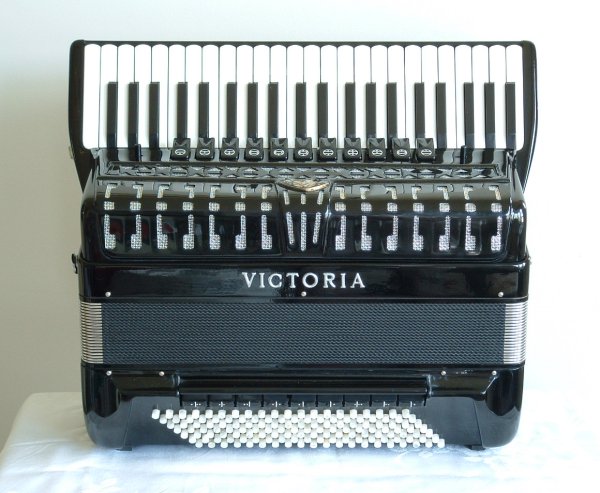 Henry Doktorski plays a Victoria "Emperor"-model piano-accordion with a left-hand quint convertor/free-bass system built in Italy in 1978 and custom-tuned to A-440 by the Canadian accordion technician Leo Niemi. It weighs 31.5 lbs. The instrument contains 552 individual Swedish blue-steel free-reeds which encompass a total range from E1 to C8 (81 pitches, nearly seven octaves).
The right-hand manual has 44 keys, F3 to C7, (3½ octaves) consisting of four 44-note ranks of reeds (in pipe organ parlance: one low 16-foot rank sounding one octave lower than written [in accordion parlance: the bassoon register], two middle 8-foot ranks sounding as written [the clarinet and violin registers], and one high 4-foot rank sounding one octave higher than written [the piccolo register]) thereby effectively increasing the range of the right-hand manual from F2 to C8 (5½ octaves). Total reeds in the right-hand manual: (44 x 4) x 2 = 352. Eleven stops activate preset combinations of reed ranks. Two ranks of reeds (one 16-foot and one 8-foot) are contained in a wooden chamber (cassotto) to create a darker tone. The "violin" stop (two unison 8-foot ranks of reeds similar to the celeste stop on an organ) is tuned "dry."
The left-hand manual has 140 buttons arranged in seven rows consisting of eight 12-note ranks of reeds encompassing a range from E1 to B5 (4½ octaves). The seventh row consists of pedal bass notes, one octave below the fundamental bass row. (Most accordions have C2, or sometimes A1 as their lowest note.) Total reeds in the left-hand manual: (24 + 24 + 36 + 16) x 2 = 200. (Some pitches are duplicated as free-bass and stradella do not always share the same reeds, and the pedal notes sound in octaves.)
The left-hand manual has ten stops which activate preset combinations of reed ranks: seven stops for the traditional stradella system (bass and chords) and three stops for the free-bass system (single notes or melody-bass). Some reviewers have called Henry's instrument "the Stradivarius of Accordions."