Classical Accordion Recital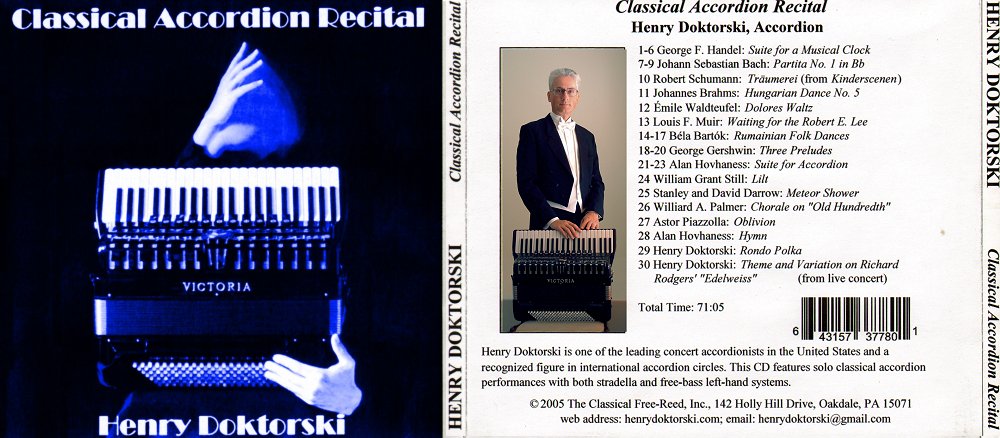 Henry Doktorski has recorded an album of original compositions for converter/free-bass accordion and transcriptions, including a piece written for Henry by the late American composer Alan Hovhaness. Many tracks were recorded by WQED-FM producer Paul Johnston at the Welker Room in the Laughlin Music Center at Chatham College (Pittsburgh, Pennsylvania) and broadcast on radio. Other tracks were recorded by Tom Haas at the recital hall of Duquesne University's School of Music. (Cover photo by William Trent)
Program
George F. Handel: Suite for a Musical Clock
Prelude

Air

Voluntary on a Flight of Angels

Bells

Minuet

Gigue
Johann Sebastian Bach: Partita No. 1 in Bb
Praeludium

Sarabande

Menuet
Robert Schumann: Träumerei (from Kinderscenen)
Johannes Brahms: Hungarian Dance No. 5
Émile Waldteufel: Dolores Waltz
Louis F. Muir: Waiting for the Robert E. Lee
Béla Bartók: Rumainian Folk Dances
Joc cu bâtâ

Brâul

Poarga Româneasca

Maruntel
George Gershwin: Three Preludes
Allegro ben ritmato e deciso

Andante con moto e poco rubato

Allegro ben ritmato e deciso
Alan Hovhaness: Suite for Accordion *
Solene

Presto

Allegro Vivo
William Grant Still: Lilt *
Stanley and David Darrow: Meteor Shower *
Willard A. Palmer: Chorale on "Old Hundredth"
Astor Piazzolla: Oblivion
Alan Hovhaness: Hymn * (written for Henry Doktorski)
Henry Doktorski: Rondo Polka *
Henry Doktorski: Theme and Variation on Richard Rodgers' "Edelweiss" *
Total time: 71:05
Released June 2005
* indicates composition originally written for accordion.
Program Notes by Henry Doktorski.
Classical Accordion Recital presents stylistically diverse original works and transcriptions for accordion spanning a historical time frame from the mid-eighteenth to the twenty-first centuries. Many tracks were recorded by WQED-FM producer Paul Johnston at the Welker Room in the Laughlin Music Center at Chatham College in Pittsburgh and were broadcast on radio. Other tracks were recorded by Tom Haas at the recital hall of Duquesne University's School of Music. No double-tracking was used while recording this album: all selections were played in real-time with a converter/free-bass accordion.
Transcriptions include a partita (published in 1731) for harpsichord by Johann Sebastian Bach (1685-1750), and a charming six-movement Suite for a Musical Clock (1738) by Georg Frideric Handel (1685-1759). Both works display the versatility of the free-bass accordion, in which both right and left hands are melodically independent and equal.
Robert Schumann (1810-1856), a German pianist, composer, and Romantic intellectual, wrote piano pieces, songs and choral works, chamber music, concertos, and orchestral works. His Träumerei (from Kinderscenen), written for piano in 1838, portray his adult reminiscences of childhood. The tonal quality of my Victoria accordion is similar to the sound of a fine European harmonium, which was greatly admired during Schumann's day. This was also performed using the free-bass left-hand manual.
When Johannes Brahms (1833-1897) was a young pianist, he accompanied a Hungarian violinist, and fell in love with Hungarian music. His own Hungarian-flavored dances were written to entertain his friends at parties. Those friends convinced Brahms to publish his dances. When the first set (written for piano, four hands) was a hit, Brahms wrote and published another set, twenty-one in all (1869). Hungarian Dance No. 5 is a show-stopping tour de force performed with vigor and passion. This arrangement for stradella accordion is by Anthony Galla-Rini.
Émile Waldteufel (1837-1915) was a composer, performer and conductor of dance music for Parisian aristocracy; in 1865 he was appointed court pianist to the Empress Eugénie and performed at Court functions not only in Paris but also in Biarritz and Compiègne. From 1867 the Waldteufel orchestra played at Napoleon III's magnificent Court balls at the Tuileries. He is best known today for his Skaters Waltz. This arrangement of Dolores Waltz (composed by Waldteufel in 1880) is by Guido Deiro.
Louis F. Muir's (1884-1950) ragtime hit Waiting for the Robert E. Lee was composed in collaboration with lyricist L. Wolfe Gilbert. The song was sung by Al Jolson and published in 1913. This arrangement for accordion is by Guido Deiro.
Béla Bartók (1881-1945), the great Hungarian composer, was one of the most influential musicians of the twentieth century. His lifetime passion was studying the folk music of his native land and neighboring lands. During his lifetime Bartók collected and classified more than 14,000 folk melodies of Hungarian, Slovak, Rumanian, Croatian, Turkish, Bulgarian, and North African origin. His Rumanian Folk Dances (1915) were originally composed for piano.
Joc cu bâtâ (Dance with sticks) comes from Mezoszabad, Transylvania. Brâul (Sash dance) refers to a cloth belt worn by men or women and is from Egres, the district of Torontal. Poarga Româneasca (Rumanian Polka), a children's dance/game, and Maruntel (Quick dance) hail from the Beleyes district of Bihar on the border between Hungary and Transylvania.
George Gershwin's (1898-1937) Three Preludes were originally written for piano in 1926, but transcribe superbly for the concert accordion. Gershwin was no stranger to the accordion, as his publisher in 1931 gave the great jazz accordionist Cornell Smelser permission to play Rhapsody In Blue on the radio. This was no small honor; at that time only the organist Jesse Crawford and Gershwin himself were permitted to play it. I am also familiar with Gershwin's music, having recorded Rhapsody In Blue along with ten other Gershwin pieces for Alanna Records. Free-bass is used only in the second movement of Three Preludes.
The American composer, Alan Hovhaness (1911-2000)—who wrote about 400 works, including ten operas, sixty-three symphonies (best known are Mysterious Mountain, And God Created Whales, and Mount St. Helens Symphony), a hundred choral works, plus dozens of vocal, chamber and instrumental pieces,—wrote several pieces for accordion. Suite for Accordion (1959) consists of three short movements. The Solene movement is like a chant, almost Gregorian at times, with a bit of dissonance in the introduction and bridge. The Presto is quasi-Baroque and mostly in a natural minor scale. The Allegro Vivo seems to intentionally evoke a bagpipe with a hint of Middle Eastern quarter tones.
Hovhaness once composed a little piece for me titled Hymn. In a letter dated February 26, 1990, he wrote, "I improvised a hymn for you in 7/4 time—a sacred rhythm—three beats for heaven plus four beats for earth, as you are a religious man." See: Alan Hovhaness and Henry Doktorski.
The African-American composer William Grant Still (1895-1978) was a classical composer and oboist whose works were influenced by the blues and jazz. Lilt was commissioned by the American Accordionists Association in 1966. Still was quoted as describing his accordion piece as a "jaunty, good-humored little tune with an easy, infectious rhythm."
Stanley Darrow (b. 1930) is a well-known accordionist, teacher, and historian. His Acme Accordion Studio in Westmont, New Jersey, celebrated its fiftieth anniversary in 2002. In 1975 Stanley co-composed Meteor Shower with his then-twelve-year old son David (b. 1963). The piece is written in graphic notation and is "an impression of sparse meteor showers and the different sounds one would hear when listening to meteors coming in contact with such items as roof tops, a river, meadows, automobiles, etc."
Willard A. Palmer (1917-1996), accordionist, educator and author, was best known to accordionists for co-authoring the Palmer-Hughes Accordion Course. He was also internationally-known as an expert on Baroque ornamentation and keyboard pedagogy. Chorale on "Old Hundredth" was originally written for piano in 1977 and features a left-hand ostinato, using the free-bass manual.
Astor Piazzolla (1921-1992), Argentinean by birth, is famous for his tangos, which were inspired by both classical music and jazz. He wrote over 750 compositions, including concerti, operas, film and theater scores, and made over seventy records. His ballad Oblivion was written for the 1984 Marco Bellocchio film Enrico IV and was nominated for a Grammy Award for best instrumental composition in 1995.
In addition to being an accordionist, I am also a composer. I studied with David Stock and Joseph Wilcox Jenkins at Duquesne University where I received a Master of Music degree in 1997. My Rondo Polka (1997, revised 2002) is a light-hearted and humorous polka in rondo form. It is based on a motif comprised of three repeated notes. The introduction mimics a Classical-period adagio, similar in style to Clementi or Haydn.
On November 18, 1959, a Broadway musical opened which won five Tony Awards, including the award for Best Musical. It was adapted as a movie musical in 1965 starring Julie Andrews and Christopher Plummer, which won five Academy Awards. It was the last musical by the team of Rodgers and Hammerstein. The most beautiful song in the show, in my opinion, is Edelweiss, composed by Richard Rodgers (1902-1979) and named after the white flower found high in the Alps. This is my own arrangement of the tune, with a variation featuring a counter-melody of scale passages. This track was recorded live as an encore during one of my performances as guest accordion soloist with the Northwest Indiana Symphony (September 2005).
---
How to order this CD:
To purchase for Apple devices, go to iTunes.
To purchase MP3, MP3-320, and FLAC files, go to CDBaby.
To order a CD: US orders, send $20.00 by check or money order (item is $15.00, shipping & handling charge is $5.00) to:

If using PayPal, send payment to:

Overseas customers, contact Henry for shipping rates.
---