Gershwin's Rhapsody In Blue
Henry Doktorski with the Duquesne University Chamber Players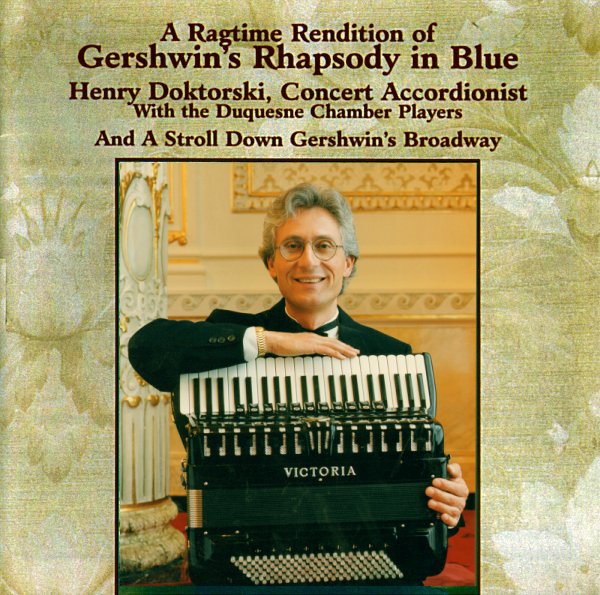 Musicians
Henry Doktorski: accordion, arranger and conductor
Maurice Brousseau, Lynda Barber: clarinets
Jennifer Hackett: flute
Megan Ulmer: bassoon
Anna Thomas: French horn
Michael Brozick: trumpet
William Jones: euphonium
Julian Ayers: trombone
Carlos Elias: violin
Aaron Mynes: contrabass
Chris Carmean: drums and percussion
Tracks
1 Rhapsody in Blue (complete unabridged version for accordion and chamber orchestra)
2 Oh, Lady, Be Good
3 Love Walked In
4 Funny Face
5 Summertime
6 Bidin' My Time
7 But Not For Me
8 Fascinating Rhythm
9 Bess, You Is My Woman
10 I Got Rhythm
11 S'Wonderful
Total Time: 41:42
Released September 1998.
"Fascinating Gershwin"
William Livingstone
Editor at Large, STEREO REVIEW
Among American composers, George Gershwin was unique in that he achieved great success composing both classical and popular music. His Rhapsody in Blue and An American in Paris are among the twentieth-century works most frequently played by symphony orchestras, his Porgy and Bess is probably the greatest opera by an American composer, and his scores for Broadway shows and Hollywood films contain a treasure of America's best-loved popular songs.
Released during the 1998 celebrations of the centennial of Gershwin's birth, this recording by accordion virtuoso Henry Doktorski and the Duquesne Chamber Players presents both sides of Gershwin's work. In addition to Rhapsody in Blue, the first of his great concert works, it includes selections from Porgy and Bess, and a group of his songs that have become classic standards.
George Gershwin was born on September 28, 1898, in Brooklyn, New York, and spent part of his childhood in New YOrk City's Lower East Side, a traditional breeding ground for genius. But he and his older brother Ira did not experience poverty as children, and their parents sent them to good music teachers.
Young George left high school at sixteen to become a song-plugger, promoting the songs of music publishers in New York's Tin Pan Alley. While still in his teens he began to write songs of his own, and success came to him very quickly. He was not yet twenty-one when his first fully scored music La-La-Lucille opened on Broadway in 1919. That same year Al Jolson introduced the song that became his greatest commercial success, Swanee.
In 1924, the orchestra leader Paul Whiteman commissioned Gershwin to compose a classical piece inpsired by jazz. The result was Rhapsody in Blue, a concerto-like work for piano and orchestra. Gershwin supplied a piano score, which was orchestrated by Ferde Grofe, and at the first performance Gershwin himself was the piano soloist. It was an immediate success, described by the writer Carl Van Vechten as "the foremost serious effort by an American composer." Gershwin was twenty-five.
Over the next few years he wrote half a dozen similarly ambitious works, and for the rest of his life he channeled his phenomenal energy into composing the scores for one musical show after another often with lyrcis by his brother Ira. The period of the 1920s and 1930s was a Golden Age of the American musical, first on stage and later in the movies. It was marked by the work of Irving Berlin, Jerome Kern, Richard Rogers, Harld Arlen and Vincent Youmans. Gershwin held his own with those talented contemporaries by providing songs for such musicals as Lady Be Good, Strike Up the Band, Funny Face, Girl Crazy, Of Thee I Sing, and Let'em Eat Cake.
Like no other composer before him, Gershwin became a celebrity. He reveled in the fame and luxurious lifestyle that success brought him, and he loved going to parties where he could promote his own work by playing it on the piano. This aura of glamour made it difficult for him to win acceptance as a real artist. Musical snobs dismissed his theater work as mere "tunesmithing," and it was easy to find structural flaws in his serious work. He was not conservatory-trained, after all. He didn't even graduate from high school.
Nevertheless, audiences love Gershwin's orchestral works, and despite his rudimentary grasp of compositionsl technique, he won the respect of such formidable classical composers as Belá Bartók, Maurice Ravel, Ralph Vaughan Williams and even Arnold Schoenberg. Leonard Bernstein summed up the true worth of the classical Gershwin: "What's important is not what's wrong with the Rhapsody, but what's right with it. And what's right with it is that each of [it's] ineffienciently connected episodes is in itself melodically inspired, harmonically truthful, rhythmically authentic."
The same inspiration, truth, and authenticity characterize Gerswhin's operatic masterpiece, Porgy and Bess. During his lifetime it was presented only in a reduced form as a Broadway show, but in recent decades, productions of its full score at the Houston Grand Opera, and Metroplitan in New York, and the Glydebourne Festival in England have revealed its grandeur, sweep and power. On this recording the opera is represented by instrumental versions of the familiar Bess and Summertime.
Gershwin died in Beverly Hills, California, in 1937 following surgery for a brain tumor that had flared up suddenly. He was only thirty-eight. In the book, The Gershwin Years, the authors Edward Jablonski and Robert Lawrence report that on the day of his funeral work stopped in Hollywood studios for a moment of silence at 10:00 in tribute to "this man who filled our world with sound and song and gave our lives a tempo."
Gershwin's repuation as a serious composer has increased since his death, and so has our appreciation of the enduring appeal of his songs. Writing of them, Jablonski and Lawrence said, "Each year since 1937 we hear them more delightedly and gratefully than ever before—ever discovering in them a resilient charm, a durable brilliance, a permanent beauty." It is fitting, therefore, that along with Rhapsody in Blue and excerpts from Porgy and Bess this recording includes such milestones from Gershwin's Broadway as the songs, 'S Wonderful, Fascinatin' Rhythm, Love Walked In, and But Not for Me.
On the issue of authentic performance of Gershwin's music, Michael Tilson Thomas, music director of the San Franciso Symphony and a Gershwin expert, warns against slavishly imitating the past. "We must rely on the instinct of the present-day performer to make the material on the stage come to life, which is what the performer is always supposed to do." And that is what Henry Doktorski and the Duquesne Chamber Players do admirably on this disc. Doktorski's arrangements have the period ragtime flavor of Gershwin's youth, but they are performed by the musicians here with contemporary immediacy and the intimacy to make modern listeners experience what Gershwin felt.
In describing the emotional appeal of these works, Thomas said, "I think people gravitate to Gershwin's music because it relates to our feelings of having come from somewhere else—from many different places—to be blended together in this culture that includes skyscrapers and jazz music, yet it contains an element of loneliness, of longing for the little villages we came from. This music is part of the American soul."
Gershwin just may be the greatest composer the United States has ever produced.
---
How to order this CD:
To purchase MP3, MP3-320, and FLAC files, go to CDBaby.
To order a CD: US orders, send $20.00 by check or money order (item is $15.00, shipping & handling charge is $5.00) to:

If using PayPal, send payment to:

Overseas customers, contact Henry for shipping rates.