Reviews of Gershwin's Rhapsody In Blue
Henry Doktorski with the Duquesne University Chamber Players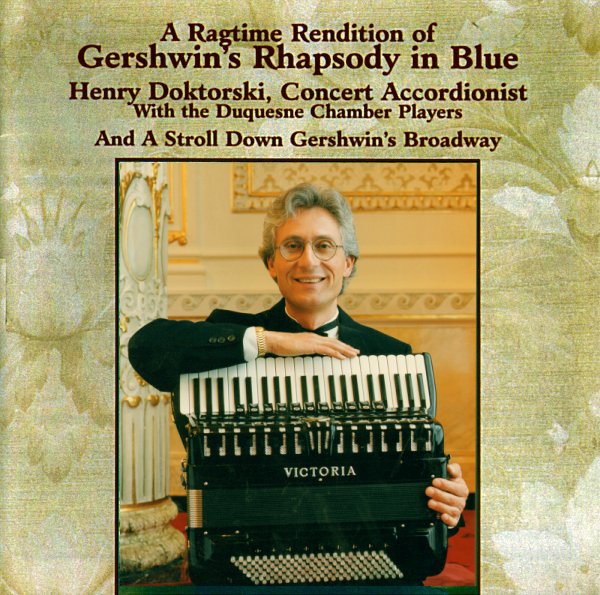 Reviews
MARTIN WEYDE
Hamburg, Germany
---
THE FREE-REED REVIEW
In honor of the 100th anniversary of Gershwin's birth I would expect an outpouring of various recordings of Gershwin's music. But I commend this recording for not being a rehash of existing tunes and performances. We are used to hearing the huge orchestral rendition of the Rhapsody in Blue, but this performance returns to the original intent of Gershwin's music: a tight, intimate chamber ensemble composed of eleven student musicians and the solo accordion in the spotlight. And the performance recording did an excellent job of capturing that intimate feel through tight miking and thankfully restraint from electronic processing in the form of reverb to make the ensemble artificially "big."

Of course, for most listeners the first thought is, "How different—an accordion instead of a piano!" But after reading the historical liner notes from the CD, one will come to realize that it is actually not breaking new ground as prior performances have included the accordion. In 1928 accordionists Basil Fomeen and Nick Hope recorded the Rhapsody for Victor Records and in 1931 accordionist Cornell Smelser played the Rhapsody in its entirety over a national radio network accompanied by an orchestra of some forty musicians.

As for Henry's performance throughout the Rhapsody, I thought it was excellent. He was able to utilize the features of his free bass accordion and accomplished bellows technique to effectively create a performance that highlighted the characteristics and the attributes of the accordion.

Kudos on a most interesting and effective recording.
Robert Karl Berta
---
THE FREE-REED REVIEW
It would be dishonest to feign surprise at Henry Doktorski's most recent compact disc, for I was to some degree "in the know" when it came to his plans concerning an album of Gershwin pieces on the free-bass accordion. When I learned the featured work was to be Rhapsody in Blue, I became intrigued with the idea of shifting the solo voice from piano to a free-reed instrument. There would be some problems inherent in this transition that would require creative solutions, but at the same time I found myself excited by the expanded musical possibilities.

It is difficult to take music written for an instrument with finite sustaining power (the piano) and make it work well on one which has the ability to sustain tones indefinitely. The idiosyncrasies of the original solo instrument would be virtually composed into the music; tones that were meant to audibly diminish and recede into the background would remain obtrusively present when played on the accordion, changing the harmonic texture of the piece. To make such a transition work, the performer would have to have a discreet, self-critical ear as well as the ability to judge when to take calculated risks and leaps of faith. Fortunately, Doktorski has both a good aim and a good ear.

His uncanny aptitude for combining a sense of caution and adventure pervades Rhapsody from beginning to end. He manages to unite seemingly opposing camps of musical thought and gives us a fresh perspective on this piece, looking to both better realize a composer's original intentions at orchestration, and, at the same time, breaking with that intention by using a solo accordion! There can be only one reason he was able to do this so successfully; he undertook virtually all creative roles in the production of this recording: orchestra leader, arranger, soloist and producer. From this perspective, he was able to bring a single-minded focus and personal vision to his work.

The miscellaneous Gershwin songs that accompany Rhapsody in Blue on this album are easy to assimilate. In Doktorski's ingenious arrangements, the accordion takes on an easy, swinging vocal line with minimal elaboration, an approach that is both fluffy and refreshing after the frenetic "Jazz Age" energy of the main work. No doubt the performer/arranger could have turned each one of them into examples of Art Deco jet and chrome, but I preferred these sips of minted iced tea coming, as does Gershwin's birthday, at the end of a long hot summer!

On its cover, the accompanying booklet features a formal yet friendly picture of Henry Doktorski with his polished Victoria accordion. It is important to me to see a photo of an artist somewhere on his or her compact disk, and this one seems especially welcoming. The excellent program notes, by none other than William Livingstone, the editor-at-large for Stereo Review magazine, are focused and erudite, without a hint of the stuffiness that sometimes accompanies scholarship. They complement the overall concept of the recording very well and add what may be heretofore unknown musicological information concerning Gershwin.

All in all, I found this an interesting, thought provoking recording, solid and well crafted. I would recommend it to anyone wanting more than a cursory glance at Gershwin and his contribution to American art and culture. I do not believe the intention of the performer was to supplant or replace what has become tradition; rather, he sought to augment and expand our concept of the work. In that he has succeeded admirably. There is a clarity and honesty to this recording that most grand, orchestral versions lack. Where they obscure the Jazz and Ragtime roots of Rhapsody in Blue with their lush instrumentation, Doktorski and company have rolled up the rugs, wound up the Victrola and given us a veritable "cat's meow" of a genuine piece of 1920s Americana.
Gregory Vozar
---
JANPRESS PUBLICATIONS
Niles, Ohio
A Ragtime Rendition of Gershwin's Rhapsody In Blue is a testament to Henry Doktorski's constant search for creating something new and appealing in recorded literature for all of those anxious ears in the accordion community. This CD compilation fills a void that to our knowledge has never been attempted before. Once again, Mr. Doktorski uses his vast experience as an accordionist, pianist, organist, and music historian to put together a formidable collection of outstanding arrangements of Gershwin, one of America's most beloved composers. There is no doubt George Gershwin would have smiled on this project, which Henry has managed to carry off with elegance and finesse.
Joseph Natoli
---
WIRELESS AUDIO COLLECTION
A Catalog for Fans and Friends of Public Radio
Staff Pick

A program of Gershwin standards as you've never heard them before. Award-winning concert accordionist Henry Doktorski has performed with Perlman, Rostropovich, and other stars; his ragtime Rhapsody is unique and exhilarating.

Throughout the catalog, we have spotlighted some extraordinary items as our Staff Picks. These artists may not be a household name—yet, but we think they deserve special attention because of the uniqueness and quality of their work. The "pick" is our seal of approval, and you can add these titles to your collection with complete confidence.
---
ACCORDIONS WORLDWIDE CD REVIEWS
Henry Doktorski is an accomplished pianist, organist, conductor, composer, educator and concert accordionist since 1990 when he won the American Accordion Musicological Society Virtuoso Solo Competition. He has performed with names such as Rostropovich, Itzhak Perlman, Lorin Maazel and Dimitri Kitaenko. As an author he has had articles and letters printed in diverse publications and just recently completed a book titled The Classical Squeezebox, a Short History of the Accordion In Classical Music.

Although there are different arrangements of Gershwin's music for the solo accordion, they are not often included in the accordionists concert repertoire. Even more rare Gershwin's music is performed on the accordion accompanied by chamber instruments. For this reason, I found this recording very refreshing to listen to, as it gives us something new and not often heard.

Besides the good arrangements, the accordion blends very nicely with the accompanying chamber instruments. This in turn creates a sophisticated sound picture and a very pleasant, relaxing atmosphere to enjoy this music.

This would be a great buy if you are after "easy listening" music and is also a great contribution toward the ever expanding accordion repertoire.
---
How to order this CD:
Item is $15.00
US orders: Send $20.00 by check or money order (includes $5.00 shipping & handling charge) to:

If using PayPal, send payment to:

Overseas customers, contact Henry for shipping rates.