December, 2014: Henry Doktorski performed on accordion in concerts in North New Jersey and South New Jersey.
At 4 pm on Sunday, December 7, Doktorski performed with the Ramapo College Chorale in a concert at Old Paramus Church in Ridgewood, New Jersey (Bergen County). Dr. Lisa Lutter, Director of Choirs and Professor of Vocal Performance at Ramapo College, explained to Doktorski, "For our December concert, I have programmed a beautiful piece by Ola Gjeilo—Vast Eternal Sky—which was originally composed for accordion and string quartet. I have programmed another piece, a Canadian song, The Log Driver Waltz, which would also be wonderful with accordion. I am delighted that you will join us for Beneath the Stars, the Ramapo College Chorale concert. The singers are very much looking forward to working with you. They love the music!"
Dr. Lutter continued, "Norwegian born Ola Gjeilo (b. 1978) came to New York for study at the Juilliard School (2001) and is now based in Los Angeles where he writes for choir, orchestra and piano. Vast Eternal Sky is published for choir, piano, and string quartet but in our performance Gjeilo's improvisational keyboard writing is shared between accordion and piano, with string quartet and voices spinning out soaring melodic lines. Collaborating with poet Charles Anthony Silvestri, Gjeilo uses the legend of the firebird to explore the idea of spiritual rebirth. Once soaring to great heights, age diminishes our physical bodies, but wisdom can bring a deeper understanding of life's true value and so, like the firebird, our spirits may be reborn."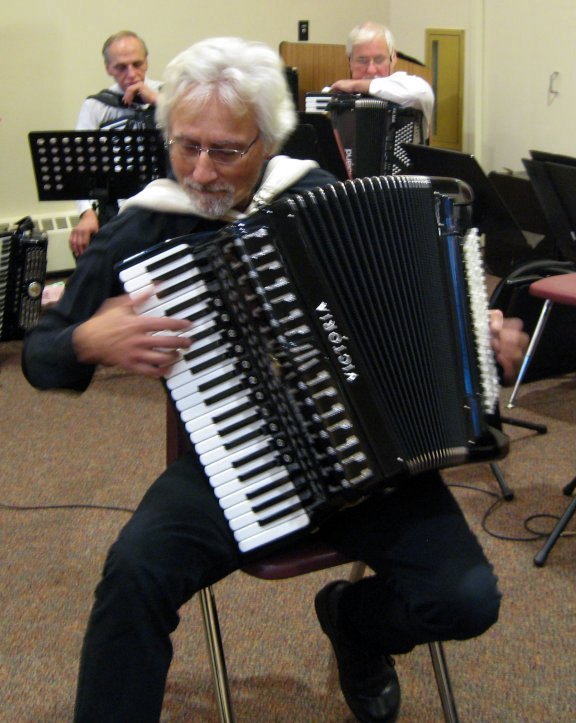 Henry Doktorski at the Westmont Philharmonia Accordion Orchestra concert at the William G. Rohrer Memorial Library in Westmont, New Jersey.
At 3 pm on Saturday December 6, Doktorski performed as guest soloist at the Westmont Philharmonia Accordion Orchestra (WPAO) concert at the William G. Rohrer Memorial Library in Westmont (Camden County).
The ensembe performed a number of pieces, including: Palladio by Karl Jenkins, Devil's Dance by J. Hellmesberger, L'Arlesienne (Suite #2) by G. Bizet, St. Paul's Suite by G. Holst, Balkan Impressions by G. Mohr, Choral and Rock Out by Ted Huggens, Iphegenie in Aulis by C. Gluck, and Concerto in A by Pietro Deiro Sr. with soloist and Pennsauken resident and orchestra member, Annette Marinelli.
Doktorski played two pieces: Hungarian Dance No. 5 by J. Brahms and Doktorski's own Theme and Variation on Richard Rodgers' Edelweiss.