November 9-14, 2008: Henry Doktorski served as Artist-In-Residence for the Ames Iowa High School Orchestra, and also performed as guest soloist with the orchestra in a concert on Friday, November 14, 2008, under the direction of Maestra Mary Kay Polashek.
Concert program:
Charles Camilleri: Concerto for Accordion and Strings


Andante moderato
Andante
Allegro vivace


Henry Doktorski: Suite on Four Polish Carols


Allegro: Przybiezeli do Betlejem
Adagio: Lulajze Jezuniu
Allegretto: Dsiasiaj w Betlejem
Allegro: Gdy Sie Chrystus Rodzi


Doktorski: Jazz Fantasia on Carol of the Bells with Emil Polashek
Pietro Frosini: Olive Blossoms with Emil Polashek
Astor Piazzolla: Tres Tangos for bandoneón, piano, harp, percussion and strings


Allegro tranqillio
Moderato
Allegretto molto marcato


Piazzolla: Adios nonino

Encore pieces:


Doktorski: Theme and Variation on Richard Rodgers' "Edelweiss"
Traditional: Clarinet Polka
The Ames High School Orchestra, under the direction of Mary Kay Polashek for the last twenty-one years, has become, under her guidance, one of the premier high school orchestras in the United States. For the last nine years, the orchestra has had celebrated guest artists perform with them during their annual Fall Festival Concert. The first Ames High School Fall Festival concert was held on November 11, 2000, and featured the internationally renowned harpsichordist Igor Kipnis. Since then the Ames High School Orchestra has had the privilege of collaborating for the Fall Festival with the Pioneer String Quartet, harpsichordist George Lucktenburg and pianist Paula Helmuth, pianist William David, and trumpeter James Bovinette. Festival Artists spend a week at Ames High School rehearsing with the string orchestra, they give presentations at area schools, and some have also performed a solo recital. The variety of artists and music has provided a truly outstanding experience for the students and the community.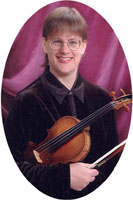 Maestra Mary Kay Polashek

Maestra Polashek, who is also a distinguished violinist and violist in her own right, explained how she came to invite Doktorski to be the 2008 Fall Festival Artist: "The Ames High School Fall Festival artist in 2006, James Bovinette, was interested in playing the Prayer of St. Gregory by the American composer, Alan Hovhaness. As I googled for information on that piece, the web site for Henry Doktorski was included in the list of hits. I visited his site, and discovered that Hovhaness had written a piece for him. I also listened to some sound files and found out that Henry was a superb accordionist. As the wife of an accordionist (a romantic tale), I e-mailed Mr. Doktorski and introduced myself and the Festival. I asked him about the availability of repertoire for orchestra and accordion. Mr. Doktorski kindly responded that indeed there is a good and growing repertoire. Many e-mails and one phone call later, Ames High School orchestra is very excited to have Henry Doktorski as our guest artist this November. It will be a musical experience like none other. Imagine a high school string group performing Piazzolla!"

Doktorski was assisted by Maestra Polashek's husband, accordionist Emil Polashek. Emil began accordion lessons at age 12 with the Boddicker School of Music in Cedar Rapids, Iowa. He played with a series of accordion bands there, touring nationally and internationally with the Accordion Aces, and competed in state and regional contests. He continued playing accordion as an avocation in college and as an adult, and has performed with the St. Olaf College Norseman Band, the Central Iowa Symphony, the Des Moines Symphony, and the Iowa State University Wind Ensemble. Emil enjoys performing accordion and violin duets at various events with his wife, who never imagined growing up that she would ever do anything of the sort.

Emil Polashek said, "Listening to and rehearsing with Henry, my awareness of the artistic possibilities of the accordion grew exponentially, even though I've been playing accordion with notable success at various times since I began playing 36 years ago. Playing with Henry challenged me to apply the musical phrasing of vocal performance to my familiar accordion. He rekindled my aspirations to really make music, much more than merely performing on a novel instrument."

At the end of the concert Mary Kay Polashek expressed her appreciation: "Mr. Doktorski has been so kind to us this week; working with us, and I want to thank him for his faith in knowing that even though he knew nothing about me and nothing about the High School Orchestra, when I sent him an e-mail he had the faith to somehow decide to come and perform with us and know that some way, some how, we would learn our music. He's been just a delight to work with and I really want to thank you for everything."

Doktorski said:
There was no question in my mind about the high artistic standards of Maestra Polashek and her orchestra when she told me that the world-famous harpsichordist Igor Kipnis—who received many honors including nine Grammy nominations—had been one of their guest artists. I figured I would be in good company, and I was!

I had a terrific time working with Maestra Polashek and Emil. They kept me busy all day long! My day started before 8 am when Mary Kay picked me up at my hotel and then took me to various schools to give accordion presentations and lecture/recitals. Around noon was our rehearsal with the orchestra at the High School (what a terrific orchestra—87 string players!), and then she'd take me to lunch. Usually during the afternoons I would practice, although one day she scheduled me to give three presentations in a row at the Middle School. Around 5 or 6 pm they'd take me to dinner at a five-star restaurant or at a colleague's home where I would give a house concert, and then after that they'd take me to the Polashek residence (their two children are charming and so well-mannered!) where I practiced duets with Emil, and once gave another house concert for guests. Emil and Mary Kay kept me busy and I had a great time!

I cannot overemphasize how excellent are the members of the Ames High School Orchestra. They sounded better than many community adult orchestras. This is because they have (1) a superb director, (2) a school administration which recognizes the importance of the performing arts and provides necessary funding, and (3) supportive parents. When Mary Kay Polashek began serving the Ames School System as Director of Orchestras 22 years ago, she had only seven students in the orchestra. Now she has more than 90 students!

I was particularly impressed with the first chair players. During the second movement of Piazzolla's Tres Tangos there is a section when the orchestra drops out and a quartet consisting of accordion, violin, cello and harp takes over for some time. These teenage musicians—Emily Mullaney, Yeil Park and Laurel Tuggle (who also played the Dittersdorf Harp Concerto on the program)—were just as good as many professionals! It was quite a moving experience for me; to create such terrific music with such young players.
The concert was recorded by a student volunteer and two pieces were uploaded on YouTube: Adios Nonino and Olive Blossoms