April 28-29, 2010: Henry Doktorski performed in two concerts at Indiana University in Bloomington, Indiana. The first concert (Wednesday April 28th at 8 p.m.) included Doktorski performing a duet with Indiana University percussionist Kyle Acuncius in a performance at the Jacobs School of Music of Clair-Obscur by the French composer Jean-Pierre DROUET.
The second concert (Thursday, April 29th at 12 noon) in the Hoagy Carmichael Room at the Indiana University Archives of Traditional Music featured Doktorski performing a solo accordion recital. This concert was filmed for Bloomington Community Access Television Services and broadcast on local television.
The Hoagy Carmichael Room, designed as a memorial to Indiana's famous songwriter and performing artist Hoagy Carmichael (1899-1981), contains a representative sample of the large collection of memorabilia donated to the Archives of Traditional Music by the Carmichael family. The collection includes a piano, music manuscripts, recordings, photographs, scrapbooks, and paintings.
Doktorski said:
I really enjoyed rehearsing and performing with Indiana University percussionist Kyle Acuncius; such a terrific musician! The duet by Jean-Pierre DROUET was extremely challenging; but rewarding. I commend him on his choice of repertoire for his recital, and I congratulate him on his stunning performance!

In addition, it was a real pleasure for me to perform for a full house in the Hoagy Carmichael Room at the Indiana University Archives of Traditional Music. I have played several Carmichael pieces during my career, including 'Stardust,' 'Georgia On My Mind,' 'The Nearness of You,' and 'Heart and Soul.' It was inspiring to me to sit near Carmichael's piano and desk where he composed some of his greatest songs.
Joan Moyer, an accordionist and Doktorski student who attended the recital, said, "My favorite of all the pieces Henry played was Guido Deiro's "Deirina Mazurka," and not because he played it perfectly, but because he got lost during the Trio and had to make up the entire section 'on the fly.' It was really exciting for me to hear Henry improvise a tune in the style of Guido Deiro so perfectly and spontaneously that nobody noticed anything except perhaps for me, who am quite familiar with all of Guido Deiro's works having listened to Henry's Vaudeville Accordion Classics CD many dozens of times. This, more than anything else, revealed Henry's genius as a performer and brought a smile of satisfaction to my face!"
One audience member commented:
What a totally enjoyable afternoon it was hearing your rare accordion concert!! The accordion is not the most popular instrument on this great music school campus. We feel richly blessed to hear your exciting classical musical offerings in the intimate setting of the Hoagy Carmichael Room in the Indiana University Jacobs School of Music. Your choice of classical music offerings just could not have been more satisfying.

You warmed the hearts of your entire audience with moving marches, walzes, Gypsy tunes, Italian, etc. All were performed masterfully on your friend's sparkling Excelsior accordion. As an old accordionist myself (I'm 82 years old), I hungered to be able to match the skill, personality, and excitement your program offered. Thank you, so much, for the most pleasing recital; and we will look forward to hearing you again.

Leonard Jay Newman
Bloomington, Indiana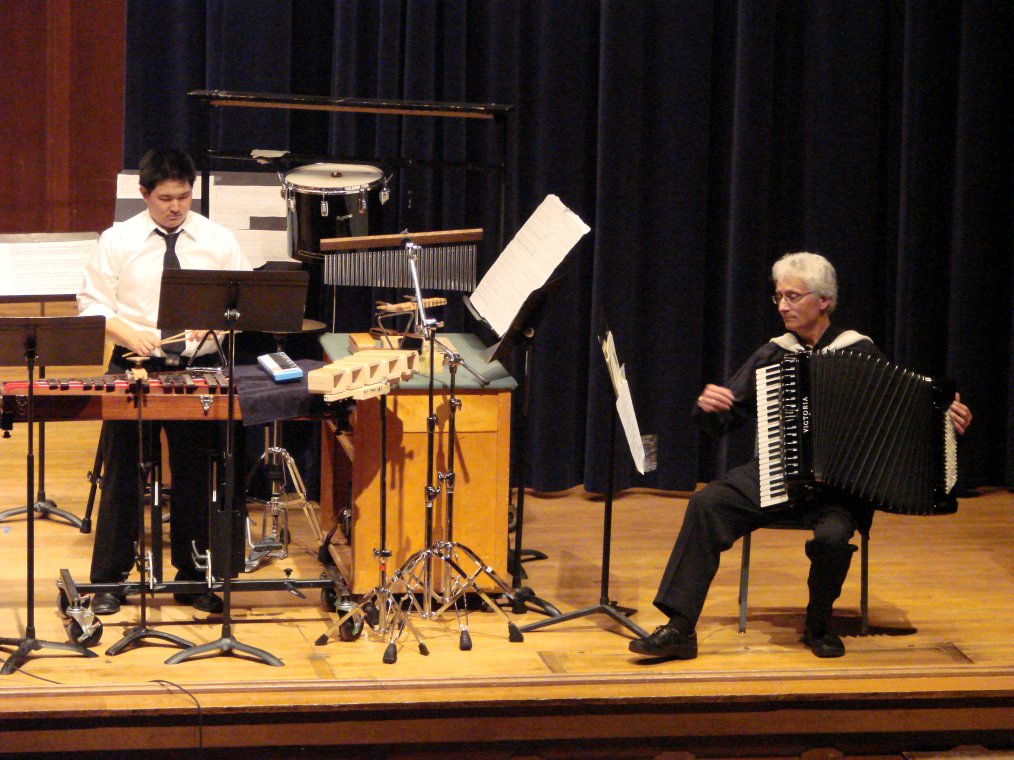 Kyle Acuncius & Henry Doktorski in recital at the Jacobs School of Music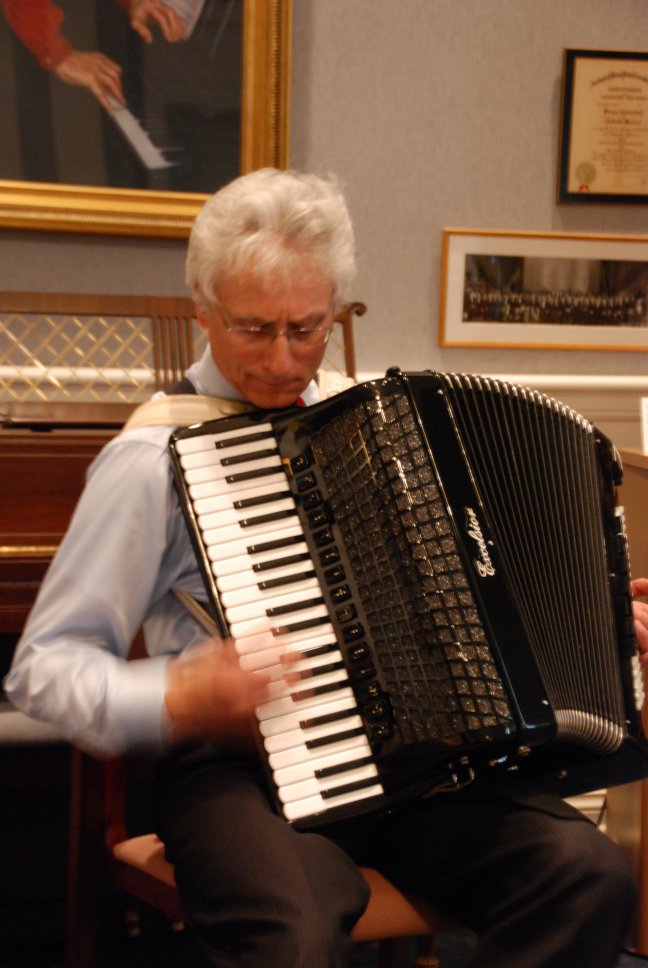 In recital at the Hoagy Carmichael Room