April, 2008: Pittsburgh accordionist and cellist Lilli Nieland performed two concerts with the Tuesday Musical Club String Ensemble, under the baton of conductor Paul Critser, on April 8 at Saint Andrews Episcopal Church in Highland Park, Pennsylvania, and on April 15 at the Allegheny Country Club in Sewickley, Pennsylvania.
The Tuesday Musical Club String Ensemble was organized in 1928. It is the only string orchestra in the Pittsburgh area and the only ensemble with daytime rehearsals and performances. It currently has 30 members and is directed by Paul Critser. The Ensemble presents public concerts each year as well as special community outreach programs at nursing homes and retirement centers.
Ms. Nieland is a regular member of the cello section in the orchestra, but for these concerts she delighted audiences by performing as guest accordionist for two pieces: La Vie en Rose by Roger Louiguy and I Love Paris by Cole Porter. Both audiences greatly appreciated Ms. Nieland's artistry and crowds of admirers surrounded her after each concert.
Ms. Nieland explained, "My mother was a professional accordionist and teacher, but while growing up I was not terribly interested in the instrument and studied the cello instead. Within the last few years, however, I have developed a keen interest in the accordion and have devoted much time and study to it, including receiving professional coaching from Mr. Doktorski. He has really broadened my knowledge and abilities. Playing accordion is such a change from playing the cello, and I feel it has expanded my musical life."
Conductor Paul Critser said, "I didn't really know much about the accordion until I watched a show on Link TV called "Accordion Tribe." It was amazing. Such an eye-opening experience. I never knew how many different venues had been explored by accordionists. Then two months ago I performed with Henry with the Pittsburgh Opera Theater and really enjoyed his artistry. When I found that one of our cellists in the orchestra--Lilli--played accordion, I just had to program some concerts for her. The accordion is such an expressive instrument, and I'm looking forward to programming more pieces which feature the accordion!"
Other pieces on the program included works by Edvard Grieg, Peter I. Tchaikovsky, Josef Suk and Rodgers and Hammerstein. Photos by Henry Doktorski.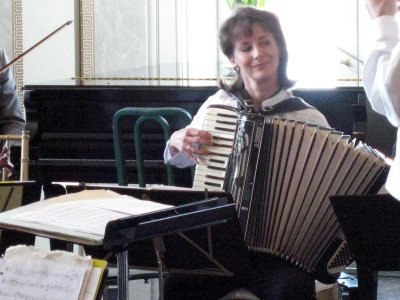 Ms. Nieland charmed audiences and orchestra members alike.
Ms. Nieland exhibits great concentration and focus in her playing.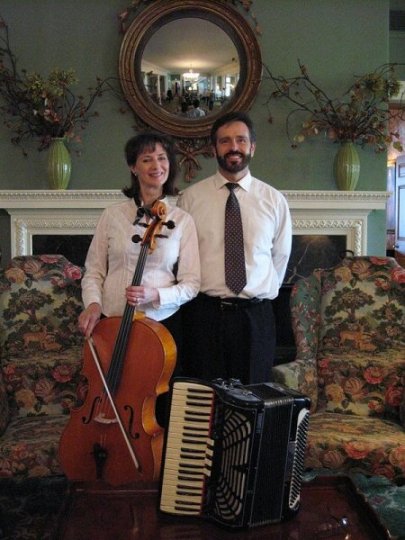 Ms. Nieland and conductor Paul Critser relax after a job well done.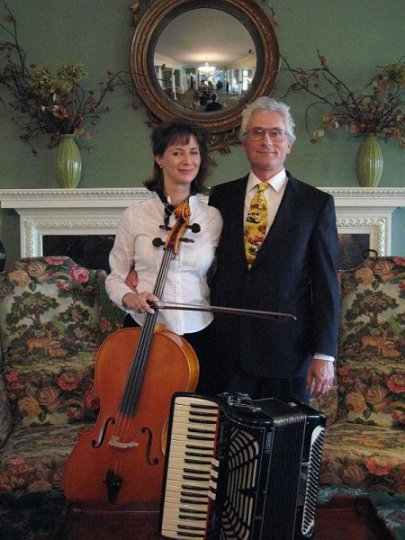 Ms. Nieland and proud coach.