May 6 & 8, 2011: Henry Doktorski performed on accordion with soprano Hila Plitmann and the Pittsburgh Symphony Orchestra under the direction of Leonard Slatkin in Final Alice by the American composer David Del Tredici. The PSO website advertised: "Don't be late for this very important date! Experience the classic story of Alice in Wonderland . . . brought to musical life in a whole new light and with unexpected twists."
Certainly, one "unexpected twist" for the audience was hearing the accordion with a symphony orchestra.
The 70-minute work, scored for orchestra and a folk group consisting of two saxophones, mandolin, banjo and accordion, is based on text drawn from Lewis Carroll's Alice in Wonderland. Elliot Schwartz and Daniel Godfrey wrote about this piece in Music Since 1945, "Both Carroll's writing and Del Tredici's music draw life from the tension between simple, childlike innocence and the freakish world of dream and imagination. . . . Ebullience and boisterous humor is typical of the entire work, which fluctuates continually between unadorned diatonic harmony and tonal chaos as chord sequences start out simply and then blur, collide, or unravel, either gradually or unexpectedly -- all in keeping with the sometimes charming, sometimes frightening, sometimes outrageous character of Carroll's words and pictures."
Del Tredici explained in an interview with the conductor Richard Dufallo, why he was attracted to Lewis Carroll. "With nonsense," he said, "I felt somehow I could do whatever I wanted with the words. When I began to set the Alice in Wonderland texts, I took the craziest ones first, like 'Jabberwocky,' because they were, in a sense, the most adaptable to my atonal language. . . . There is no expectation or tradition for setting nonsense verse. It was very liberating. As I went on with the Alice pieces, An Alice Symphony, Adventures Underground, I think the most seriously tonal might have been Vintage Alice. . . . I certainly wasn't tonal in the Bach-Beethoven-Brahms sense. But I was beginning to get a feel for tonal materials."
The composer spoke about the accordion in his oeuvre in a telephone conversation with Doktorski: "When I began writing my musical setting of Alice In Wonderland for orchestra, I wanted to include a second group of instruments which would sound completely different from a symphony orchestra; something totally UN-orchestral. After some consideration, I decided that the saxophone, mandolin, banjo and accordion would be perfect because those instruments -- due to their cultural identity and distinctive tonal qualities -- were rarely used with symphony orchestras."
Del Tredici continued, "Believe it or not, I actually love the accordion; to me at least, it always sounds funky in an orchestral setting. It's sound is quite unique. In my Alice pieces, I write for the accordion as a solo instrument and never try to blend it with the other instruments. Early in my composing career I wrote mostly atonal works. But when I discovered the accordion I developed a desire to use its left-hand chord buttons -- the major, minor, seventh and diminished buttons -- in my Alice In Wonderland piece. This was a turning point for me: it caused me to consider using tonality in my compositions. I suppose for this then, I am indebted to the accordion for opening my eyes to the possibilities of tonality." (August 3, 2001 telephone conversation)
Doktorski said, "I thoroughly enjoyed once again performing with the superb musicians of the Pittsburgh Symphony Orchestra. The accordion part was not easy; I spent close to two full weeks of continual practice to learn the 38-page part. Del Tredici likes to write virtuosic music--he doesn't coddle his musicians--and the accordion part is no exception to this rule!"
Doktorski also played another work by David Del Tredici, "Vintage Alice," with the Cleveland Chamber Symphony which was recorded and released by INNOVA—The label of the American Composers Forum. See Cleveland Chamber Symphony Concert and Vintage Alice.
For more about the composer, see David Del Tredici. Photos by Sunita Doktorski.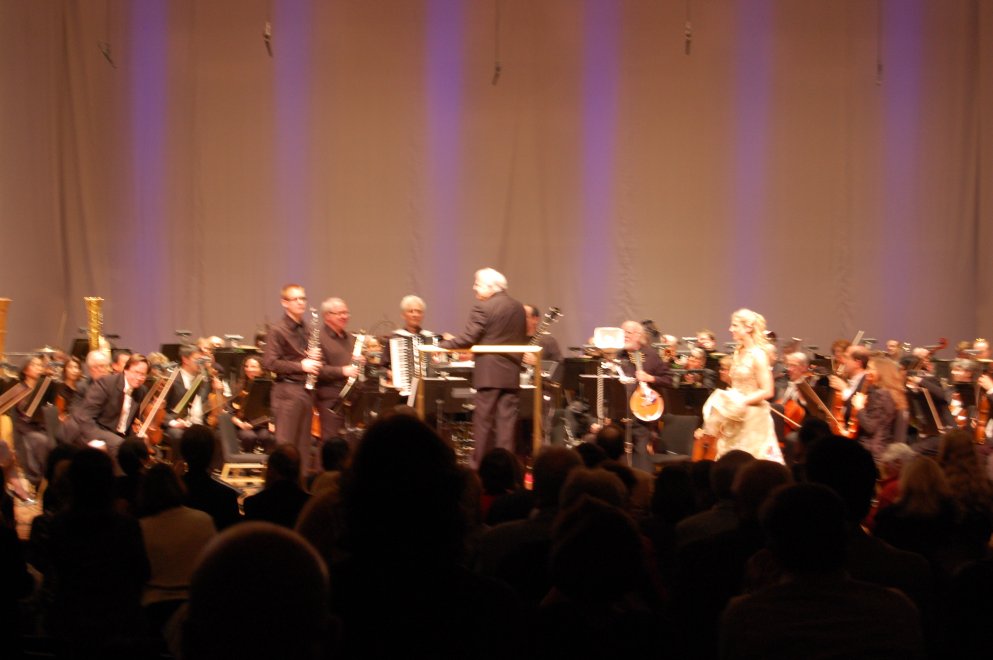 The 5-man "Folk Group" gets some recognition.