September 2003: Henry Doktorski and Joseph Natoli performed with the Cleveland Chamber Symphony in a concert at 8 pm on Monday night, September 22, 2003. The two performed Erwin Schulhoff's "HMS Royal Oak" (1930), a jazz oratorio for narrator, soprano, tenor, mixed choir and symphonic jazz orchestra, based on text by Otto Rombach. The event was held at the Drinko Recital Hall in Cleveland State University's Music and Communication Building near downtown Cleveland, Ohio.
The performance featured soprano Marilyn Shrude, tenor Timothy Culver, narrator John Fleming, and the Baldwin-Wallace College Conservatory Motet Choir directed by chorus master Stuart Raleigh. The concert was directed by guest conductor John McLaughlin Williams.
H.M.S. Royal Oaks was first performed in a radio broadcast in Brno, Czechoslovakia in 1935. It is a tragicomic glorification of jazz which influences all people, without regard to the color of their skin, by the hypnotic power and clears the Philistines representing the Old World, out of the way. The content of the subject (supposedly inspired by a real incident) is as follows: An admiral forbids jazz music on board of a British Navy ship, the crew revolts, the leaders of the revolt are put in chains but they do not stop to sing a song about the colored people in Panama. Her Majesty's Government puts an end to this injustice by court-martialing the admiral and relieving him of his office.
H.M.S. Royal Oaks is orchestrated for strings, brass, percussion, piano, celesta, 2 banjos, 3 saxophones and 2 accordions. The two accordions are used in two movements, no. 10 and no. 12. Both are tangos, and the accordions are prominently featured throughout these two movements, especially in the second tango, which is scored for only tenor, 2 banjos and 2 accordions. (Doktorski also doubled on the celesta in two other movements from the suite.)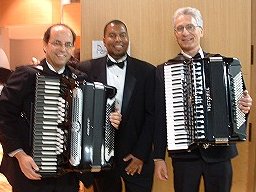 Natoli, Williams, Doktorski

The movements are titled:
Introduction
Interlude di Fox
Hawaiian Song
Home Song
Waltz Interlude
Rezitazione
Sailor Song
Rezitazione
Southsea Waltz
Tango Interlude
Rezitazione
Tango, Song of the Soul
Rezitazione and Fox Fugato
Panama Song
Finale and Spiritual
Doktorski said, "I was exceedingly happy when Joe and I finally played through the tangos with the orchestra at our first rehearsal on Sunday morning. The two accordions really fit together beautifully and creatively, like the pieces of a jigsaw puzzle. The parts are imitative and contrapuntal; even canonical. The music is well-written; perhaps something like a jazz-influenced Neo-Baroque suite. The left-hand parts of both accordions provide the ostinato tango rhythmic beat of staccato quarter notes (with many long leaps, such as D Major, D# Major, E Major) while the right hands revel in flowing and often syncopated melodies. Truly a wonderful showcase for the accordions."

Composer Erwin Schulhoff was born in Prague in 1894. Recommended by Antonin Dvorak, he was accepted as a piano student in the Prague Conservatory at age ten. He studied piano and composition there and elsewhere with teachers including Max Reger, Carl Friedberg and Fritz Steinbach. He won the Felix Mendelssohn Prize twice -- as a pianist in 1913 and as a composer in 1918. After serving in the Austrian army during World War I, he lived in Germany until 1923, and became interested in radical artistic movements such as Dada and jazz, but was also influenced by more conventional ideas such as impressionism, expressionism and neoclassicism. He returned to Prague in 1923, but his successful career as a pianist and composer was destroyed by political developments when the Nazis rose to power in Germany. The world premiere of an opera of his in Berlin was canceled. Schulhoff became a political radical, joining the Communist Party and writing music in the Communist-inspired style of "Socialist Realism." He even set to music the German translation of the Communist Manifesto. He became a Soviet citizen in 1941 and applied for a visa to emigrate there. It was, however, too late. The German assault on the Soviet Union made him an "enemy alien." He was interned and deported to a concentration camp in Bavaria, where he died on August 18, 1942. His works include an opera, six symphonies, ballets, chamber music, concertos, songs and choral music.
Stage left, showing half of the orchestra and chorus.

Joseph Natoli makes his home in northeast Ohio and has been a performer and advocate of the accordion since 1960. Joe started his studies with prominent Ohio accordion teacher, the late Mickey Bisilia of Youngstown, Ohio. Like many other accordionists of his time, Joe developed his classical performance skills in state and national competitions hosted by the American Accordionists' Association (AAA), eventually winning its national title at the age of 18 in Washington, D.C. Later that year (1972), Joe became the AAA United States representative in the Coupe Mondiale world accordion competition held in Caracas, Venezuela, where he was chosen first runner up. Joe also released an album for Giulietti Accordion Corporation that year under the Neofonic label entitled Accordion Masterworks presents Joseph Natoli and Richard Romiti, which includes many unique solo and duet arrangements and original compositions for the free bass accordion.

Natoli was the first student ever to be accepted at the University of Toronto using free bass accordion as an applied major instrument, studying with renowned Canadian accordionist Joseph Macerollo. While at the University of Toronto, Joe participated in the first International Accordion Symposium as a performer and composer, for which his Eclat for 5 accordions was commissioned. In 1978 and 1979, Joe also received 2 substantial Ohio Arts Council grants to write and record Prism/Rebirth for free bass accordion, flute, clarinet, violin, viola, and a large constituent of percussion.

This is Doktorski's second appearance with the Cleveland Chamber Symphony. His debut performance with the orchestra was a September 2001 performance of David Del Tredici's Vintage Alice: Fantascene on a Mad Tea Party.

Photographs by Joanne Natoli.