December 2003: Henry Doktorski directed (and accompanied from the Parish's Wicks organ) the Saint Patrick Children's Festival Choir in a concert of Christmas music immediately preceding the 4 p.m. Christmas Eve Mass at Saint Patrick Roman Catholic Church in Oakdale, Pennsylvania. Parish musicians included the mother and daughter flute duo of Kimberly and Kelsey Powell, and Doktorski's violinist daughter, Sunita.
On Christmas Day, Doktorski directed the Saint Patrick Adult Choir during the 9 a.m. mass and also assisted singer/songwriter/guitarist Victor Fraire and his family at the 11:30 mass. All liturgies were presided over by Pastor Reverend William J. Schwartz.
---
Alcoa Singers of Pittsburgh, Pennsylvania.

Doktorski also completed his third year as the director of the Alcoa Singers, a group of some twenty employees, contractors, and retirees of the Alcoa Aluminum Company. The Singers performed eleven concerts at various venues throughout the city of Pittsburgh during their 2003 season, including concerts at Allegheny General Hospital, Magee Womens' Hospital, First Lutheran Church, Carnegie Library, USX Steel Tower and other locations.

Their repertoire, with accompaniment provided by Eric Dzugan, a Duquesne University alumni with a Masters Degree in piano performance, consisted of a dozen anthems of sacred and secular Christmas music, ranging from the classic African American Spiritual "Rise Up Shepherd and Foller" arranged by Jester Hairston, to the 1955 hit song by Sid Tepper and Roy C. Bennett, Nuttin' for Christmas.
---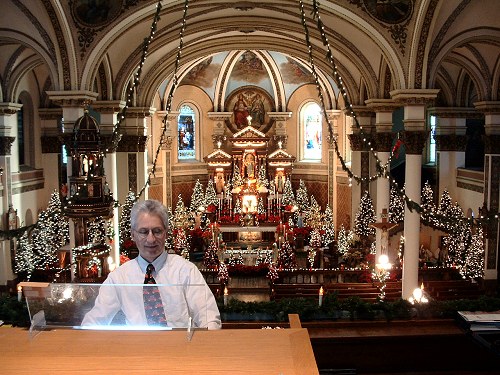 Playing the M. P. Möller pipe organ in the choir loft of the historic Immaculate Heart of Mary Church at Polish Hill, Pittsburgh, Pennsylvania.
Doktorski also served as guest organist and choir director at the Immaculate Heart of Mary Church at Polish Hill, Pittsburgh, for three masses celebrating the Feast of the Solemnity of Mary on December 31st and January 1st.
Doktorski said, "I especially enjoy serving as guest organist for the Polish Parish of the Immaculate Heart of Mary for several reasons. 1. The church is incredibly beautiful, modeled on St. Peter's Basilica in Rome, and listed on the National Register of Historic Buildings, 2. The organ is a well-maintained instrument built by the M.P. Möller company, 3. The church is exquisitely decorated by Pastor Father Joseph E. Swierczynski, and 4. I get to play all my favorite Polish Christmas Carols, like Przybiezeli do Betlejem, Lulajze jezuniu, Dzisiaj w Betlejem, and Gdy Sie Chrystus Rodzi, which are enthusiastically sung in Polish by the choir and congregation!"