Henry Doktorski
Italian Favorites for Accordion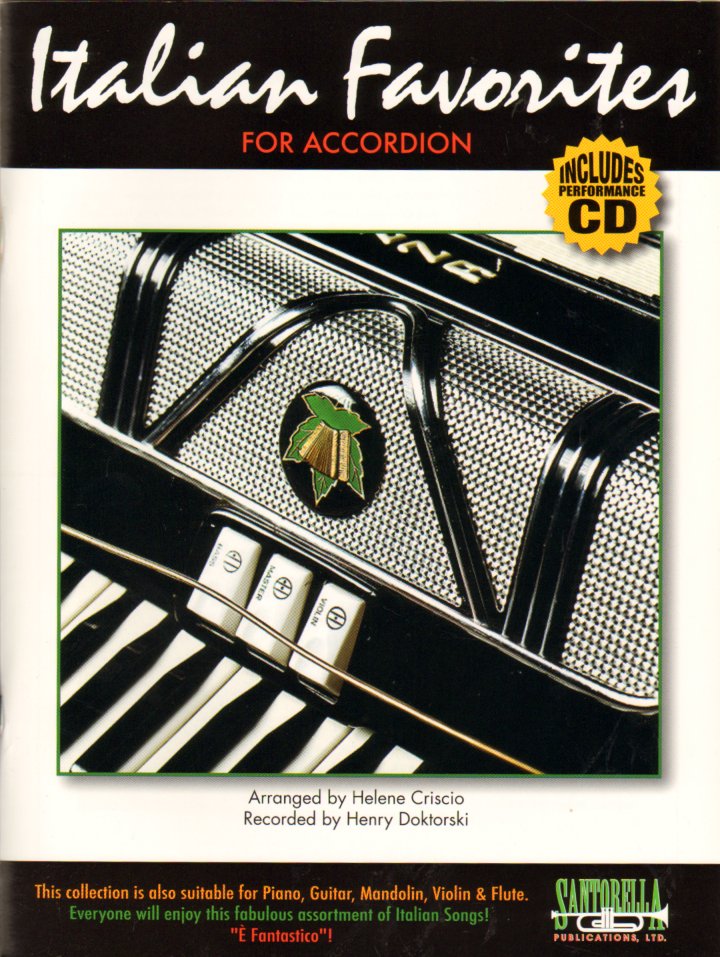 Accordion Music Book and CD: Italian Favorites for Accordion arranged by Helene Criscio, recorded by Henry Doktorski, and published by Santorella Publications, Ltd. (2010)

This collection features all the most requested Italian Marches, Tarantellas and Love Songs that were arranged by the late "Westfield Massachusetts Legend" Helene Criscio and performed by Henry Doktorski. All lyrics are written in both English & Italian and placed directly under the melody.

Accordionist and teacher Helene Criscio was loved by many people as she always managed to find the good in everyone. It was her caring nature and positive attitude that made her an exemplary teacher. At age 96, while battling a painful arthritic condition, Helene passed away but the lives she touched and her love for the accordion will live on forever.

61 pages. Measures 9 x 12 inches. Professional High Quality Printing. Contains 22 Songs from Italian Folk and Operatic Repertoire, plus a biography of Helene Criscio. The CD consists of all music in the book played by Henry Doktorski on a piano accordion.

This book will be a truly treasured addition to the library of the discriminating accordion aficionado.
---
How to Order

Item is $17.00

US orders: Send $21.00 by check or money order (includes $4.00 shipping & handling charge) to:

Overseas customers: Click here for shipping rates.
---
Contents

Wedding Tarantella
Funiculi'-Funicula'
Marechaire
Come To the Sea (Veini Sul Mar)
La Donna E'Mobile
Caro Nome
Marcia Reale (Italian Anthem - Royal March)
Core' n Grato
Tira la Cordicella
Non Sei Tu
Vesti La Giubba
Torna A Sorrento (Come Back To Sorrento)
Addio a Napoli
Santa Lucia
Inno Di Mameli
O Sole Mio
Ah! Mari!
La Mattinata
Carnival Of Venice
Tra Veglio E Sogno (Dreaming – Lost in Illusion)
Serenade
Raggio di Sole (Ballad to a Distant Love)