Interview with Jack Ashcraft on Expedition Truth Radio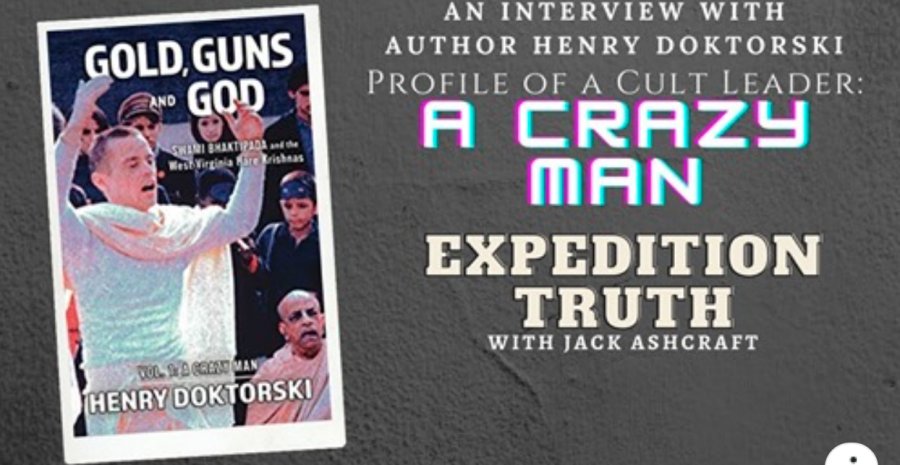 February 18, 2021: Henry discussed his book Gold, Guns and God, Vol. 1 with Rev. Jack Davila-Ashcraft on Expedition Truth, a weekly Internet radio show broadcast by KCOR Digital Radio Network dedicated to answering the questions of sincere spiritual seekers, as well as the promotion of deeper thought in the areas of Christian apologetics, theology, and philosophy.

The one-hour interview began at 7 pm Eastern Time (4 pm Pacific). Topics discussed were Keith Ham's childhood as the son of a Conservative Baptist minister, his devotion to his faith during his early years, and his gradual rejection of his father's rules against drinking alcohol, smoking tobacco, and homosexual activities. Howard Wheeler's autobiographical manuscript which reveals in great detail his life before meeting Bhaktivedanta Swami Prabhupada and his relationship with Keith Ham is discussed, as were some of the two lovers' anonymous homosexual encounters while living as Bohemian students in New York City as described in Howard's book, and sex in Krishna consciousness. Also discussed is Keith and Howard's discovery of peyote and LSD, their expanded consciousness under the influence of hallucenigenic drugs, their discovery of Bhagavad-gita, and their eventual journey to India in an effort to find answers to their questions. Meeting A. C. Bhaktivedanta Swami in the Lower East Side of Manhattan is discussed and Kirtanananda's fall from grace, his defection from ISKCON, trying to publish Bhaktivedanta Swami Prabhupada's Bhagavad-gita as his own, is discussed. In addition, Kirtananand's final admission of defeat, and his apology to his spiritual master and return to ISKCON is discussed, and Prabhupada's forgiveness.

Jack noted, "As I've said many times, Henry's series of books, Gold, Guns and God, is important to anyone who is interested in the history of American religions, who is interested in theology, who is interested in apologetics. Henry's books are invaluable documents. I don't think the majority of people yet appreciate the full importance of these books, but I've got a feeling that at some point in the future, they're going to. Henry's books, I think, are going to be seen as the definitive word on the history of this particular community, New Vrindaban."

To listen to the one-hour interview, click here.

For more information about Expedition Truth Radio, see KCOR Radio

---

About Rev. Jack Davila-Ashcraft

Rev. J. Davila-Ashcraft holds a B.A. in Biblical and Theological Studies from God's Bible College in Cincinnati, Ohio, which boasts such notables as Oswald Chambers and Martin Wells Knapp, and is currently pursuing a Master's degree in Apologetics. He served as a missionary in Chihuahua, Mexico, and as Associate Pastor of Good Shepherd Mission in Kentucky. He is the author of The Messianic Secret, an examination and refutation of the many myths regarding the so-called "lost years" of Jesus, defending the historical trustworthiness of the four Gospels of the New Testament, and has been a contributor to Barbwire.com (a Christian news and opinion site), and has been both a host and guest on major radio and television programs, discussing such issues as current events, biblical theology, demonology, exorcism, spiritual warfare and the paranormal from a decidedly Christian point of view.

In that capacity he has appeared on The Travel Channel, consulted on programming for National Geographic Channel and CNN, and been a featured guest on such radio programs as Art Bell, The Josh Tolley Show, Erskine Overnight, Derek Gilbert's "A View From The Bunker," Fade To Black, Beyond Reality, and more.

He is a member of the Evangelical Philosophical Society, an Anglican priest and Traditionalist, as well as Superior of the Society of St. Anselm. He is married to his wife of 20 years. He is the host of EXPEDITION TRUTH, a radio talk show exploring a wide variety of topics in philosophy, theology, history, culture, and the supernatural. He has taught on cults, the theology and methodology of spiritual warfare, and exorcism for pastors, and lectured in the subject of exorcism at the college level, conferences, and churches.

Jack is an experienced and engaging speaker, and is available to speak at your church, conference, or as a guest on radio and television. His presentations are exciting and informative, covering all aspects of Spiritual Warfare, as well as Apologetics issues from the Arguments for the Existence of God, to the so-called "Lost Years" of Jesus, and other frequently asked questions on UFOs, Angels, Cults, and the Occult. His presentations are always focused on the truths and absolute reliability of the Bible in all matters. He is willing to travel for speaking engagements, conferences, churches, etc. His goal is to deliver as much content as possible in the time given, without sacrificing clarity or time for one on one interaction with participants who may have questions.