Gold, Guns and God: Vol. 4—Deviations in the Dhama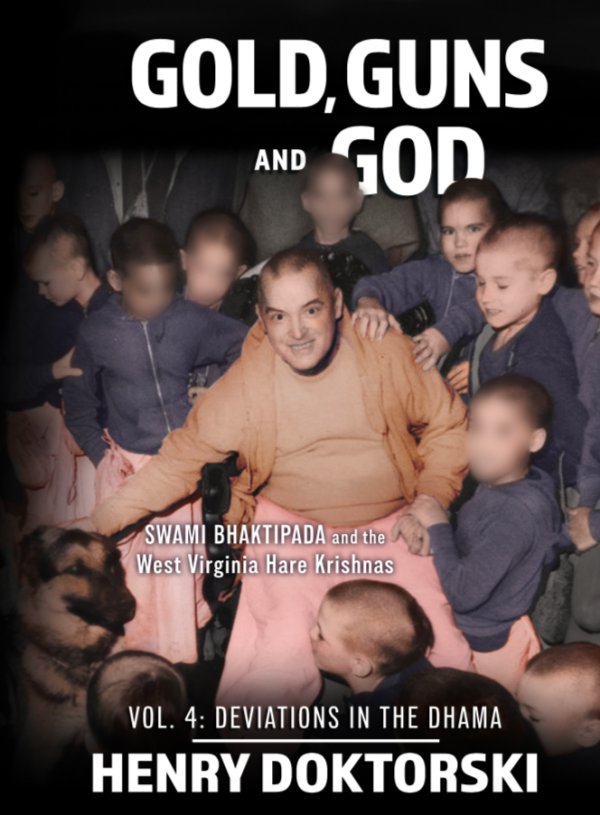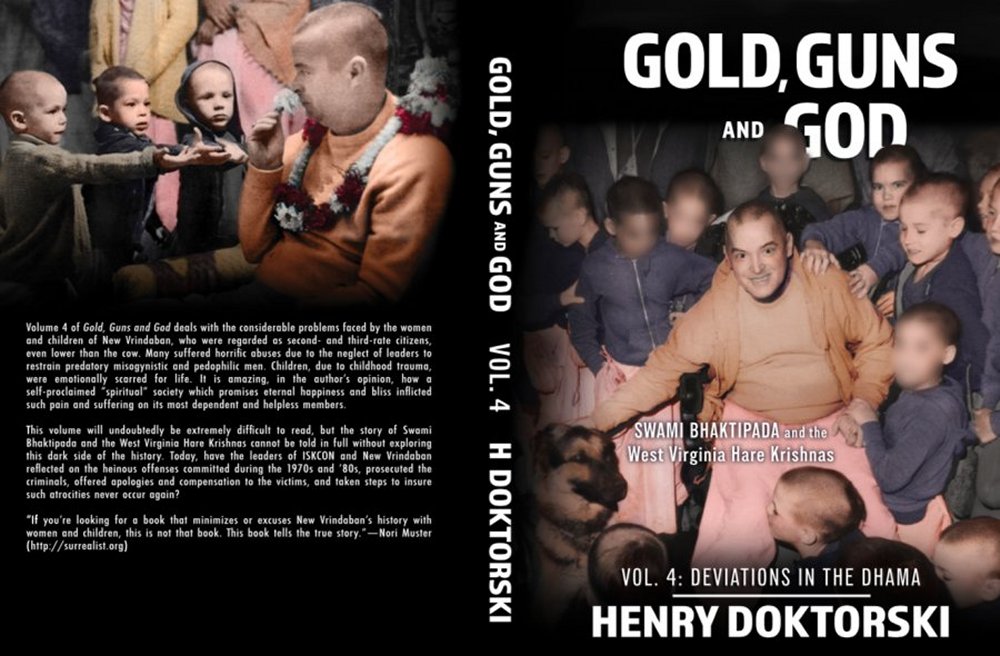 • The Preface to Gold, Guns and God, Vol. 4
• The Introduction to Gold, Guns and God, Vol. 4
• The Foreword to Gold, Guns and God, Vol. 4
ACCLAMATIONS
September 4, 2021: If you're looking for a book that minimzes or excuses New Vrindaban's history with women and children, this is not that book. This book tells the true story.
Nori Muster
Author of Betrayal of the Spirit and Child of the Cult
Phoenix, Arizona
TABLE OF CONTENTS
Preface
Introduction
Foreword
Chapter 38: Three Things Improve with a Good Beating
Women are spiritually equal to men
A negative perspective?
Women at New Vrindaban
Some women were happy at New Vrindaban
Wife beating at New Vrindaban
Five things improve with a good beating
Women are less intelligent
Women are not to be trusted
Women are nine times lustier than men
Women are dangerous
The "dark well" of married life
Fish night
One should spit at the thought of sex with a woman
Women must understand their position
Mismatched arranged marriages
Vedic matchmaking: boy and girl must be similar in "character and taste"
Marriage is a curse
Chapter 39: Scam Kirtan
Money is the honey
Vehicle insurance scam
The pick
The Citation Line
Transcendental trickery
Bhaktipada preaches in Pakistan
Bhaktipada arrested, charged with smuggling
Copyright issues
Some loved the pick
Others hated the pick
Children on the pick
Chapter 40: The Dharmettes, Part One
Does size matter?
Two thirteen-year-old girls join the Pittsburgh Sankirtan House
Sankirtan House moves to New Vrindaban
Chapter 41: The Dharmettes, Part Two
Prabhupada and polygamy
Prostitution in Krishna's service
Pickers weakened from overwork
New Vrindaban's biggest picker
Dharmatma banned from the Alachua ISKCON temple
Brijabasis blinded by deranged devotion
Chapter 42: The Secret Inner Sanctum
Kirtanananda orders a kshatriya to kill Cheryl Wheeler
Cheryl secures a court order to retrieve her son
Where Cheryl's suspicions correct?
Kirtanananda and Hayagriva backslide
The inner sanctum
Kirtanananda Swami bathes naked boys
Kirtanananda Swami attempts to seduce a godbrother
Kirtanananda's boy servants
Young boys massage Bhaktipada in the temple
"Just as I love boys, they love me"
Few suspected
Bhaktipada's personal favorite: adolescents
Parties with the Mexican laborers
Rumors ignored
Chapter 43: Suffer Little Children
Dallas gurukula established, abandoned
New Vrindaban gurukula opens
1974: Varnashram College at New Vrindaban established; abandoned
1976: Nandagram School established
Children isolated
The notorious nursery
Cults and mass movements undermine the family
Suffer, sankirtan mothers and their children
Gurukula faculty untrained
Parents are the problem?
Academics inferior
Institutionalized brutality
The girls at New Vrindaban
I was so long in the gurukula I forgot who were my parents
Chapter 44: He touched me all over. I was nine. He was thirty-eight.
The penis/lotion incident
An agitated brahmachari
1981: New Nandagram
Children isolated from their parents
1981: Varnashram College re-established
Manihar accused by student
The riot at New Nandagram
Manihar molests nine-year-old girl
Unbridled passion reigned supreme
Vrindaban India gurukula
Manihar establishes his own orphanage in India
Manihar apologizes
The demise of Matthew Norton
Shukhavak becomes New Vrindaban headmaster
Gurukula ashrams under new management
Arranged marriages with child brides
Bhaktipada's explanation why the marriages failed
Chapter 45: How much sex have you had?
The story of SH
Sex is sex
Investigation ordered
New Vrindaban headmaster and teacher's aide charged with sex crimes
SOH reunited with her adopted daughter
Ashram aide arrested; Shri-Galim flees
Charges against Shri-Galim dropped
Dharmatma's estranged wife files custody suit
Gopinath molests boys
Gopinath dasa becomes a Swami
Chapter 46: A Lying, Cheating, Cock-Sucking Pedophile
Head injuries often affect sexual behavior
Bhaktipada loses control
Bhaktipada's boys
The boys return from India
Bhaktipada's "dream house"
The story of CW
Bhaktipada molests other teenage boys
Middle-age brahmachari "seduced" by six-year-old girl?
The Winnebago Incident
News of Bhaktipada's sexual activity spreads throughout the community
Bhaktipada insists, "None of it is true!"
"I am completely innocent!"
Kirtanananda dasa: confirmed pedophile
Bhaktipada: word juggler
New Vrindaban boarding school shuttered
Perverted sex at New Vrindaban: one explanation
Punishment
Chapter 47: Cleaning House

RVC evicted from Brooklyn ISKCON by abused gurukula alumnus
ISKCON pressures New Vrindaban to expel Shri-Galim
Shri-Galim leaves New Vrindaban
Shri-Galim moves to Pittsburgh
Former headmaster asks for forgiveness
Shri-Galim takes sannyasa
Chapter 48: Children of ISKCON vs. ISKCON
Gurukula alumni find their voices
Gurukula alumni speak at the 1996 North American GBC meeting
ISKCON commissions study on gurukulam
The Turley lawsuit
ISKCON pledges $1,000,000
Federal case filed
Federal case dismissed
Case filed in State Courts
ISKCON temples file for bankruptcy
Nirmal-Chandra's story
A mother's lament
Was Prabhupada aware of the abuse to the children?
Did Prabhupada effectively deal with the abuse?
Kings, parents and spiritual masters
Deranged devotion
Conclusion: Children in History
Photo Gallery
Acknowledgments
About the Author
References
End Notes
Images