German Favorites for Accordion
Arranged by Gary Dahl, Recorded by Henry Doktorski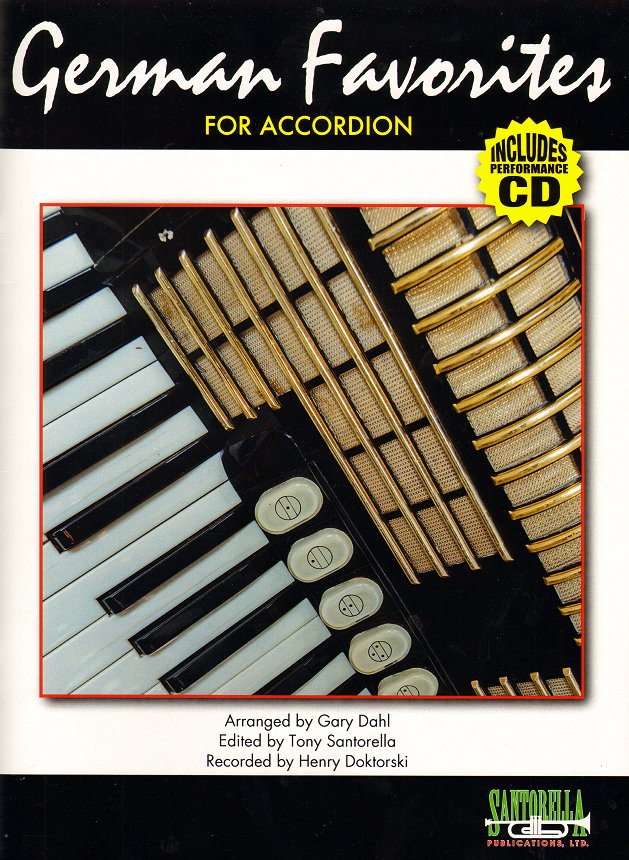 Accordion Music Book and CD: German Favorites for Accordion arranged by Gary Dahl, edited by Tony Santorella, recorded by Henry Doktorski, and published by Santorella Publications, Ltd. (2018)
German imagery is permanently ingrained in contemporary society, from the many tourist destinations modeled after quaint alpine villages to the many Bavarian-themed Octoberfests. German folk culture has been embraced the world over. One of the strongest components of this unique culture is found in their music. The happy oom-pah of village brass bands, or Blaskapelle, is the musical calling card of any German festival. That music is inextricably linked to the accordion, long a cherished instrument of German culture. This book strives to present German music in all its Teutonic glory. The player is invited to hoist a stein of their favorite German lager and bring the best of the Bier Halle home!
48 pages. Measures 9 x 12 inches. Professional High Quality Printing. Contains 15 Songs from German Popular Repertoire. The CD consists of all music in the book played by Henry Doktorski on a piano accordion.
This book will be a truly treasured addition to the library of the discriminating accordion aficionado.
Contents
Die Lorelei

Heidenröslein

O schöne Zeit, o sel'ge Zeit

Danngehn Wir Mai Rüber

Muß i' denn Zum Städtele hinaus

Trink'n wir noch ein Tröpfchen

In München Steht Ein Hofbräuhaus

Studio auf einer Reis

Du hast Diamanten und Perlen

Lili Marlene

Ach wie ist's möglich dann

Drunten, Im Unterland

Freut Euch des Lebens

Denke dir mein Liebchen

Küssen ist keine Sünd
How to order this book:
Item is $19.00
U.S. orders: Send $24.00 by check or money order (includes $5.00 shipping & handling charge) to:

If using PayPal, send payment to:

Overseas customers, contact Henry for shipping rates.