The Brothers Deiro and Their Accordions
by Henry Doktorski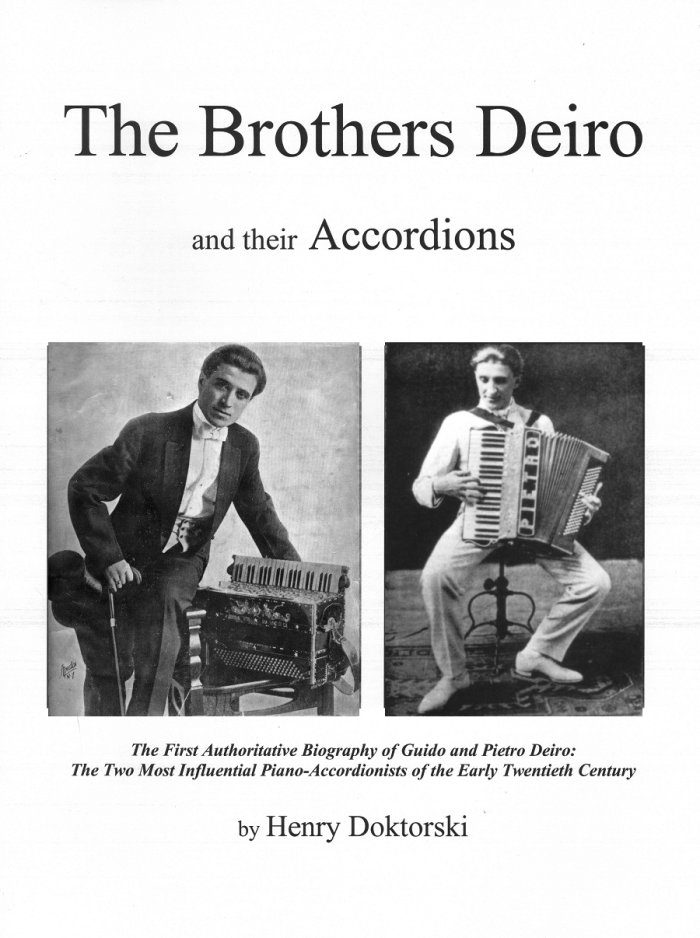 The Brothers Deiro and Their Accordions, a fifty-page, 12,616-word book by Henry Doktorski, describes in detail the fascinating lives and enduring musical accomplishments of the brothers Pietro and Guido Deiro. This important landmark work has been lauded as the first definitive and authoritative biography of the two arguably greatest piano-accordionists of the early twentieth-century. The two Italian-American brothers, Guido (1886-1950) and Pietro (1888-1954) practically single-handedly introduced and popularized the instrument to millions of people throughout North America and abroad by their vaudeville performances, recordings and published music.
The brothers were also the center of a controversy in 1935, as both claimed to be the first to play the piano-accordion in America. After examining the extensive archives of both brothers, the author has definitively solved the mystery and presented newly-discovered facts and startling conclusions.
Henry's book is organized into two sections: (1) "The Brothers Deiro," which describes their lives, careers and achievements, and (2) "The Deiro Brothers' Accordions," which describes their instruments. Part one consists of nine chapters:
Separating Fact from Fiction

The Brothers Deiro in Europe

The Brothers Deiro in America

The Brothers Deiro Achieve Stardom

Discord Between the Brothers Deiro

The Brothers Deiro As Composers

The Death of Vaudeville

The "Who Was First?" Controversy

The Legacy of the Brothers Deiro
Part two gives a detailed description of the two brothers' accordions (displayed at A World of Accordions Museum in Superior, Wisconsin) built in 1917 and 1926 by the San Francisco-based Guerrini company, and includes twenty beautiful full-page (8 x 11) black and white photographs of the two instruments.
Henry said, "The factual history of the two brothers Deiro might have remained forever unknown, if not for the acquisition of the substantial archives of Guido and Pietro Deiro by the Center for the Study of Free-Reed Instruments at the City University of New York. I have examined these archives and have been stunned and amazed in many ways. In my book I do not flatter the two men, but attempt to present (as much as possible) an accurate and balanced biographical history describing their accomplishments, their rich and complex personalities, their virtues and vices, and also to dispel some enduring myths about these two pioneers of the piano-accordion. My conclusions are based on source materials (newspaper clippings, recordings, etc.) in the archives, published research by scholars, as well as testimony from contemporaries who knew these two great men."
Henry concluded, "As a musicologist and author, I am grateful for the opportunity to research and write this history of the famous brothers Deiro and their accordions, and, as a professional concert accordionist, to follow in the footsteps of those two great pioneers who served and continue to serve as inspiration for thousands of piano-accordionists throughout the world. I hope that my book will be appreciated by accordionists, musicologists, and lovers of early twentieth-century popular music."
This book will be a truly treasured addition to the library of the discriminating accordion aficionado.
Reviews
ACCORDION WORLD
This is a fascinating book for any accordion enthusiast who has played or just admired the music of Guido and Pietro Deiro. Even the treasure trove of the accordion in America, Ronald Flynn, Edwin Davison, and Edward Chavez's book, The Golden Age of the Accordion, does not go into much detail as does Henry Doktorski's well-researched book.

This book has examined very closely much that has been written about these two great accordionists and separated fact from fiction. This book is well written and, although scholarly, is easy to read and full of interesting information about the premiere accordionists in America. I can thoroughly recommend this book to anyone interested in learning more about these pioneers of our beloved instrument.
Peter Ayres
Uxbridge, Middlesex, England
---
WAIKATO ACCORDION CLUB
Many thanks for the Deiro book which arrived today. It is very nicely done in my view and, more specifically, the writing is excellent, the layout and printing excellent and those photos are very fine! I can comment on this because in Canada I used to produce high-quality brochures and marketing communications material for my clients and wrote most of the material too.
Roger Nightingale, Secretary
Te Awamutu, New Zealand
How to order this book:
Item is $20.00
U.S. orders: Send $25.00 by check or money order (includes $5.00 shipping & handling charge) to:

If using PayPal, send payment to:

Overseas customers, contact Henry for shipping rates.