The Complete Works of Guido Deiro
by Henry Doktorski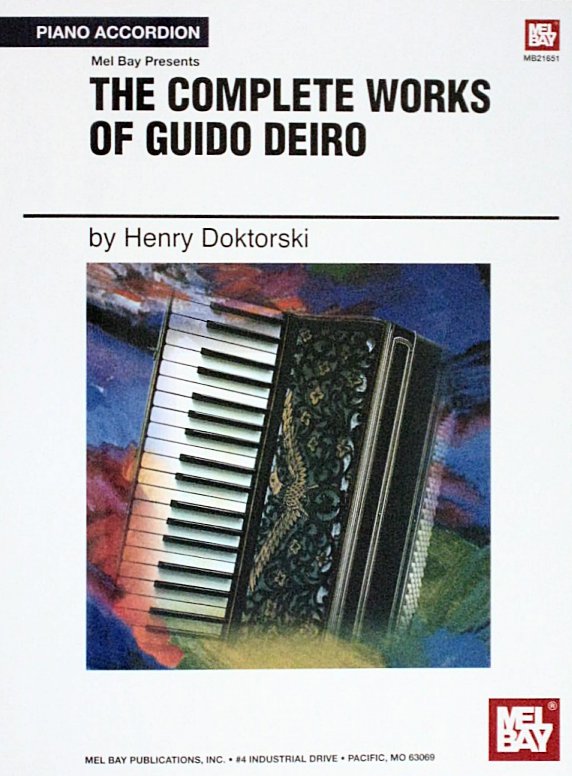 Summary
Henry Doktorski, editor
Count Guido Roberto Deiro, producer
Beautiful, handsome, scholarly urtext edition, edited exactly as Guido Deiro played in his records.
45 pieces, including marches, waltzes, polkas, foxtrots, mazurkas, tangos, etc.
Book measures 11.75 tall x 8.75 wide x 0.5 inches thick.
Handsome Engraving.
Sturdy Perfect Binding.
192 pages.
54 historic photographs.
8 historic sheet music covers.
Facsimiles of two early Deiro pieces.
Includes 11-page biography of Guido Deiro.
Published April 2008.
This item also available as an e-book. How to order.
---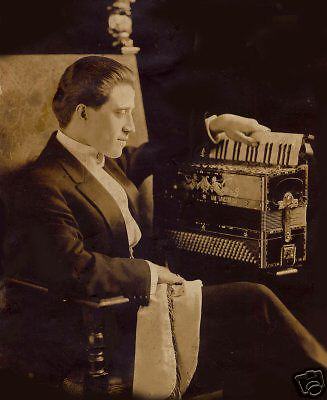 Guido Deiro (1912).
Count Guido Pietro Deiro (1886-1950), Italian-born composer and accordion virtuoso, was to the piano-accordion as Barrios was to the guitar, Sousa to the marching band, Joplin to ragtime, and Zez Confrey to novelty piano. Deiro was a major force in the popularization of the accordion in the early 20th century. A vaudeville star by 1910, he coined the name piano-accordion and was the first to play the instrument on the concert stage, make sound recordings, and appear in motion pictures and on radio broadcasts. For many years Deiro was a headline attraction at the great vaudeville houses throughout America and abroad, and made more than 100 recordings for the Columbia record company.
Concert accordionist and scholar Henry Doktorski has transcribed and edited all of Deiro's original music for accordion—45 pieces including waltzes, rags, marches, polkas, fox trots, tangos, and popular Deiro favorites: My Florence Waltz, Egypto Fantasia, Sharpshooter's March, and the Broadway hit, Kismet.
Guido Deiro's delightful compositions are a window onto an era long past—an artist delighting audiences with soaring melodies, instrumental virtuosity, and abundant high spirits. Who can resist the effortless melodic invention and rhythmic verve of his waltzes, mazurkas, polkas, marches, rags, and semi-classical period pieces?
A lengthly essay by Doktorski and rare photos from the Deiro family archive complete the 192-page book which will be exuberantly received not only by accordion aficionados, but also by musicologists and lovers of early twentieth-century American popluar music, much like the rediscovery of Scott Joplin's music, thirty years ago.
Table of Contents
Introduction
Breitenbush March
Deirina Mazurka
Deiro Rag
Egypto Fantasia
Guido's Royal March
Hand Grenade Thrower's March
I Don't Care Polka
Il Pentimento Waltz
Kismet Fox Trot
Lido Tango
Light & Shadow Waltz
Lola Fox Trot
Los Bomberos March
Marcia
Marines March
Moonlight Waltz
Muskateers March
My Florence Waltz
Neapolitan Polka
Pink Slippers Valse
Preparedness March
Queen of the Air March
Royal Flying Corps March
Tango Tosino
Temperamental Rag
Valse Caprice No. 1
Valse Pirouette
Variety Polka
Western Stars March
Zampa Rag
Guido Deiro's Royal Method for Piano Accordion
Accordionette Waltz
Young Accordionist March
Little Accordion Player Waltz
Torpedo March
Beautiful Girl Waltz
The Peasant Quadrille
Radio Waltz
Dimples Polka
The Accordion Girl Waltz
Sharpshooters March
Veno (Duet) Fox Trot
Jewel Waltz (Duet)
King Boy (Duet) Fox Trot
Minneapolis March (Duet)
California Mazurka (Duet)
---
Review by Accordions USA
This magnificent volume contains 192 pages of historical narrative and photos featuring 45 original works for accordion composed by Guido Deiro (1886-1950). It is the culmination of more than 5 years of scholarly research by Henry Doktorski, a concert accordionist and educator living near Pittsburg, PA. Collaborating with Guido's only son, Count Guido Roberto Deiro, Henry released a masterful double CD set, released in 2003, of solo accordion performances which recreated all of Deiro's music. Now all accordionists have access to this historic material.
You're probably asking why should there be any significant interest in early 20th-century music, especially when it was written for the accordion. The comparison must be made to the enduring Masterworks that are the core of any orchestra's repertoire, and the answer is "their compelling appeal." In the case of The Complete Works of Guido Deiro there is an aura of discovery and the satisfying result of more music that is now available to every accordionist, regardless of their skill level. While it's categorized as music of the 1910s, 20s and 30s, there is much for the player to celebrate and enjoy in a wide variety of melodic marches, waltzes, polkas, fox trots, tangos, rags, mazurkas and quadrilles.
Henry Doktorski "set the record straight" with his retelling of the story of Guido Deiro and his significant contributions to the history of the accordion in America. 2008 marks the 100th anniversary of Guido's arrival in Seattle, WA, where he introduced (and coined the phrase) the "piano accordion" and pursued his professional musical career, which led to his debut in vaudeville in 1910. For nearly 20 years Guido was a headliner in vaudeville and was one of the highest-paid musicians earning $600 a week His popularity extended beyond the stage to records, radio and the movies.
The Deiro accordion had 41 keys with 4 ranks of 328 reeds in the treble—1 low and 3 middle ranks. There were 120 reeds in the left-hand manual with 132 bass and chord buttons. The instrument featured a mute for the left hand and two registers for the right hand - an "organ-like" master of all 4 sets of reeds and the violin register of the 3 middle sets of reeds.
Guido owned the finest cars and a yacht; enjoyed custom-tailored clothes; entertained lavishly; operated music studios; sold Italo-American and Guerrini accordions; and married four times. Henry's authoritative biography, The Brothers Deiro and Their Accordions, tells the stories of Guido and Pietro Deiro. They generated the popularity of the accordion in America through their published music and live-concert and recorded performances of accordion music.
Several compositions stand out for me as a player: "Deiro Rag," "My Florence Waltz," "Tango Tosino," "Valse Pirouette," "Variety Polka" and "Queen of the Air March." These are challenging, yet rewarding, and they give the player a feeling of accomplishment. There are more rudimentary pieces from Guido's accordion method series and the titles include "Accordionette Waltz," "Beautiful Girl Waltz," "Torpedo March" and more. There are 5 duets, among them "Jewel Waltz" and "King Boy" (fox trot). A more accessible revision of "My Florence Waltz," arranged by Anthony Galla-Rini and released in 1952, is included, along with reproductions of many original sheet music covers.
This material should find its way to every player who has the heart and interest to present the accordion as an instrument that is capable of sonorous melodies and delicate technique.
Jay Landers
Springfield, Illinois
July 2008
How to order this book:
The printed 192-page book is $28.00
To order this item as an e-book ($19.99), click here.
U.S. orders: Send $34.00 by check or money order (includes $6.00 shipping & handling charge) to:

If using PayPal, send payment to:

Overseas customers, contact Henry for shipping rates.