11th Annual AGO Palomar Chapter Concert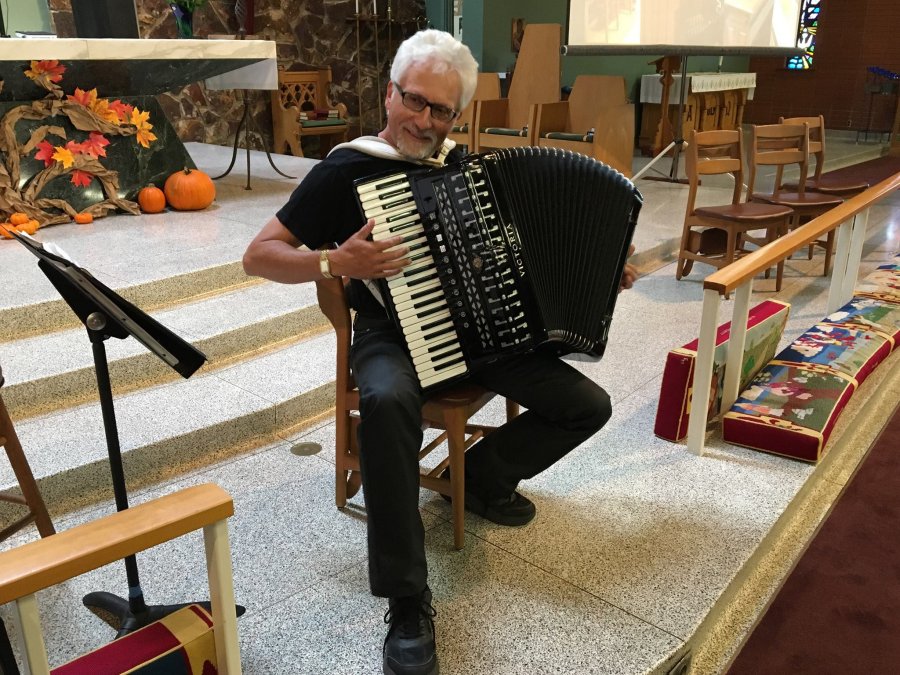 October 14, 2018: Henry performed, along with ten other musicians and 65 singers, at the 11th Annual Concert Scholarship Fundraiser hosted by the American Guild of Organists Palomar Chapter at Trinity Episcopal Church in Escondido, California. On the church's 1971 three-manual and pedal Reuter/Rodgers organ, Henry played his own arrangement of Aaron Copland's Fanfare For The Common Man, and on accordion (accompanied by organist Adam Ferrara) he played two pieces by Astor Piazzolla: Oblivion and Libertango.
Other performers included organists Howard McCullough, Steven Vandlen, Judith Moore, Kim Tran, Simon Nguyen, John Naples, David Lewis, Michael Munson and Adam Ferrara, and pianist April Snyder. A massed choir of 65 voices conducted by David Lewis performed works by C. Hubert Parry, Charles Stanford and Leonard Bernstein.
One audience member remembered the concert, "My entire family and I attended the AGO concert on October 14, for the very first time, in Trinity Episcopal Church in Escondido. My wife occasionally sings in a choir at Calvary Chapel in Oceanside and I have been in the engineering field for way too long. I decided to attend this event at the recommendation of my accordionist teacher Henry Doktorski. I love all types of music genres. My wife and I expected this AGO performance to be good but, overall, it really, really exceeded our expectations. The level of experience and performance of each artist made me wonder why they were not playing at the Spreckels Organ Pavilion in Balboa Park, San Diego. Henry's rendition of the Fanfare for the Common Man on organ was unbelievable! It was my favorite. I had goose bumps while this entire piece was being played. Henry also played his accordion while another artist was playing on the organ. In my opinion, this was an extremely original piece! All the other artists that played the organ that day were fantastic, including some very talented young students. My wife and I highly recommend this event!"—Biagio Agostinelli, Escondido
To hear a recording of Henry playing Aaron Copland's Fanfare For The Common Man on the Robert Knight organ at Saint Martha Catholic Church in Murrieta, California, click here.
Photos nos. 1 and 4 by D. L. Shearer, Photos 2, 3, 5, 6, 7 by David Cowles.