Henry Performs at First Congregational Church of Escondido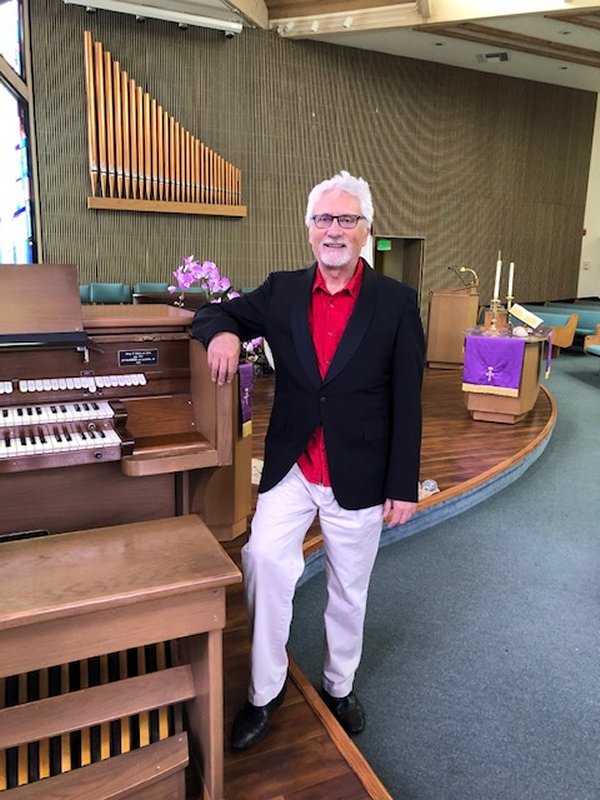 March 1, 2023: Henry performed for the Noontime Lenten Recital Series hosted by the First Congregational Church of Escondido, California. He played seven pieces on the church's two-manual and pedal organ built by Henry F. Pilcher and Sons, opus 1280, and L. W. Blackinton and associates, Inc. (1989).
Henry performed:
First Congregational Church Director of Music Cynthia Poole printed a lovely little program which the usher passed out to listeners. She wrote:
Today's organist, Henry Doktorski, began his professional music career at a birthday party at the age of 12 in Menlo Park, New Jersey. Since then he has played on piano, organ, harpischord, celeste, and accordion with dozens of symphony orchestras and chamber ensembles. He began his church career in 1987, which has continued until this day. He says, "I enjoy all kinds of music, but sacred music is especially dear to my heart. I have found that beautiful and inspiring music can touch people's hearts and help them to connect with God and their brothers and sisters. Like Martin Luther, I also believe, 'Next to the word of God, the noble art of music is the greatest treasure in the world.'"
Henry said: "I thank Cynthia Poole, Director of Escondido's First Congregational Church, for inviting me to perform during their 2023 Lenten Noontime Recital Series. Despite the unusually heavy rain, a good amount of parishioners attended. After the recital, one elderly gentleman approached me and whispered in confidence, with a twinkle in his eye, 'We're not used to hearing such boisterous and lively music during Lent!' I took his comment as a compliment, as he revealed a slight smile."
The First Congregational Church of Escondido administration posted on Facebook, "Your recital was lovely, and we so appreciated your participation."
Photos by Cindy Fuchser.