Henry appears on Krishna Killers television documentary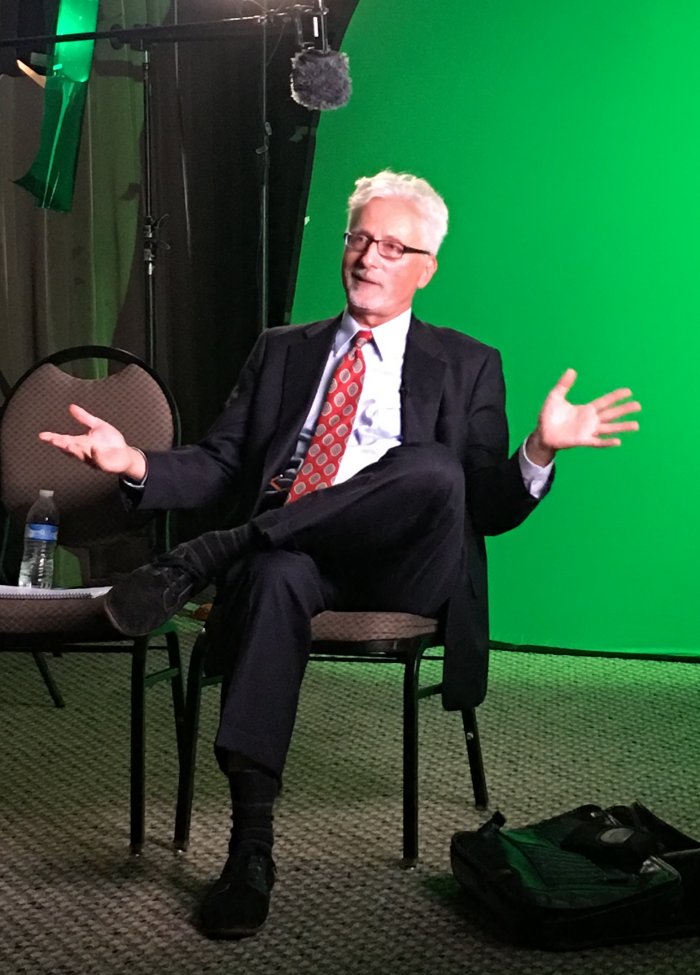 December 18, 2017: Henry appeared as a guest speaker on an Investigative Discovery Channel crime documentary show titled Krishna Killers from the series The 1980s: The Deadliest Decade. Henry was chosen to appear in the television documentary because of (1) his reputation as one of the pre-eminent historians of New Vrindaban, the West Virginia Hare Krishna (ISKCON) community, which was the source of great controversy during his tenure there during the late 1970s, 1980s and 1990s, and (2) his nonfiction book Killing For Krishna: The Danger of Deranged Devotion, to be published in January 2018.
The Krishna Killers documentary, produced by Lion Television, chronicled the murders of Charles Saint-Denis (Chakradhari), a New Vrindaban "fringe" devotee who was brutally murdered on community property in 1983, and the former New Vrindaban resident, Steven Bryant (Sulochan), who was found dead three years later in Los Angeles with two bullet holes in his head. The promotional copy noted, "A charismatic Hare Krishna follower disappears, then another member is shot dead, leading police to untangle a twisted web of murder and betrayal."
Henry said, "I thought that the show was very well researched and balanced; I only found a handful of minor errors which scholars might take exception to, but do not detract from the gist of the story line. I was happy to share my knowledge of New Vrindaban history in order to help point out the excesses of the past and to remind people to beware of extreme cults whose allegedly 'holy' and 'infallible' leaders pretend to be one thing on the surface (God-fearing/God-loving people) but underneath hide a long deviation of secret immoral and criminal activities."
Other speakers who appeared on the program included Thomas Westfall, known as "The Krishna Cop," a former deputy and sergeant in the Marshall County Sheriff's Department who was a key member of the police investigation; Nori Muster (formerly Nandini dasi), a former ISKCON public relations assistant and author of the non-fiction book Betrayal of the Spirit; Jacob Young, the producer of the documentary film Holy Cow, Swami, broadcast by the West Virginia Educational Broadcasting Authority; and Gaura Rader, a former New Vrindaban gurukula student, who is presently a Ph. D. candidate in social psychology at Ohio University, and a lecturer at Hocking College in Ohio.
While the response to the Krishna Killers documentary has been overwhelmingly favorable, it has not been without controversy. One New Vrindaban fringe devotee, Janet Cleaver/Viduttama dasi (initiated at New Vrindaban in August 1975), who lived on the outskirts of the community in 1983 when Saint-Denis was murdered, chastised the author in a Facebook message, "You a complete SMUCK. That movie is all lies. You knew not a damn thing about what happened here in N.V. Were you here in 1983? You will suffer for this shit. I hope you rot in hell, loser. Nobody ever liked you here anyway. Always a weirdo. I'm sure you've heard that before though."
Henry commented, "I hesitate to respond directly to the writer due to the insulting attitude of the communication. For the record, I was a New Vrindaban resident from August 1978 to April 1994, after which I moved to Pittsburgh. The writer claimed, 'That movie is all lies.' Well, that's a mighty broad and strong statement. Is this person trying to tell me that every word spoken during the movie was a lie? Sounds like an exaggeration to me. Nonetheless, I wish her well, despite her insulting letter."
To watch the show on YouTube, go to The Deadliest Decade: The Krishna Killers. If that link doesn't work, try Alternate Link.