Fughetta on "Happy Birthday"
for accordion trio, by Henry Doktorski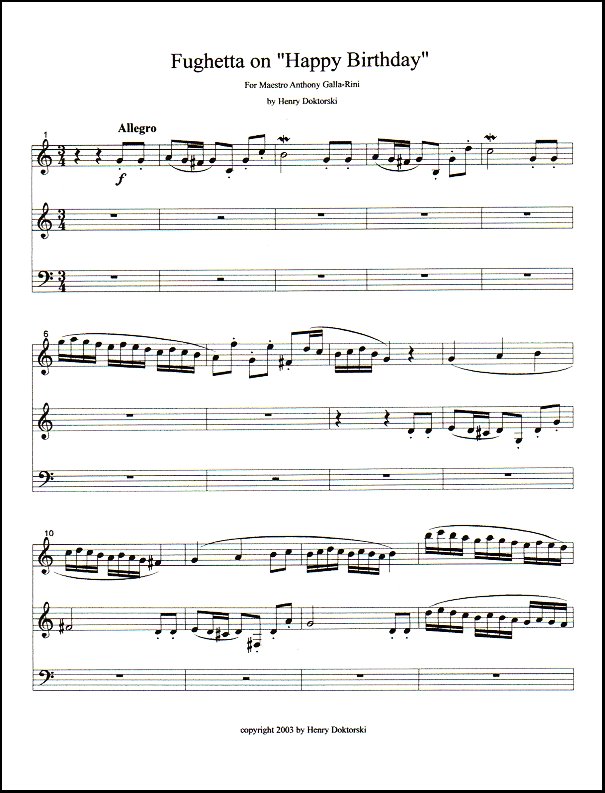 Printed sheet music for Henry's Fughetta on "Happy Birthday" for accordion trio (2003). Includes conductor's score and parts for first accordion, second accordion, and bass accordion. This item also available as a PDF file: no shipping charge.
Henry composed his Fughetta in 2003 for the festive occasion of Maestro Anthony Galla-Rini's 99th birthday. (Fughetta means "little fugue," a contrapuntal piece with independent voices which imitate each other.) Henry met the world-renowned accordionist, teacher, composer and author in 1990 in Kansas City, and again in 1996 in San Diego, when Anthony and his wife, Dolly, came to hear Henry perform a recital for the San Diego Accordion Club. Henry's lively piece presents a delightful contrapuntal exposition, development, and recapitulation of the famous "Happy Birthday" theme composed by Patty and Mildred J. Hill in 1893.
How to order this music:
Item is $10.00
U.S. orders: Send $15.00 by check or money order (includes $5.00 shipping & handling charge) to:

If using PayPal, send payment to:

Overseas customers, contact Henry for shipping rates.