Gold, Guns and God, Vol. 10: The Final Pastimes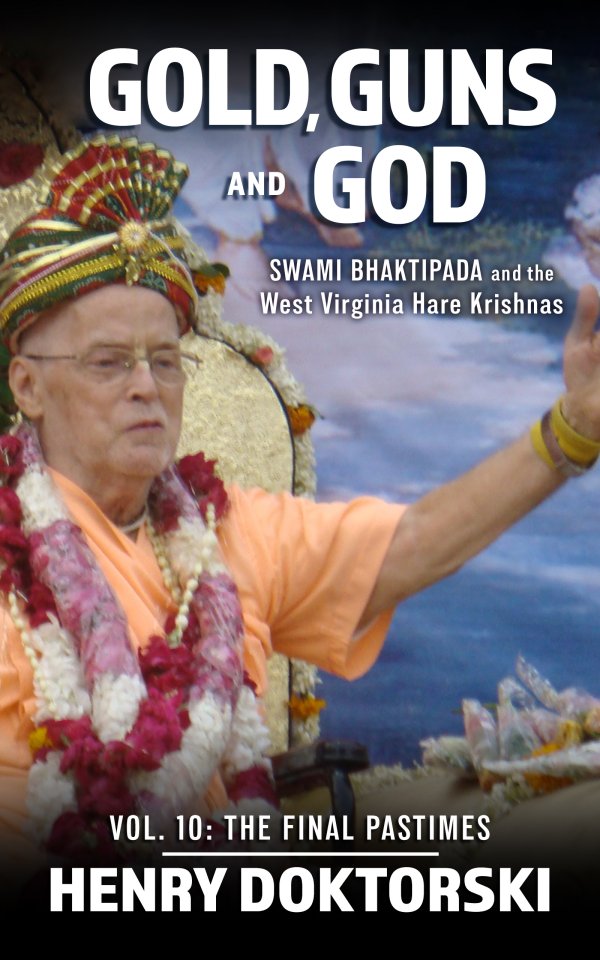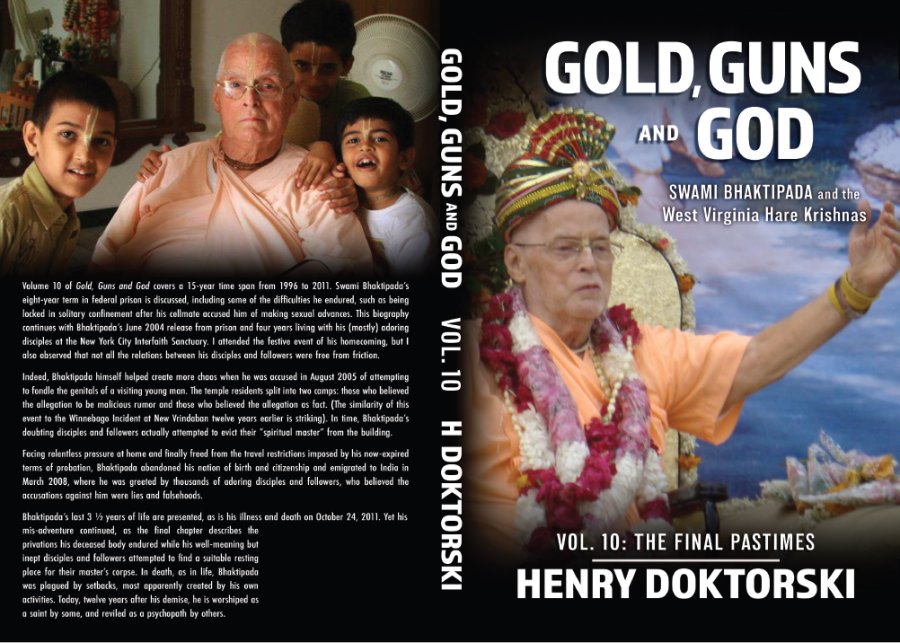 SUMMARY: Volume 10—THE FINAL PASTIMES
Volume 10 of Gold, Guns and God covers a fifteen-year time span roughly from 1996 to 2011. Chapter 103 discusses the return of New Vrindaban to ISKCON, and some of the demands ISKCON placed upon the West Virginia Krishna community in order to once again be part of ISKCON. Chapter 104 deals with Kirtanananda Swami Bhaktipada's eight-year prison term, and some of the difficulties he and his disciples endured during that time.
Chapter 105 tells of Bhaktipada's release from prison and his return to his joyous disciples at the New York City Interfaith Sanctuary. I attended this festive event; but also observed that not all the relations between my godbrothers and sisters were joyous. Bhaktipada himself helped create more chaos when he was accused of attempting to fondle the genitals of a visiting young man. The temple residents split into two camps: those who believed the allegation to be malicious rumor and those who believed the allegation as fact. Those latter devotees attempted to evict Bhaktipada from the building.
Chapter 106 describes Bhaktipada's abandonment of the United States, where most of his formerly-loyal disciples and followers had deserted him. Bhaktipada and his sycophant Radha-Vrindaban Chandra Swami emigrated to India where they were greeted by thousands of adoring disciples and followers, who believed the accusations against him were lies and falsehoods. Their faith in their "spiritual master" was firm and their conviction that he was a divine being who could save them from material calamity was fixed.
Chapter 107 describes Bhaktipada's last three-and-a-half years of life, living as an honored guest of his disciples in India, until his death on October 24, 2011. Yet his adventure was not finished, as Chapter 108 describes the mis-adventures his deceased body endured while his disciple and followers attempted to find a suitable resting place (samadhi) for their master's corpse. For a time, Bhaktipada's body lay in an ice-filled plywood coffin at a cow shed, as the Vrindaban Radha-Gokulananda Mandir (where his well-meaning but ignorant disciples hoped to construct a samadhi for their deceased master near the samadhis of the great Vaishnava acharyas Lokanath Goswami, Narottama dasa Thakur and Vishvanath Chakravarti Thakur) refused to grant them permission.
Finally a property was found for sale and purchased to protect the remains of the Founder/Acharya of the Eternal Order of the League of Devotees Worldwide for all eternity, but it was hardly an auspicious site, as the property was situated between the Yamuna River and the Parikram Road and the property sometimes flooded during the monsoon season. In death, as in life, Bhaktipada was plagued by setbacks, many created by his own activities.
TABLE OF CONTENTS—VOLUME 10: THE FINAL PASTIMES
Chapter 103: New Vrindaban Readmitted to ISKCON
New Vrindaban hosts ISKCON festivals
Radhanath Swami returns to ISKCON
Radhanath accused of conspiring to murder Sulochan
Kuladri returns to New Vrindaban
Two child molesters living at New Vrindaban
ISKCON pressures New Vrindaban to expel Sri-Galim
Sri-Galim leaves New Vrindaban
Prabhupada's Palace in disrepair
Gas drilling at New Vrindaban
Fracking controversy
Bhaktipada's interfaith "friends"
Chapter 104: Behind Prison Bars
Bhaktipada's cell mate accuses him of making sexual advances
Bhaktipada transferred to Springfield, Missouri
Bhaktipada's judge has heart surgery; dies
Bhaktipada remains upbeat
Bhaktipada's sentence reduced
New York City Interfaith Sanctuary remains loyal to Bhaktipada
Interfaith guest rooms
New Vaikuntha: Upstate New York retreat
Bhaktipada transferred to North Carolina
Bhaktipada's disciples visit him in Butner, North Carolina
Bhaktipada's acronyms: TYKPMAII and WCP
RVC Swami evicted from Brooklyn ISKCON temple by abused former gurukuli boy
Inter-Vaishnava harinama
ISKCON Child Protection Office brands Kirtanananda dasa: confirmed pedophile
Chapter 105: Return to New York City
I visit my former "spiritual master"
Bhaktipada seeks forgiveness
The greatest disease: tasting absolute power
Bhaktipada finally admits
Bhaktipada continues to inspire hundreds of loyal disciples
Indian and Pakistani disciples remain faithful
"Saint Bhaktipada"
Vyasa-puja book homages
ISKCON devotees invited to live at Interfaith Sanctuary
Bhaktipada accused of attempting to fondle a visiting male guest
Most of Bhaktipada's New York disciples abandon him
ISKCON takes over Interfaith Sanctuary
ISKCON take over contested in court
Chapter 106: Passage, O Soul, to India!
Bhaktipada visits Rishikesh
Bhaktipada visits Ulhasnagar
Bhaktipada moves to India permanently
Reactions mixed
Bhaktipada retires completely
Bhaktipada's "Palace of Love"
Bhaktipada in Ulhasnagar
Bhaktipada resumes writing books
Humbler than a blade of grass
Bhaktipada's most obsequious sycophant
Bhaktipada visits Nagpur
Bhaktipada's 72nd birthday celebration in Rishikesh
Bhaktipada visits Ambajogai, Parli Baijnath and Majalgaon
Vrindaban pilgrimage
Bhaktipada in Pakistan
Bhaktipada attends Rishikesh Ratha Yatra
Bhaktipada visits Shangri La Resort and Water Park
Bhaktipada visits Badrinath
Bhaktipada's disciple accused of scandal
Bhaktipada's 73rd birthday celebration
Bhaktipada visits United Arab Emirates
Bhaktipada's young servant passes away
Bhaktipada visits Goa
Chapter 107: Last Days
Bhaktipada diagnosed with cancer
Bhaktipada's last days
Bhaktipada back in Jupiter Hospital
The "spiritual master" departs—permanently
Chapter 108: Six Feet Under
Radha Gokulananda Mandir
Bhaktipada's corpse refused at Radha Gokulananda Mandir
At the Mohini Gosala cowshed
Burial plot purchased
Radhanath Swami offers respects
Bhaktipada is buried
A temporary samadhi erected
Bhaktipada's successor continues his lineage
Images