Gold, Guns and God, Vol. 7: Trials and Tribulations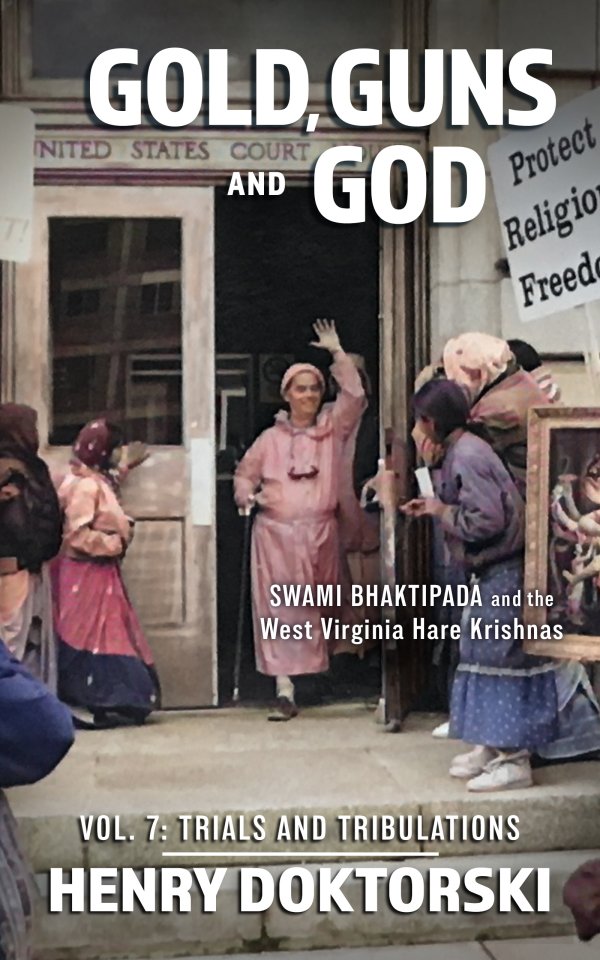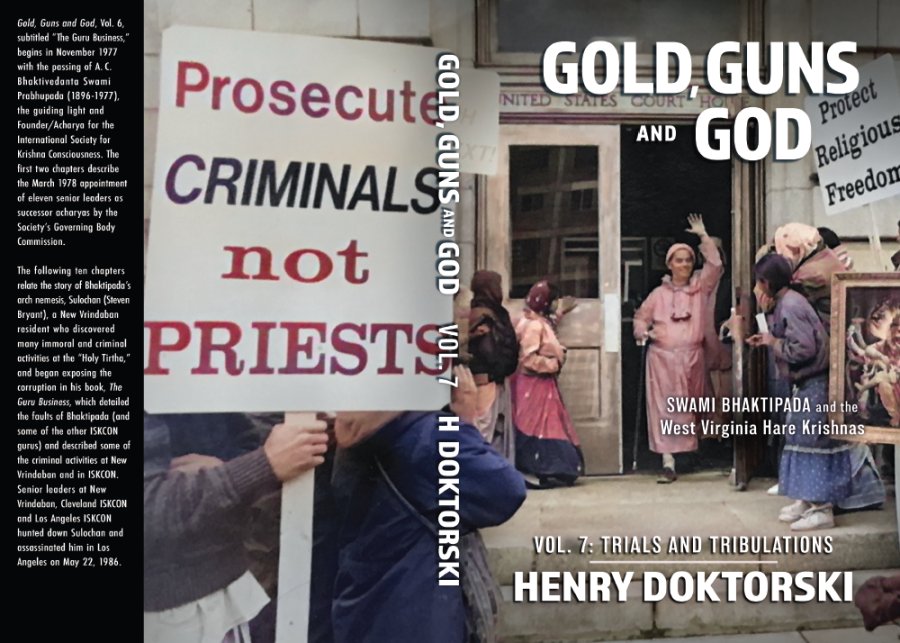 SUMMARY: Volume 7—TRIALS AND TRIBULATIONS
Volume seven of Gold, Guns and God begins with the immediate aftermath of the May 1986 murder of the former New Vrindaban resident and Hare Krishna dissident Sulochan (Steven Bryant), and the attempts of the murderer, Tirtha (Thomas Drescher), to get the money he was promised to do the hit. He and his family were ordered to fly to India and hide out far from U. S. law enforcement, but no one at New Vrindaban was willing to give him the money, until Bhaktipada himself became personally involved three days after the murder.
This delay in procuring the escape money undoubtedly gave police the precious time they needed to find and arrest the murder suspect while he was still in Kent, Ohio, only five miles from his home. When Tirtha was arrested, he and his wife and young son were on their way to New York City to purchase airline tickets and flee the country. Those conspirators from New Vrindaban, Cleveland ISKCON and Los Angeles ISKCON who had assisted in the murder became gripped with fear. Would they be next to be arrested?
Volume seven continues with the government investigation of Swami Bhaktipada and the New Vrindaban Community, Bhaktipada's speedy excommunication from ISKCON in March 1987, and several court cases he had to fight against. Bhaktipada counter-attacked by inaugurating a year-long First Amendment Freedom Tour during which he appeared on many dozens of radio talk shows and television news programs—including several nationally-syndicated television shows such as CBS Evening News with Dan Rather, Larry King Live on CNN, the Sally Jesse Raphael Show, and West 57th on CBS. He preached to millions of listeners and viewers in an attempt to spread the message that New Vrindaban was a holy place and was being unfairly and unjustly attacked by greedy and evil politicians and law enforcement officers in an effort to run the Hare Krishnas out of West Virginia.
Volume seven concludes with Bhaktipada's far fetched claim that the court cases and harassment were nothing more than "persecution, pure and simple." Due to Bhaktipada's considerable charismatic authority and charm, he bamboozled hundreds if not thousands of his gullible disciples and followers to imagine that the United States, West Virginia and Marshall County governments were trying to seize the community and turn Prabhupada's Palace of Gold into a casino—not because of alleged criminal activities, but because of religious bigotry.
TABLE OF CONTENTS—VOLUME 7: Trials and Tribulations
Chapter 69: The Cavalry Comes to the Rescue
Bhaktipada refuses to authorize money for Tirtha
Bhaktipada possibly knew little or nothing of the murder plot
Some say Bhaktipada knew about the murder plot
Some say Bhaktipada did not know about the murder plot
Bhaktipada agrees to authorize escape money for Tirtha
Bhaktipada claims money was for a loan for a vehicle purchase
Radhanath claims money was for Tapahpunja's bail
Dharmatma claims he was not confused: the money was for Tirtha to escape to India
"Packed and ready to fucking go"
Chapter 70: The Rats Jump Off the Sinking Ship
Tirtha and Tapahpunja arrested
Kuladri very, very frightened
Tapahpunja flees the U. S.
Tirtha allegedly offered deal
Tirtha takes full rap
The relationship between Tirtha and Radhanath Swami
Radhanath Swami visits Tirtha in jail
Government's principal witness nearly killed by gas explosion
Gorby found dead
Foul play suspected
Bhaktipada meets with conspirators in Bombay
New Vrindaban leaders abandon the sinking ship
California ISKCON conspirators jump ship
New Vrindaban manager hires expensive attorney
Tirtha saddled with public defender
GBC leaders concerned about bad publicity for ISKCON
New Vrindaban lays off 187 employees
Grand jury meets
"Now the Krishnas have their turn"
Sulochan's three-year-old son drowns
Chapter 71: Tirtha On Trial for the Murder of Chakradhari
Daruka reveals location of Chakradhari's body
Chakradhari's murder and Tirtha's conviction: a turning point
Tirtha allegedly threatens suicide
Tirtha allegedly offered immunity for implicating the Swami
Tirtha becomes a New Vrindaban folk hero
The FBI raid
New Vrindaban children enrolled in public schools
Bhaktipada's First Amendment Freedom Tour
Direct mail marketing to Hindu Indians
Remains of four bodies unearthed at New Vrindaban
Chapter 72: The Berkeley ISKCON Takeover Attempt
Bhaktipada visits California
Hansadutta moves to New Vrindaban
Hansadutta offers Bhaktipada gold coins
Bhaktipada attempts to take over the Berkeley temple
California temples raided
Lawsuit filed against Bhaktipada, Hansadutta and New Vrindaban
Suit settled
Sheriff protests Hansadutta's presence in Marshall County
Chapter 73: Expelled from ISKCON
Bhaktipada ignores the GBC
Bhaktipada orders his Eastern Canadian disciples to New Vrindaban
Problems in Toronto
New Vrindaban pickers devastate ISKCON fundraising
Bhaktipada brings his "unclean" guard dog into ISKCON temples
Bhaktipada: equal to Prabhupada
Kirtanananda infected with Mayavada disease
Bhaktipada asked to resign from ISKCON
North American Temple Presidents' Meeting
Bhaktipada expelled from ISKCON
Chapter 74: Defiance
"Without surrender, there is no religion"
Bhaktipada meets White House aide
Bhaktipada threatens ISKCON with $100 million lawsuit; "I am the real ISKCON."
Kirtanananda allowed to rejoin ISKCON if his "act cleaned up"
New Vrindaban Community expelled from ISKCON
Chapter 75: A Blessing in Disguise
"Dial Om for Murder"
Snoopy's revenge
Pickers sent to the Far East
Tirtha's wife leaves him
Tirtha becomes a swami
Chapter 76: It's Persecution, Pure and Simple
"Get ready for war"
Bhaktipada and Tirtha plead, "not guilty" to arson-for-profit scheme
Bhaktipada found "not guilty"
Monkey On a Stick
The "suicide" of Tapomurti
Illegal immigrant worker murdered
The trial of Tirtha for the murder of Sulochan
Is there proof beyond the shadow of a doubt?
A mistrial declared
Bhaktipada indicted
Who was behind the persecution?
Indian astrologer claims Bhaktipada "wrongly accused"
Bhaktipada's 53rd birthday party
"Religious persecution"
Brijabasis blinded by great emotional investment
Devotees believe allegations are "rumors and hearsay"
Images