Prayers to Lord Damodar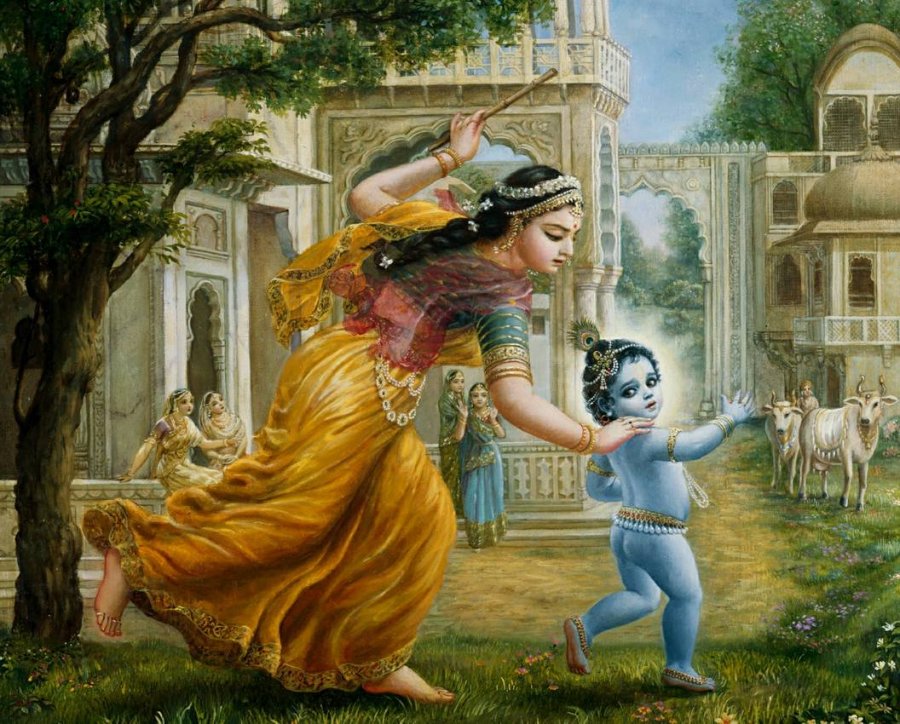 The Prayers to Lord Damodar is a popular Vaishnava bhajan (devotional folk song) that celebrates the Supreme Personality of Godhead Krishna as Damodar (the Lord when he was tied with a cord [daama] around his waist [udara], denoting a divine pastime in which Krishna's mother Yasoda bound her naughty son as punishment for breaking her butter pot in anger). The Sanskrit prayer Damodarastakam appears in the Padma Purana (one of the eighteen Puranas) by Krishna Dvaipayana Vyasa. The song is often sung by devotees during the month of Kartik, and is very popular amongst the Vaishnavas of ISKCON. This English translation was written by True Peace (Thomas Patrick McGurrin: 1941-2015) around 1990 at New Vrindaban, West Virginia. The musical arrangement by the former New Vrindaban Minister of Music—Henry Doktorski (Hrishikesh dasa)—is very much like the version which was sung at New Vrindaban from 1990 to 1994.
Prayers to Lord Damodar
English lyrics by True Peace (Thomas P. McGurrin)
Music by Hrishikesh dasa
(1) Omnipotent, eternal, omniscient in bliss,
In Gokula manifest, with opulence kissed,
Yashoda's sweet butter thief, fearful to subdue—
My Lord Supreme, Damodar, obeisance to you.
(2) Wide-eyed, you were terrified, tearful, breathing quick,
With ropes bound by Yashoda, for her whipping stick—
Bound by your devotee's love, your mercy is true,
My Lord Supreme, Damodar, obeisance to you.
(3) Pastimes full of ecstasy with Krishna thus show
Lord Narayan's devotees an intimate glow.
What love in your devotee, sweet Lord, you endue!
My Lord Supreme, Damodar, obeisance to you.
(4) O Lord, my great champion, no gift is more fair
Than your childhood's sweet pastimes remembered in prayer.
Not even the Supersoul complete from the start
Is sweeter than your childhood replete in my heart.
(5) All mystical darkness in your sweet lotus face
Rose blushed by the kisses of Yasoda's embrace—
To hold you and love you, Lord, what treasure could find,
Your mystical presence, now, always in my mind?
(6) Unlimited Sri Vishnu! O Master! O Lord!
I'm drowning in sorrow here. Let me be restored.
Show mercy upon me, Lord! Uplift and protect
Your unworthy servitor with nectar's confect.
(7) Bound to a great grinding stone caught between two trees
The little Lord Damodar crawling on his knees
Freed both of Kuvera's sons to be devotees.
O sweet little Damodar, please likewise bless me.
(8) O Lord, as the universe was made by Brahma,
Sprung up from your abdomen, bound by Yasoda,
So let me obeisances to you my sweet Lord
Bind me to your services, forever adored.
The former New Vrindaban Minister of Music explained: "I enjoy singing the Prayers to Lord Damodar during the month of Kartik, and also at other times of the year. This recording of Prayers to Lord Damodar is a humble attempt to provide a snapshot of Gaudiya-Vaishnava history in the West. The song, we hope, will glorify Lord Krishna and provide pleasure for the worldwide community of Vaishnavas. We believe that A. C. Bhaktivedanta Swami Prabhupada, the Founder/Acharya of the Hare Krishna movement in the West, approved of the translation of the songs of the Vaishnava sages into vernacular languages and their presentation in local musical traditions, and we hope that those who live in English-speaking countries—by hearing Prayers to Lord Damodar—will develop greater appreciation for Krishna Dvaipayana Vyasa's original Sanskrit Damodarastakam and increase their love for Krishna. Our aim, as originally propounded by the person who established the New Vrindaban community in 1968 and led the community for 26 years, Kirtanananda Swami Bhaktipada (1937-2011) (Keith Gordon Ham), is to present Krishna consciousness in a way which will be attractive to many people, especially Westerners. Krishna, by definition, is 'All Attractive,' and we hope that listeners will come to appreciate some of Krishna's all-attractive qualities by hearing this song."
To listen to Prayers to Lord Damodar on YouTube, Click Here.