Gold, Guns and God, Vol. 8: The City of God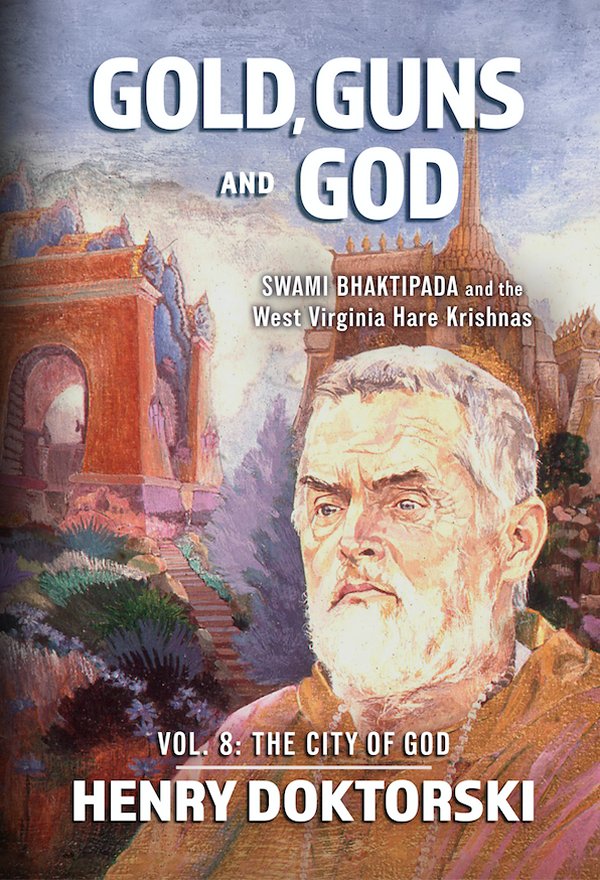 SUMMARY: Volume 8—THE CITY OF GOD
Volume eight of Gold, Guns and God tells the story of Swami Bhaktipada and his vision to de-Indianize, or Westernize, Krishna consciousness in an effort to make it more palatable to westerners. He incorporated various aspects of western and Christian culture into the temple liturgies and daily life of New Vrindaban residents, such as translating the Sanskrit and Bengali prayers into English for temple services, and asking disciples and followers to wear unisex orange-colored garments, something like Franciscan monks' robes, not shaving the head nor beard for men. He also commissioned new tunes in a Western classical style for the English Vaishnava prayers, which were sung daily at temple services. A pipe organ was purchased, and a choir and temple orchestra was created, as well as a children's choir, Gospel band, folk music ensembles, and even a rock band.
Bhaktipada advocated chanting the mahamantra in English and chanting silently in the dark. Women were initiated into the renounced order of sannyasa, an honor and responsibility previously only accorded to men. A life-size statue of Jesus Christ sitting in a lotus posture was commissioned and installed next to the murti of Bhaktivedanta Swami Prabhupada in the temple on Christmas Day 1988.
Bhaktipada also envisioned an interfaith City of God at New Vrindaban, and at eleven other locations around the world, in which all religions would be recognized and respected. For a few years New Vrindaban included about a dozen interfaith residents: Marion Catholics, a Unitarian minister, and others, who wanted to help build a City of God in West Virginia. The design of the Temple of Understanding also changed from a traditional South-Indian Dravidian style (1985) to a modernistic edifice with Native American influences (1990). In November 1990, a giant forty-foot tall statue of Bhaktivedanta Swami Prabhupada wearing a turban and sitting in the lotus position was constructed in the proposed "Garden of the Spiritual Masters" behind the Palace.
Bhaktipada's liturgical reforms and emphasis on interfaith preaching attracted some people to come and live at New Vrindaban, but they also alienated some residents and visitors who were attached to the Bengali-style which Bhaktivedanta Swami Prabhupada advocated. The Interfaith Era at New Vrindaban lasted about eight years, from 1986 to 1994. The reasons for its dissolution will be described in detail in Gold, Guns and God, Vol. 9.
TABLE OF CONTENTS—VOLUME 8: The City of God
Chapter 77: The Great Experiment
Indian culture reigned supreme at New Vrindaban from 1968-1985
Uniting East and West
A 19-point plan for uniting East and West
Precedents for Bhaktipada's reforms
Early attempts to Christian-ize Krishna consciousness
The Love Feast
Interfaith preaching
Prabhupada's crown
Christ and Krishna
Krishna-izing the classics
Shakespeare Krishna-ized
Conversation with Tamal-Krishna Goswami about Krishna-izing the classics
Vyasa-puja Gloria
Chapter 78: Uniting East and West
Cultural conquest
Music "must be related to God"
Music in ISKCON
Apple Record's Govindam Prayers
Chapter 79: Krishna-izing the Classics
(1) Bhaktipada was an expert preacher of Vaishnava philosophy
(2) Bhaktipada was well-versed in Christianity
(3) Bhaktipada appreciated music and the fine arts
(4) Bhaktipada had an army of workers to help manifest his vision
Krishna-izing the classics: Bach, Beethoven, Brahms
Chapter 80: The Krishna Chorale
Vaishnava instrumental music: an oxymoron
Bhaktipada speaks to me about starting a New Vrindaban choir and orchestra
Birth of the New Vrindaban choir
Jagad Guru
Bhaktipada's crown
Choir rehearsals begin
Handel's Krishna-ized Messiah
The choir's first public performance
Merry Christmas From Krishna
First full-length concert
"I can see your future, all bright and full of hope"
Bhaktipada's 50th Birthday Party
Krishna-ized hymns
Vyasa-puja celebration, September 1987
"I want a chamber music concert at my house every Sunday!"
The Krishna Chorale cassettes
Moundsville Daily Echo review
Chapter 81: The Advent of Jesus Christ in the Temple
Bhakti common to many religions
The Aquarian Gospel
Prabhupada said Christ could be worshiped in an ISKCON temple
Jesus Christ appears at New Vrindaban
New initiates receive English names
New Vrindaban singers debut with Wheeling Symphony and Chorus
Hayagriva's hymn: "Holy Father, Holy Mother"
Chapter 82: Accordions, Organs and Music at the Palace
Accordions debut at the Wheeling City of Lights parade
Accordions on tour
The organs
The organ and ISKCON
"I'm going to build the largest pipe organ in the world!"
The first organ: electronic "home" model
The second organ: Möller pipe organ
The third organ: Allen electronic church organ
The Möller organ is finally installed properly
Organ specifications
Placement of Möller organ made it sound sluggish and muddy
The first Music at the Palace season
The second Music at the Palace season
Dasanudas Babaji, flutist
Baroque trip plays Bach "Polka"
Chapter 83: The Temple Orchestra and Music Theater
Timpani
Accordions
Strings
Brass, woodwinds, percussion
Harps
Appreciations
Bhaktipada's 53rd birthday party
Music Theater
Devotee's Journey to the City of God
The Journey to America
Chapter 84: The Liturgies
Bhaktipada preferred vernacular languages
Bhaktivinoda Thakur recommended modifying forms of worship
Vaishnavas historically preferred vernacular languages
Bhaktivedanta Swami Prabhupada approved of prayers in English
Chanting the mahamantra in English
Using clickers instead of beads to count mantras
"The teacher has to consider time, candidate, and country"
The morning service is translated into English
Mudhakari devi dasi revises translation
Hayagriva and Umapati Swami: master poets
Hayagriva's Gurudev Song
Cathedral hymnals
The morning service
The noon service
Bhoga-aroti: Krishna's lunchtime pastimes
All Creatures of Our God and King
Siksastaka Prayers
Krishna-ized hymns
I Surrender All
The evening service
The Aroti of Sri Gaur Hari
Blest Be the Tie that Binds
English prayers chanted in all Bhaktipada's temples
English liturgies: "celestial and uplifting"
The passing of Hayagriva Swami
Chapter 85: Ideational Music
Three cyclical ages of humankind
Bhagavad-gita: the three modes
Ideational music darshan
Ideational music choir commissioned
Chapter 86: Christian-Style Robes and Women sannyasis
1987 Freedom Tour impresses on Bhaktipada the need for more acceptable garb
"The garments we wear is a detail"
The first Christian-style robe
"Women's day" at the temple
Women can become gurus
Bhaktipada's first female sannyasa disciple
Sannyasa for women
First women's sannyasi initiations
ISKCON criticizes women sannyasa initiations
Sannyasinis inspired
Chapter 87: Silent Meditation
Three types of japa: oral, whispered and mental
Silent japa difficult for beginners
Vrindaban babajis chant silently
Bhaktipada defends silent chanting
Guided meditation
Japatation
Spiritual ecology
Chapter 88: Interfaith Preaching
Rabbi Gelberman
Brother Daniel
Bhaktipada preaches interfaith
Darshan on interfaith
Interfaith in India
Tapahpunja preaches interfaith in prison
Native American influence at New Vrindaban
Native American sacred rock lodge
Marathon monks
Seven principles of interfaith
Prabhupada and interfaith
Interfaith living
New Vrindaban interfaith residents
Chapter 89: The Proposed Cathedral of the Holy Name
Granite out, bronze in
New design: "An unbelievable out-of-this-world temple"
Cathedral of Healing: temple, hospital and health spa—all under one roof
Cathedral of the Holy Name: Native American influence prominent
Chapter 90: The Interfaith Cities of God
Bhaktipada's dream of the City of God
Millenarianism at New Vrindaban
Official announcement sent to media
County officials skeptical
New Vrindaban holds sacrifice to stop alleged forthcoming earthquake
New Vrindaban announces wall construction
The "de-motorization" of New Vrindaban
Three stages of purification
Prabhupada instilled the millenarianism spirit in his disciples
The twelve proposed Cities of God
Chapter 91: The City of God Media Circus
The proposed Palace of God in Atlantic City
The proposed City of God near Trenton, New Jersey
Donald Trump invited
The proposed City of God in the Poconos
Press conference
Overflow crowd attends town meeting
Members of Cult Awareness Network speak
Ku Klux Klansmen rally against the Krishnas
Proposed Jim Thorpe City of God abandoned
Bhaktipada's real reason for coming to Jim Thorpe
ISKCON leaders saw through Bhaktipada's ruse
Proposed Cities of God in Minnesota, Scranton Pennsylvania, Wisconsin and Arizona
Scranton amusement park
Proposed West Virginia State Penitentiary purchase
Proposed Golden Gate Bridge purchase
Promoting the City of God
The City of God hardly peaceful
New York City Sanctuary
Brooklyn League of Devotees
The Interfaith Sanctuary
Chapter 92: Bhaktipada's Rule
Concept of the Rule
Devotees' daily schedule
40-foot-tall giant Prabhupada statue erected behind the Palace
Monumental Jesus Christ statue planned
Marriages of State
Gay marriage?
Bhaktipada's reforms inspire New Vrindaban residents
Bhaktipada's reforms inspire Western guests
Bhaktipada's reforms inspire some Indian guests
Bhaktipada's reforms inspire at least one ISKCON devotee
Bhaktipada's reforms inspire interfaith visitors
Uniting East and West
Images