Gold, Guns and God: Vol. 8—The City of God
The First Krishna Chorale Concert
After two months of practice, the Krishna Chorale presented their first full-length performance during a sankirtan festival at New Vrindaban's Sri-Sri Radha-Vrindaban Chandra Temple of Understanding at 6 p.m. on Monday, January 5, 1987. (The evening of the same day as the FBI raid which was discussed in Gold, Guns and God, Vol. 7.) Bhaktipada wrote a short essay for the event which appeared on the second page of the detailed twelve-page photocopied program. Actually, Bhaktipada did not write the essay; I wrote it and submitted it to him for his approval, as he would be credited as author. He made a few changes in ballpoint pen and handed the manuscript back to me. The graduate music student mentioned in the first sentence is me.
A Word from Srila Bhaktipada

Almost nine years ago, I spoke to a graduate music student about the real purpose of music and how, at New Vrindaban, we would perform grand operatic and symphonic works for the glory of God. A seed was planted. Now, by Krishna's grace, that seed has sprouted and tonight we can taste its first fruits, which, I hope, will ripen into an artistic Renaissance which will change the course of fine arts in the modern world.

Of course, this is not solely my idea. Srila Prabhupada explained many times that Krishna consciousness is not limited to the cultural trappings of India. All art, science, technology, music, indeed—all of Krishna's energies—should be utilized in his service. We reject only those things which entangle us in the material energy and make us forget God.

New Vrindaban hopes to combine the best of both worlds—East and West—in a harmonious chorus of Love of God. Just as I have already Krishna-ized some great Western literatures like Pilgrim's Progress, so we will also Krishna-ize the great musical works of Bach, Mozart, Beethoven, and Brahms, etc.

Devotees of Krishna should not object to singing and hearing heavenly choruses and laudations in praise of our divine creator, even if he is not specifically addressed by the name Krishna. God is One. Krishna consciousness is nonsectarian. Saintly persons delight in chanting the glories of the Lord, regardless of the cultural cover. On the other hand, even Rupa Goswami's transcendental songs about the loving exchanges of Radha and Krishna are useless when performed by professional reciters. Such hearing will not kindle one's dormant love of God. Actually, the converse is true: its effect is as poisonous as the milk touched by the lips of a serpent.

Nor should devotees of Lord Jesus object that the name of Christ has been changed to the name of Krishna. Christ's entire life was dedicated to preaching the glories of his Father. How can he be displeased to hear the sincere chanting of the names of The Father? I hope to see New Vrindaban become the center of a Vaishnava cultural revolution and a new renaissance in Love of God. Not art for sense gratification, but real art—for the pleasure and glorification of Krishna.

Hare Krishna!

Kirtanananda Swami Bhaktipada


January 1, 1987
I directed the choir and accompanied at Premarnava's electronic organ. We sang two four-part motets written by myself (Sri Bhaktipadastakam and Sri Nrsimha Pranam), two choruses by Johann Sebastian Bach, four choruses, six recitatives, and five arias from Handel's Messiah (mostly from the Christmas section), and a set of eight "Krishmas Carols." Handel's Messiah was rewritten to tell the story of the birth of Vishvambhar Mishra (later known as Chaitanya Mahaprabhu).
"I can see your future, all bright and full of hope."
Bhaktipada attended the choir performance in the temple; he was extremely pleased and penned a handwritten note of appreciation:
An Expression of Thanks! To all the members of the NV Choir for a most inspiring and enjoyable evening last night in the temple. I feel something like a mother, who has just given birth to a healthy, bouncing, baby boy. To be sure, he is not full grown yet, but all of the potential is there. Already I can see him traveling and preaching vigorously, defeating all the demons! So too, I can see your future, all bright and full of hope. All that separates us is time and a little hard work and perseverance. All glories, all glories, all glories. May Krishna bless you more and more.

KS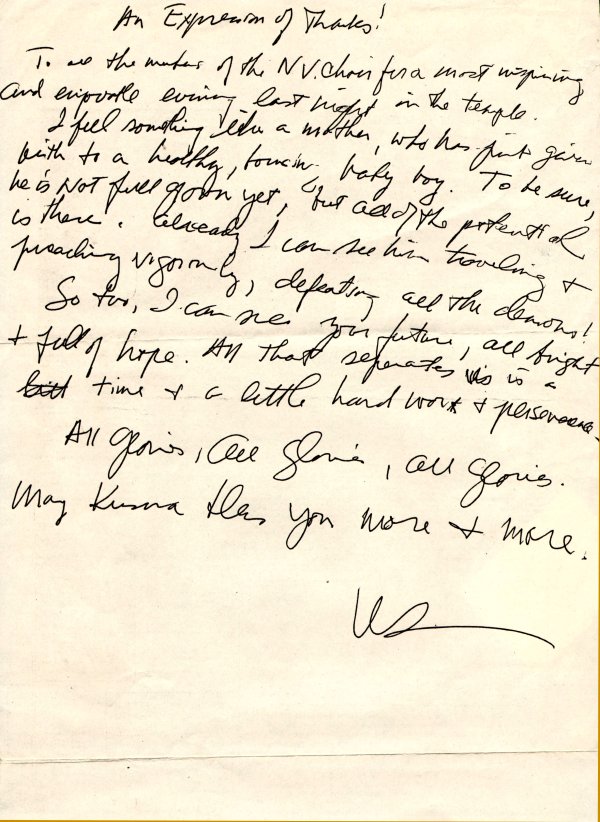 Within a few short years, New Vrindaban's western music program would include, in addition to the choir (which I named the Krishna Chorale), a pipe organ, an orchestra with strings, woodwinds, brass and percussion instruments, and liturgies rewritten with English texts and western music. One of our choir members, Brihan Naradiya Purana (Bernice Roberto), remembered, "It was a fateful day when Hrishikesh asked me to join the choir. Although I had taken piano lessons and sang in my high school choir, I said I couldn't. But that didn't stop Hrishikesh; he kept trying to get me to join. He wanted to recruit anyone and everyone. There were even a few tone-deaf people in the choir, which he tolerated, but appreciated anyway. He was digging for gold; searching for devotees who could sing and read music. I kept making excuses why I couldn't join. I said I couldn't get a baby-sitter, as my daughter, Bhakti, was still an infant, and baby-sitters were so hard to find. Hrishikesh solved that problem; he made arrangements and got a baby-sitter for me during rehearsals. I was shocked; he was so fired up. I couldn't say no anymore. So I came to my first rehearsal and loved it."
Most ISKCON devotees considered "Krishna-izing" Western classical music masterpieces and Christian hymns as rasabhasa; an incompatible marriage. The controversial liturgical changes at New Vrindaban were noted with concern by leaders of ISKCON and were even reported in newspapers such as The Washington Post.
The Philadelphia ISKCON temple president, GBC representative and ISKCON guru, Ravindra-Svarupa, claimed that Bhaktipada had "betrayed Vedic principles" by "accommodating to Western culture." He wrote: "I fear that Kirtanananda Swami, in accommodating to Western culture and specifically to Christianity, has betrayed Vedic principles. You've probably heard that Kirtanananda Swami has also established a Western choir which at festivals sings the church music of Bach and Handel, lyrics apparently Krishna-ized. He is also composing imitations of Christian devotional literature—an imitation of The Imitation of Christ and another of Pilgrim's Progress. All these things, taken together, indicate that something very serious has gone amiss."
ISKCON spokesman, Anuttama dasa, said: "Kirtanananda had 'set himself up as an independent authority' and introduced unapproved worship practices, such as using an organ, instead of drums, and singing Christian hymns."
In effect, The Krishna Chorale helped Bhaktipada get expelled from ISKCON in March 1987.
Notes by the choirmaster, 36 years later:
I hesitated before uploading this concert to YouTube. It is not a professional recording; the recording engineer, choir members (and director) were amateurs, and the electronic keyboard sounds tinny. In fact, for a fellow who graduated from college nine years earlier as a piano major, today I am embarrassed by some of my playing on this recording! Obviously, much of the music should have been rehearsed more thoroughly.
If there is any fault, it is that the director (me) bit off more than he could chew; the program was incredibly ambitious, and beyond our humble abilities. However, at the time, I wanted to show that Bhaktipada's vision had merit, therefore I planned such an ambitious program. In hindsight, I should have cut the program in half. The choir would have been better prepared, and the audience would also have been pleased by the brevity.
Nonetheless, despite its faults, there is a good deal of inspiring music on this recording. The first section, the Pranam Prayers, the Bhaktipadastakam Prayers, and the fugue were better prepared and the singers rose to the challenge. Other pieces are also performed well. This recording, in my opinion, is not so valuable for its musical or aesthetic virtues, but for its historical value: the first full-length concert by the choir of New Vrindaban under the vision of Kirtanananda Swami Bhaktipada.
Henry Doktorski (December 8, 2022)
---
To listen to the first full-length concert by the Krishna Chorale (January 5, 1987) go to YouTube.
Photo courtesy of the Keith Gordon Ham/Swami Bhaktipada Archive at the West Virginia Regional and History Center, University of West Virginia, Morgantown.
For more about music at New Vrindaban, see Henry Doktorski's book, Gold, Guns and God, Vol. 8.