Gold, Guns and God: Vol. 8—The City of God
Journey to the City of God, the Musical
In 1988, Palace Publishing published Bhaktipada's seventh book, A Devotee's Journey to the City of God, a retelling of John Bunyan's 1678 classic Christian allegory Pilgrim's Progress, regarded as one of the most significant works of theological fiction in English literature. Bhaktipada's semi-autobiographical story revolves around a man living in New York City named John who becomes dissatisfied with life; he suspects there must be something more than eating, sleeping, drinking beer and watching the Super Bowl on TV. He reveals his frustrations to his family, who dismiss him as crazy.
One day while walking down Second Avenue, he meets a beautiful, effulgent man dressed in saffron robes standing before a modest storefront called "Matchless Gifts." The man, known as Spiritual Master, initiates John, gives him the name Devotee, and directs his new disciple to follow the bright light which leads him along the straight and narrow path to the lotus gateway of the City of God. The book describes the adventures that Devotee faces on his perilous journey.
During the summer of 1990, I was inspired to write a musical play based on Bhaktipada's book. I wondered, "Perhaps New Vrindaban residents could, in time, produce an extravagant musical play like the villagers of Oberammergau in Germany." I thought this would be an exciting way to spread the gospel of Krishna consciousness in a way which would appeal to the American public.
In Tuscarawas County, Northeast Ohio, at Schoenbrun Village, the biblical musical, Trumpet in a Strange Land, is presented to thousands of tourists every summer. I wondered, "Why couldn't we create such a musical play at New Vrindaban? It could be a grand epic, like Oberammergau and all the New Vrindaban residents could participate." Twelve years earlier, in August 1978, Bhaktipada had spoken to me about creating grand operas at New Vrindaban based on Krishna conscious stories. I had always wondered when I would have the opportunity to work on it. "Perhaps the time had come," I thought.
With the assistance of Sankirtan (Andy Frankel), New Vrindaban's resident actor and playwright, I selected the most important sections of the book to set to music. At first I decided to create a short fifteen- or twenty-minute musical based on a minimum of text for just a few actors; just enough to present the "bare bones" of the story. If my musical was a success, I planned to gradually add more and more scenes to each subsequent performance until it became a full-length two-hour-long production.
After writing the script and musical score (Prepare to Die is written in an artificial whole tone scale, which I thought fit the character of the villian, the Prince of Darkness), I recruited singers and musicians, and set up a rehearsal schedule. The musical, titled Journey to the City of God, premiered on Saturday, October 6, 1990 during the Fifth Annual New Vrindaban Interfaith Conference. It was repeated again on Tuesday, October 9th. The Wheeling News Register and Moundsville Echo printed notices about the performances.
The musical touched the hearts of devotees and visitors alike. I recall many members of the audience, including Nityodita Swami, were brought to tears during the initiation scene, when the Spiritual Master removes Devotee's great burden and tosses it away. Rev. George Exoo, a City of God interfaith resident who earned a doctorate in music history from the University of California at Berkeley (his dissertation focused on the music of the great British composer Ralph Vaughan Williams), wrote a glowing review of the musical play which was published in The City of God Examiner:
Joyful Noise

In 1952 Ralph Vaughan Williams completed and produced his opera, A Pilgrim's Progress. A lifelong project, the composition took him some forty years to complete. The score is dotted with mystical snippets in musical form, built largely on the pentatonic scale, which Vaughan Williams, in other works, developed over the years into full-scale compositions. This relationship to the Fifth ("Pastoral") Symphony is particularly striking. If the work suffers, it does so in that the mystical snippets are given insufficient development in the final denouement—like a sneeze built up with a mighty force through increasingly powerful intermittent whiffs of pepper, only to conclude in a piddling "a-choo."

The libretto (text) reveals Vaughan Williams' Protestant ethic. As a youth in Victorian England, his mother, like mothers in other "correct" families, each Sunday afternoon took her family into the parlor and read Bunyan's works out loud. Bunyan thus became for Vaughan Williams a Bible and a recipe for life: eschew vanities, "overcome" difficulties, and keep your eye on the goal of the Celestial City.

At every turn, Henry Doktorski's (Hrishikesh dasa) Journey to the City of God invites comparison to Vaughan Williams. In Journey to the City of God, Hrishikesh dasa reveals a work of remarkable spiritual genius. Where until the advent of interfaith, the ethos of the New Vrindaban Community has discouraged the flowering of original theological reflection, it has encouraged the development of dramatic and musical originality that would do Ralph Waldo Emerson proud.

Hrishikesh dasa is an organist and composer of astounding ability. His performances are always energetic, authoritative, and flawless. In hymn tunes and anthems (which lamentably get almost no play in the Temple), his use of syncopation and cross-rhythms is electric, and these, combined with his own harmonic signature, culminate in musical language evocative of the music of Leonard Bernstein.

Journey to the City of God "Krishna-izes" Bunyan, and in four Broadway-style "numbers," presents the essential New Vrindaban plan of salvation: alienation, gurudeva, distraction, redemption. I would like to think of these four numbers as an initial sketch of a larger work and would encourage the composer to think of the Vaughan Williams example.

Already Hrishikesh dasa has bettered Vaughan Williams by giving us a finale, which is a powerful icon of a glorious mystical awakening. The repeated use of the unfolding perfect fifth accomplishes this end, for there is no better musical metaphor for conveying the feeling of mystical openness and suspension than the interval of the perfect fifth. (Parallel fifths, for example, are what gives Vaughan Williams' Variations on a Theme by Thomas Tallis its distinctively mystical sound.)

The peak of the finale comes with the ecstatic descant which was sung by Rupa Vilasa so magnificently that his voice became a veritable trumpet obbligato in style of Roger Voisin.

Journey to the City of God, the play, can have tremendous public relations value for the City of God, the municipality. It interprets Vaishnava theology in a style friendly to Christianity. Over in Tuscarawas County, Ohio, at Schoenbrun Village, the summer musical, Trumpet in a Strange Land, was running when I was a teenager and is still running today! Hrishikesh dasa's Journey to the City of God is worthy of that same longevity. The composer might do well to offer his services, on a fee basis, to other traditions entering the City, to develop a dramatic presentation of their own spiritual path or heritage.
Devotee's Journey returns by popular demand
At the request of Paramahansa Krishna Swami and other senior New Vrindaban elders, Journey to the City of God was performed again at the Sixth New Vrindaban Interfaith Conference during February 16-17, 1991. Again, Rupa Vilasa sang the lead role. I expanded the production with the addition of three new musical selections. The first was an overture, the second was a ballet (a minuet for string quartet) which accompanied the dancing of residents of the City of God, and the third was a piece to accompany the curtain call, when the actors, singers and dancers (and the music director) take their bows to audience applause. All three pieces were based on the City of God theme.
In addition, the first song, A Great Burden, was lengthened with the inclusion of an elaborate drum solo in the middle of the piece, at which time six female teenage dancers, led by the community's dance instructor, Nectar, attempted to seduce Devotee from pursuing his spiritual quest. Since sufficient orchestra members were not available at this time, I made a cassette tape of the music with a computer sequencer and Kurzweil keyboard to play during performances.
The music on the studio recording was recorded in February 1991, as a sound track for the actors, singers and dancers on stage. The voices on this cassette were added later. The string quartet ballet music (a minuet) based on the City of God theme was recorded in the summer of 1993 and added to this cassette at that time. This minuet also appears on my November 1993 compact disc, A Classical Christmas.
In the studio recording, Sankirtan dasa served as narrator, I sang the role of John/Devotee (as Rupa Vilasa had left New Vrindaban for parts unknown), Bhakti Rasa Swami sang the Spiritual Master's part (as Vishvatamukha was overseas in the Fare East, as I recall), Kripa Maya sang the part of the Prince of Darkness, and Brihan Naradiya Purana devi dasi sang the finale. —Henry Doktorski (November 2022)
---
To listen to Journey to the City of God, Rehearsal (October 6, 1900) go to YouTube.
To listen to Journey to the City of God, Live Performance (October 6, 1900) go to YouTube.
To listen to Journey to the City of God, Studio Recording (February 1991) go to YouTube.
Photos courtesy of the Keith Gordon Ham/Swami Bhaktipada Archive at the West Virginia Regional and History Center, University of West Virginia, Morgantown.
Paintings by Krishna Katha dasa (Carl Carlson) from Bhaktipada's 1988 book, A Devotee's Journey to the City of God.
My godbrother Rupa Vilasa (Ronald Dewayne Hayes) left New Vrindaban around 1992 and I lost track of him. Recently, I discovered that after leaving West Virginia, he served as the director of the Sanctuary Choir for the Hill Street Baptist Church of Louisville, Kentucky. He also sang in the James McCray Chorale Ensemble of Cincinnati, Ohio. He passed away at the age of 49 on June 13, 2009. See: Louisville Courier-Journal
For more about music at New Vrindaban, see Henry Doktorski's book, Gold, Guns and God, Vol. 8.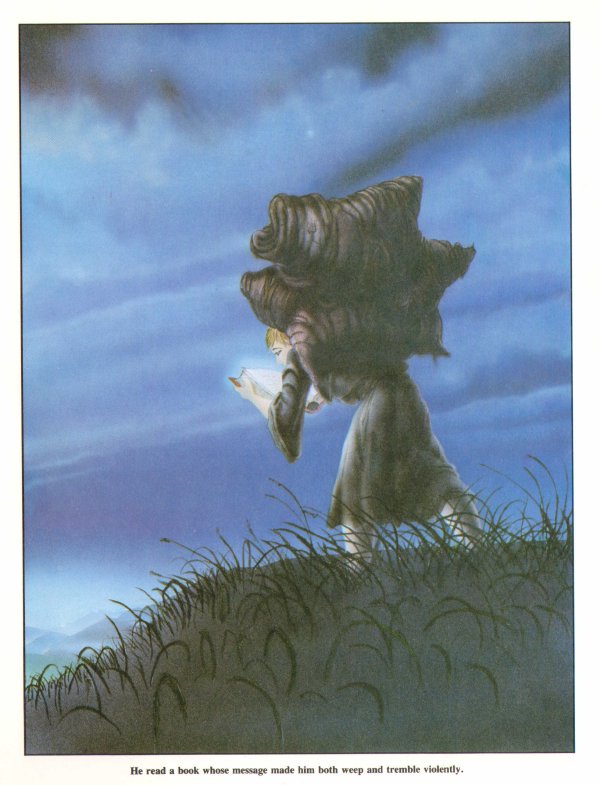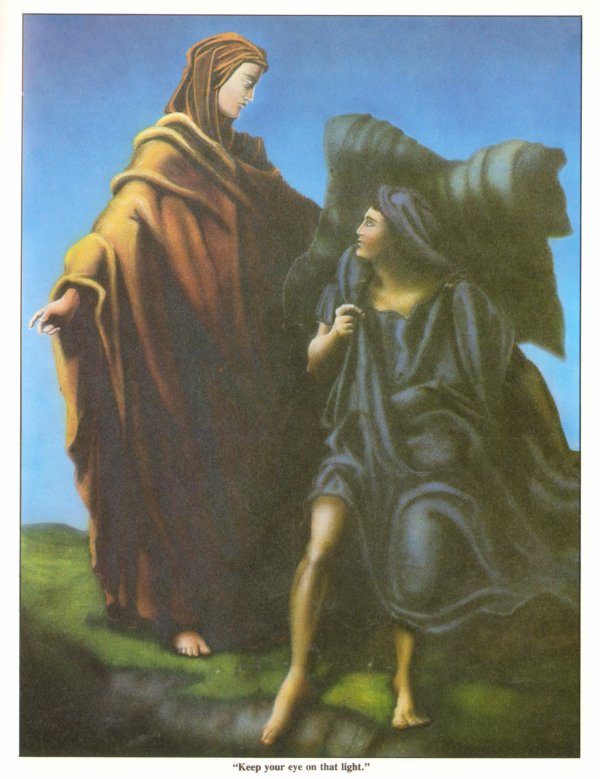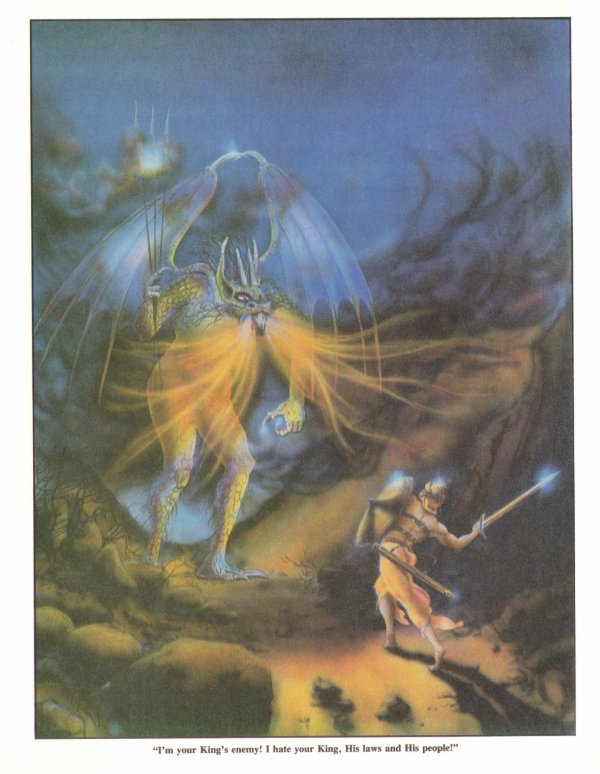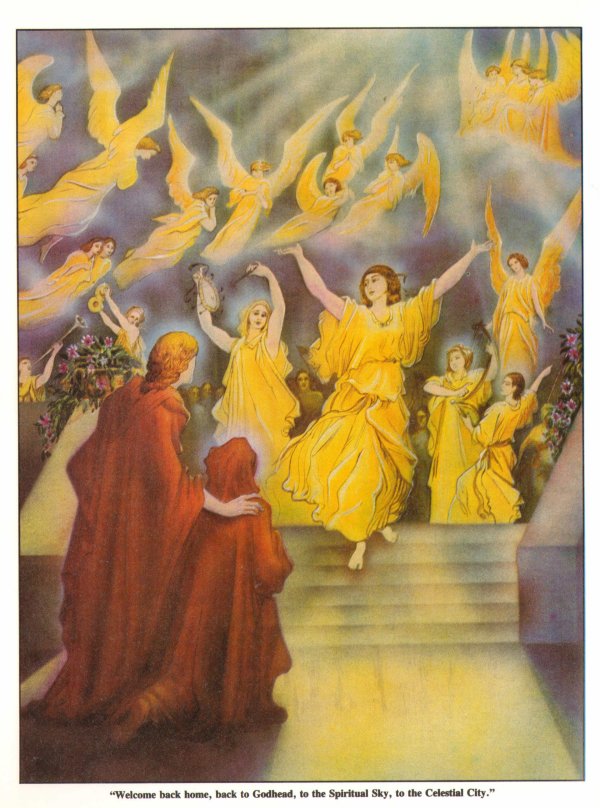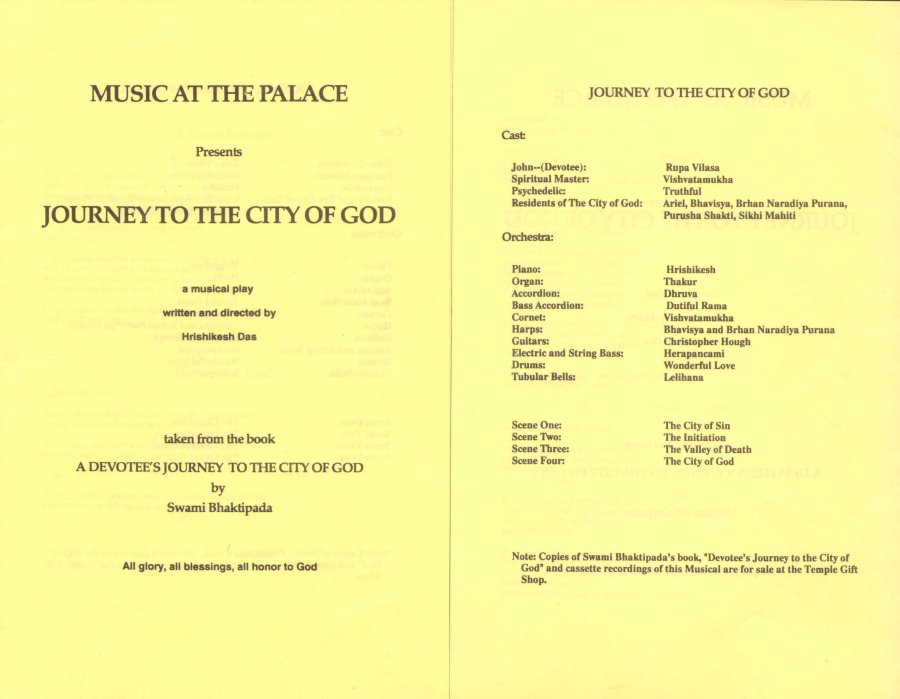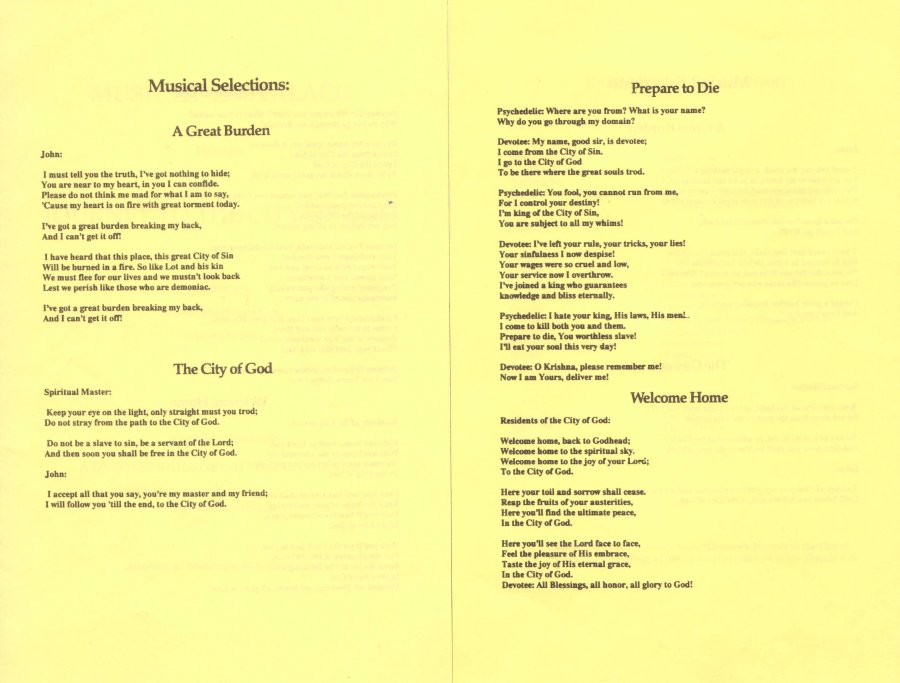 Narration and Song Lyrics
This text and music comes from the February 1991 Studio recording. To hear the October 1990 live performance, go to YouTube.
Narrator: Not very long ago, in a not-too-distant place, there lived a man who was not at all unlike us. He had no uncommon qualities, nor any great abilities. Every morning, he stumbled out of bed, brushed his teeth, straightened his tie, gulped his coffee, kissed his wife and children goodbye, purchased the morning paper, and squeezed into the rush-hour traffic: off to another day at work. But little by little, a tinge of frustration grew within his heart. A time came when the simpler pleasures of life no longer appealed to him. Drinking beer, smoking cigarettes, driving a fancy car, having an affair with his secretary, or even watching the Super Bowl on TV, were no longer satisfying. Something was wrong! He felt that, despite his care and attention to his job and his family, he felt that he was neglecting something deep within his soul. But he wasn't sure what it was. He had the impending feeling that something terrible was about to happen. He began to see that all earthly pleasures end in death. And that all living beings, including himself, must die. Finally, his burden of frustration grew so great that he decided to reveal his mind to his wife and children, hoping that they would understand.
John: I must tell you the truth
I've got nothing to hide.
You are near to my heart.
In you I can confide.
Please do not think me mad
For what I am to say,
'Cause my heart is on fire
With great torment today.

I've got a great burden breaking my back.
And I can't get it off!

I have heard that this place,
This great City of Sin
Will be burned in a fire.
So like Lot and his kin
We must flee for our lives
And we mustn't look back
Lest we perish like those
Who are demoniac.

I've got a great burden breaking my back.
And I can't get it off!
(Drum solo during which six teenage female dancers attempt to distract John with their charms, but John is too distraught to be interested.)
I've got a great burden breaking my back.
And I can't get it off!

Gotta get it off! Gotta get it off! Help me get it off!
Narrator: Despite John's sincere attempt to warn his family of the calamity that lay ahead, they refused to listen, and they dealt with him harshly, considering him insane. Then one day, he saw an effulgent man, wearing robes, beckoning to him. It was the spiritual master, and it seemed that he knew John. He spoke with great wisdom and compassion:
Spiritual Master: Why are you in so much distress, my son?
John: I sense that I'm wasting my life pursuing trivial pleasures that end in death. But I don't want to die. Can you help me?
Spiritual Master: Yes, I can. Do you see that lotus gateway off in the distance?
John: I . . . can't see anything, except skyscrapers and air pollution.
Spiritual Master: Then do you see the bright light shining in that direction?
John: I . . . I . . . I think I do!
Spiritual Master: Keep your eye on the light,
Only straight must you trod;
Do not stray from the path
To the City of God.

Do not be a slave to sin,
Be a servant of the Lord;
And then soon you shall be free
In the City of God.

John: I accept all that you say,
You're my master and my friend;
I will follow you 'till the end,
To the City of God.
Spiritual Master (spoken): Do you agree to follow the four principles of freedom? No meat eating, no illicit sex, no intoxication and no gambling? And to chant the Holy Names of the Lord constantly?
John: I do.
Spiritual Master: Your new name is Devotee.
(Spiritual Master removes the enormous burden—a huge and heavy sack—from Devotee's back and tosses it offstage.)
Duet between the Spiritual Master and Devotee:
Spiritual Master: Keep your eye on the light,
Only straight must your trod;
Do not stray from the path
To the City of God.

Devotee: I accept all that you say,
You're my master and my friend;
I will follow you 'till the end,
To the City of God.
Narrator: Devotee traveled on the road to the City of God for a long time. He discovered that the path was filled with many dangers. Before long, he found himself in a dark, ghostly place. Burnt trees stood lifeless. The earth trembled beneath his feet. Poisonous vapors filled the air with suffocating odors. Crows shrieked overhead. Devotee had entered the Valley of Death, where he encountered a Satanic creature straight from hell. This creature was known as the Prince of Darkness.
Prince of Darkness: Well, well, well! What do we have here? (Laughter)
Prince of Darkness: Where are you from? What is your name?
Why do you go through my domain?

Devotee: My name, good sir, is Devotee;
I come from the City of Sin.
I go to the City of God
To be where the great souls trod.

Prince of Darkness: You fool, you cannot run from me,
For I control your destiny!
I'm king of the City of Sin.
You are subject to all my whims!

Devotee: No! I've left your rule, your tricks, your lies!
Your sinfulness I now despise!
Your wages were so cruel and low,
Your service now I overthrow.
I've joined a king who guarantees
Knowledge and bliss eternally.

Prince of Darkness: I hate your king, his laws, his men!
I come to kill both you and them.
Prepare to die, you worthless slave!
I'll eat your soul this very day!

Devotee: O Krishna, please remember me!
Now I am yours, deliver me!
Narrator: Devotee was knocked to the ground. The Prince of Darkness dug his foot into Devotee's chest and raised his battle axe. Devotee was certain that death was upon him, but he heard the voice of his Lord speak to him from within, giving him renewed strength: "My devotee shall never be vanquished."
(Devotee and the Prince of Darkness resume their battle, and Devotee emerges victorious.)
Devotee: I go to the City of God
To be where the great souls trod.
Narrator: After a long time—Devotee did not know how long—it could have been months, years, lifetimes, or it could have been only a moment, he finally arrived at the heavenly City of God. His happiness increased by leaps and bounds. There he saw the towering palaces decorated with gems. He smelled the delightful fragrance of blooming flowers and burning incense. And he heard the sweetest of sounds, musicians and singers praising the name of God. He peeked over the wall of the city and beheld the celestial residents holding hands in a large circle and dancing joyfully.
(A string quartet plays a minuet to accompany the dancing of the denizens of the City of God.)
A resident of the City of God: Brothers and sisters, look! This pilgrim has come from the City of Sin, and for the sake of the Lord has endured all kinds of trials and tribulations. This is the man who has loved the Lord with all his heart, body and mind. He has left everything for the sake of God. Now he can see the Lord face to face.
Residents of the City of God: Welcome home, back to Godhead;
Welcome home to the spiritual sky.
Welcome home to the joy of your Lord;
To the City of God.

Here your toil and sorrow shall cease.
Reap the fruits of your austerities,
Here you'll find the ultimate peace,
In the City of God.

Here you'll see the Lord face to face,
Feel the pleasure of his embrace,
Taste the joy of his eternal grace,
In the City of God.

Devotee: All blessings, all honor, all glory to God!