Gold, Guns and God: Vol. 8—The City of God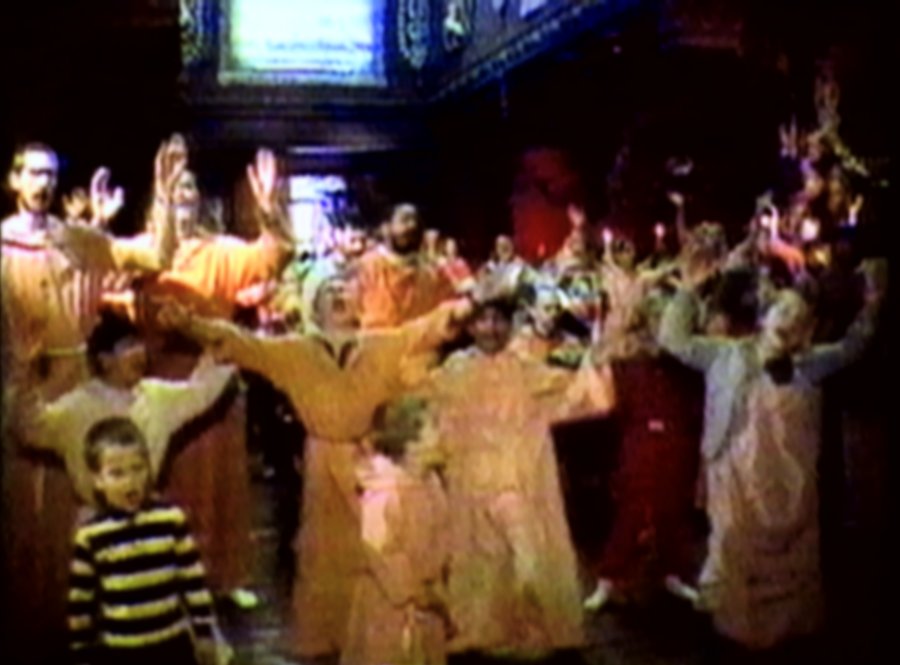 The Noon Service
In July 1988, the "acharya" of the New Vrindaban Hare Krishna Interfaith Community in Marshall County, West Virginia, known to his followers and disciples as "His Divine Grace Kirtanananda Swami Bhaktipada," ordered that the 5 a.m. Morning Program, traditionally sung in Sanskrit and Bengali and accompanied by traditional Indian instruments like mrdanga drums and kartal cymbals, be translated into English and accompanied by Western instruments, such as the pipe organ and timpani.
After the temple morning service was established in English, Bhaktipada focused on creating a liturgy for the noon service. Traditionally, the noon aroti was not well attended at ISKCON temples. Even at New Vrindaban, the noon aroti was only well attended on Sundays, immediately prior to the Sunday feast. Of course in the early days, before the new temple was built in 1983, we would have a kirtan and Bhagavad-gita class at the Bahulaban prasadam room before lunch even on weekdays, but that noon program seemed to have dissolved when we moved into the new temple building. We had become lax. Bhaktipada wanted all of the Brijabasis to attend the noon service seven days of the week, as well as the evening service. Attendance increased dramatically beginning around 1988.
One of the hymns which Bhaktipada selected for the Noon Service was All Creatures of Our God and King, a hymn with original Latin text by Francis of Assisi (1182-1226). The melody, Lasst Uns Erfreuen, was first published in Auserlesene Catholische Geistliche Kirchengezeng (1623) and was harmonized some three centuries later by the great English composer and organist, Ralph Vaughan Williams (1872-1958). Bhaktipada changed all the Alleluias into Hare Krishnas and modified a few other words here and there.
This recording of the Noon Service was made in October or November 1988 and was recorded by New Vrindaban's resident sound engineer, Mahaprasad dasa, as I recall. Unfortunately, the microphones were not placed well, the equalization was unbalanced, the recording was haphazard, the organ instroduction and the first Hare Krishna refrain were not recorded (for some reason Mahaprasad turned off the tape recorder), and after several decades of storage the cassette tape became flawed with wow and flutter. This is the only recording which I know of.
Despite the poor sound quality, the listener can get a good idea how the New Vrindaban Noon Service sounded during the first year of its inauguration. The English Noon Service continued for six years and was finally discontinued in July 1994.
All Creatures of Our God and King: Lyrics adapted by Kirtanananda Swami Bhaktipada
(1) All creatures of our God and King,
Lift up your voices, let us sing: Hare Krishna, Hare Krishna!
Bright burning sun with golden beams,
Pale silver moon that gently gleams,
O praise him, O praise him: Hare Krishna, Hare Krishna, Hare Rama.

(2) Great rushing winds and breezes soft,
You clouds that ride the heav'ns aloft, Hare Krishna, Hare Krishna;
Fair rising morn with praise rejoice,
Stars, nightly shining, find a voice,
O praise him, O praise him: Hare Krishna, Hare Krishna, Hare Rama.

(3) Swift flowing water, pure and clear,
Make music for your Lord to hear: Hare Krishna, Hare Krishna!
Fire so intense and fiercely bright,
You give to us both warmth and light,
O praise him, O praise him: Hare Krishna, Hare Krishna, Hare Rama.

(4) Dear Mother Earth, you day by day,
Unfold your blessings on our way, Hare Krishna, Hare Krishna;
All fruits and flow'rs that in you grow,
Let them his glory also show,
O praise him, O praise him: Hare Krishna, Hare Krishna, Hare Rama.

(5) All you with mercy in your heart,
Forgiving others take your part, Hare Krishna, Hare Krishna;
All you that pain and sorrow bear,
Praise God and cast on him your care;
O praise him, O praise him: Hare Krishna, Hare Krishna, Hare Rama.

(6) And even you most gentle death,
Waiting to hush our final breath, Hare Krishna, Hare Krishna;
You lead back home the child of God,
For thou, Krishna, the way have trod;
O praise him, O praise him: Hare Krishna, Hare Krishna, Hare Rama.

(7) Let all things their creator bless,
And worship him in humbleness, Hare Krishna, Hare Krishna;
Praise Lord Krishna, the cowherd boy,
He is the reservoir of joy,
O praise him, O praise him: Hare Krishna, Hare Krishna, Hare Rama.
At the end of the hymn, the cantor, orchestra and congregation broke out into a rousing Hare Krishna kirtan with organ, kettledrums and crash cymbal. Devotees in the congregation often played kartals and mrdangas, and also clapped their hands and danced.
When the conch blew, the hymn ended, the English Jaya Om prayers were recited and the Prayers to Nrsimhadeva were sung. Then we settled into a silent meditation for perhaps twenty minutes. After the meditation, Bhaktipada read out loud for five or ten minutes usually from a manuscript of a book he happened to be working on, and then would ask for questions.
Musicians and cantors in this recording include: Hrishikesh dasa on organ, Dutiful Rama on timpani, and cantor Bhavisya devi dasi, plus the congregation of the Cathedral of Understanding, New Vrindaban, West Virginia.
To listen to the New Vrindaban 1988 Noon Service, go to YouTube.
For more about the New Vrindaban City of God, see Henry Doktorski's book, Gold, Guns and God, Vol. 8.
Readers' Letters
November 9, 2022
Hi Henry,
We want to thank you for sending the 1988 recording of the noon service! Listened to it last night. So beautiful! Had to dance to the chorus once again! Thank you for this beautiful music!
Josette and Patrick Garrison
Ithaca, New York