Gold, Guns and God: Vol. 8—The City of God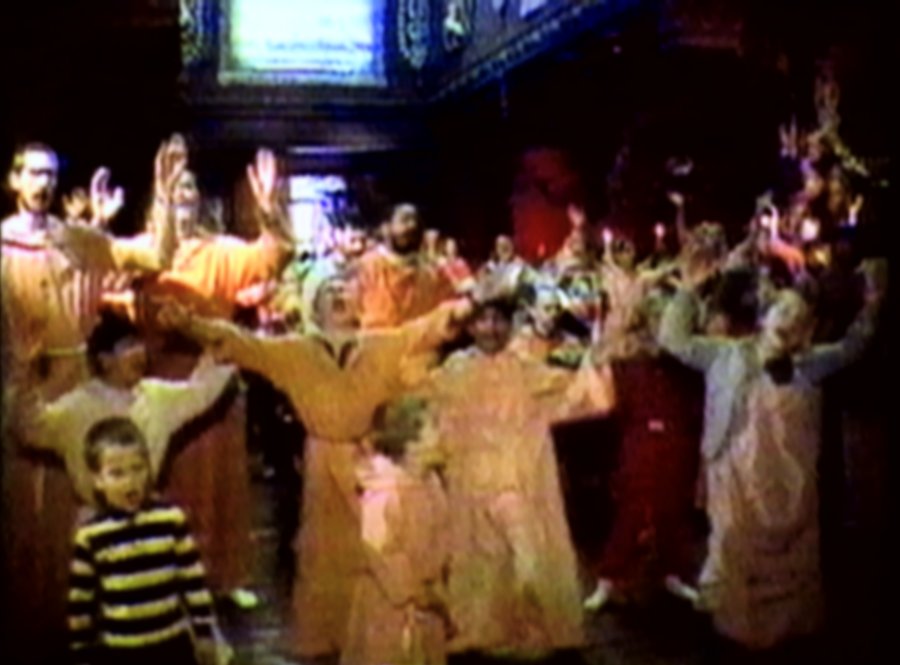 The Evening Service
The Aroti of Sri Gaur Hari
During the ordinary eleven months of the year (outside of Kartik), the standard song for ISKCON evening services was Bhaktivinode Thakur's Gaura aroti, from Gitavali (1893). It began:
jaya jaya goracander aratiko sobha
jahnavi-tat-bane jaga-mano-lobha
dakhine nitaicand, bame Gadadhar
nikate advaita, srinivasa chatra-dhara
In his song, Bhaktivinode described the beautiful worship ceremony of Lord Chaitanya in a grove on the banks of the Jahnavi (Ganges) river which attracts the minds of all living entities in the universe.
(1) All glories, all glories to the beautiful aroti ceremony of Lord Chaitanya in a grove on the banks of the Jahnavi! This Gaura aroti is attracting the minds of all living entities in the universe.

(2) On Lord Chaitanya's right side is Lord Nityananda, and on his left is Sri Gadadhar. By their sides stand Sri Advaita and Srivasa Thakur, who holds an umbrella over Lord Chaitanya's head.

(3) Lord Chaitanya has sat down on a jeweled throne, and the demigods, headed by Lord Brahma, perform the aroti ceremony.

(4) Narahari Sarakar and others fan him with yak-tail fans. Sanjaya Pandit, Mukunda Dhutt and Vasu Ghosh sing sweet kirtan along with other devotees for Lord Chaitanya's pleasure.

(5) Conch shells resound, bells clang, kartals ring and mridangas play very sweetly in that kirtan, so melodic and relishable to hear.

(6) The brilliance of Lord Chaitanya's face conquers millions upon millions of moons, and the garland of forest flowers around his neck shines.

(7) Lord Siva, Sukadeva Goswami and Narada Muni are all there, and their voices are choked with the ecstasy of transcendental love.

(8) Thus Thakur Bhaktivinode envisions the glory of Lord Sri Chaitanya.
Umapati Swami wrote an English translation of Bhaktivinode's song in rhymed verse and personalized it to include references to the unique kirtan which was celebrated at the various temples among the hills of New Vrindaban, which sometimes included the sweet and melodious sounds of Western musical instruments such as guitars, organ, bells, and drums, and which were often personally attended by Bhaktipada himself.
The Aroti of Sri Gaur Hari: English lyrics by Umapati Swami, music by Hrishikesh dasa
(1) All joys, all glories ever more!
How beautiful the holy sight—
The aroti of Sri Gaur Hari,
In New Vrindaban's hills tonight.
(2) Above Gauranga's lotus head,
Srivasa holds an umbrella high.
Gadadhar's on the Lord's left side,
While Sri Advaita stands nearby.
(3) The Lord sits on a jeweled throne
With Nityananda on his right.
The demigods with Lord Brahma
Perform the aroti through the night.
(4) They cool the Lord with cham'ra fans—
Sri Narahari and his friends,
Sanjay, Mukunda, Vasu Ghosh
Lead songs of joy that never ends.
(5) Guitar and organ, bells and drums
Create a sweet melodious sound,
Enchanting all the universe,
Attracting minds for worlds around.
(6) And Lord Chaitanya's shining face
Defeats the moon a million fold.
The forest garlands round his neck
Reflects the hue of molten gold.
(7) Narada, Suka, Siva too
Have lost their speech in ecstasy.
And Srila Bhaktipada is here
For aroti to Sri Gaur Hari.
I set Umapati's text to music, using Psalm Tones Nos. 5 and 8 for the melody. I also wrote an accompaniment for three accordions, which were played by myself, Dhruva, and Dutiful Rama at the evening service at the chapel at Bhaktipada's house, where the brahmachari and sannyasi disciples usually attended. Other musicians accompanied the kirtan with kartals, mrdanga and two large wooden conga drums (a gift from one of Bhaktipada's African disciples) and devotees often danced enthusiastically. The Aroti of Sri Gaur Hari was also performed by devotees at the Radha-Vrindaban Chandra Temple, accompanied by organ, piano, guitars, kartals and mrdanga drums, where the householders usually attended.
This service was often lively and boisterous with dancing and leaping into the air. Bhaktipada wanted to start a religious revival. In a letter to a disciple, he wrote, "In the evening we sing songs of praise with organ, piano and guitar. We are trying to start a religious revival, or renewal in this country. It just has to happen in a few devotees' hearts. Then it will spread like fire. So I am trying to encourage the devotees here to 'get fired up' for Krishna." Apparently the evening service had also attracted some media attention. Bhaktipada wrote, "Our evening program of music in glorification of the Lord has attracted the media and they are now calling us 'The Charismatic Krishnas.'"
Musicians and cantors in this recording (we don't know for sure) probably include: Hrishikesh on organ, Peaceful Swami, Kripamaya or Dhirodatta on guitar, Thakur on piano, and cantor Bhavisya devi dasi (yes, we know definitely Bhavisya is singing!), plus mrdanga and kartal players in the congregation of the Cathedral of Understanding, New Vrindaban, West Virginia.
To listen to the New Vrindaban 1988 Evening Service, go to YouTube.
For more about music at the New Vrindaban City of God, see Henry Doktorski's book, Gold, Guns and God, Vol. 8.