Henry Performs at A World of Accordions Museum/Concert Hall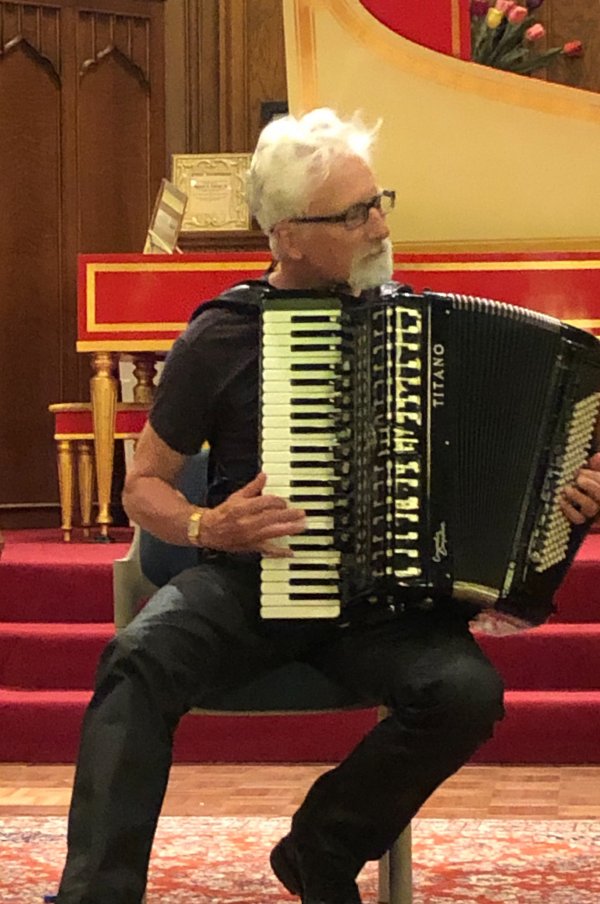 May 4, 2019: To help commemorate World Accordion Day, Henry presented a lecture/recital at A World of Accordions Museum/Concert Hall in Superior, Wisconsin. His presentation consisted of original compositions by the two pioneer piano-accordionists of the early 20th-century: Guido Deiro (1886-1950) and Pietro Deiro (1888-1954). Henry also spoke about the fascinating lives of the two brothers: their youth in Italy, their immigration to the United States, their meteoric rise to fame as Vaudeville celebrity stars, their wives (including Guido's turbulent marriage to Mae West), the end of Vaudeville, the discord between the brothers Deiro, their reconciliation, Guido's descent into poverty and obscurity and Pietro's rise to wealth and fame as a music publisher. Henry performed:
• Guido Deiro: My Florence Waltz

• Pietro Deiro: Quicksilver Novelty

• Guido Deiro: Lido Tango

• S. Falco (later attributed to Pietro Deiro): Beautiful Days (Giorni Belli) Waltz

• Guido Deiro: Sharpshooter's March
Dr. Helmi Strahl Harrington, an internationally-known scholar, author, educator, and the founder and curator of A World of Accordions Museum and Harrington ARTS Center, explained, "World Accordion Day, annually held on May 6, marks the anniversary of the 1829 date Cyril Demian (Vienna, Austria) registered the first accordion patent. It laid the groundwork for evolution and worldwide popularity of accordion-family instruments. The celebration was initated by the Confédération Internationale des Accordéonistes (CIA). Founded in Paris in 1935, it is now the world's leading accordion organization that sponsors the Coupe Mondiale International Competition. . . . The annual event has grown to include international webcasts highlighting an incredible and diverse array of accordion activities from around the world. . . . [Regarding our guest performer, Henry Doktorski:] Brilliant in his diverse experience, Henry is a concert accordionist, recording artists, organist, pianist, composer, conductor, author, educator and chess instructor. A deeply philosophic man, he has written about the Hare Krishna movement and many social aspects of American life. In 2005, he installed the two Deiro brothers' accordions seen in our Special Exhibit area. This was accompanied by a concert and explanatory workshop. [See Museum Celebrates Acquisition with Recital.] His interest in accordion history has brought him to AWAM on several occasions that resulted in publication of his book on the subject. [See The Brothers Deiro and Their Accordions.]"
Henry noted, "It was naturally a real treat to perform once again at Dr. Helmi Harrington's gorgeous concert hall at A World of Accordions Museum. (I last performed there twelve years ago, in 2007.) It was certainly an honor to perform at the World Accordion Day Festival, along with such other great musician friends/colleagues as Stas Venglevski, Joan C. Sommers, Mary Tokarski, Betty Jo Simon, Murl Allen Sanders, Jane Christison, The UMKC Chamber Accordion Ensemble, and many others, including guest lecturer William Merlin Palmer, the son of Willard A. Palmer. The two-day event was chock-filled with performances, lectures and panel discussions from 10:00 am until 9:00 pm. My accordion student, Biagio Agostinelli, flew in from California, and thoroughly enjoyed himself. I look forward to my next visit to see Dr. Helmi Harrington and A World of Accordions Museum and Concert Hall!"
A 43-minute video of Henry's lecture/recital has been posted on YouTube.