Henry and The Enchanted Pig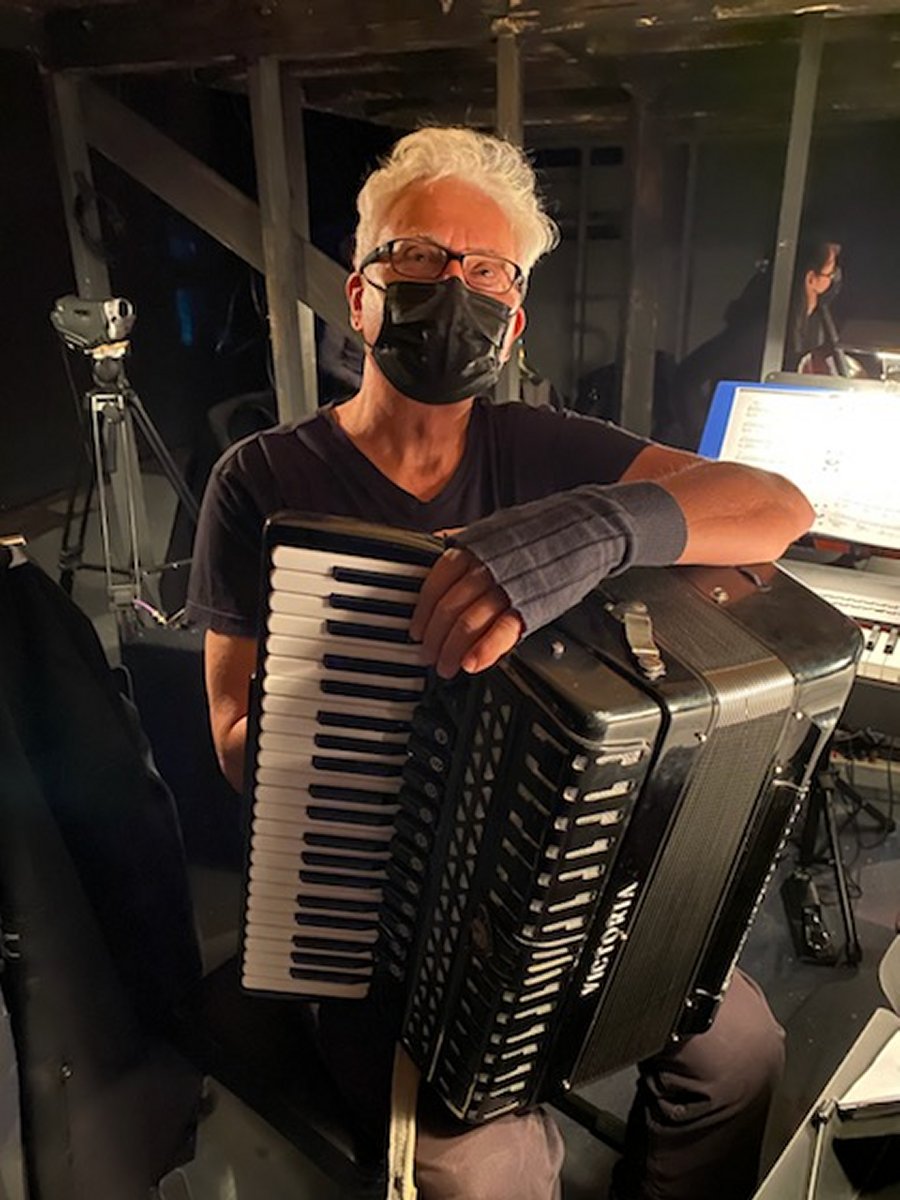 October 22-24, 2021: Henry performed the accordion and piano parts for the Simpson College Music Department production of The Enchanted Pig, an opera by the British composer Jonathan Dove with libretto by Alasdair Middleton. The opera, which premiered in 2006, was performed at the Pote Theater in the Blank Performing Arts Center of Simpson College in Indianola, Iowa. The opera is scored for two sopranos, mezzo-soprano, contralto, two tenors, baritone and bass baritone plus a chamber ensemble of accordion, piano, tenor trombone, harp, violoncello, double bass and percussion (including anvil and spoons). Many of the characters are assigned leitmotifs in the music—that for the pig is a trombone motif in the key of B-flat minor. As noted on Jonathan Dove's website:
"Love makes you happy. Love makes you cruel. It's the old story—King goes off to war, tell his daughters not to go into a locked room containing the Book of Fate, daughters don't listen and one of them ends up marrying a pig. Drawing on Romanian and Norwegian folk tales, this magical family show, which has its trotters in the worlds of opera and musical theatre, has delighted audiences in more than 150 performances in the UK and USA. This dynamic work, with its humour and clarity of lyrical presentation is through-composed for a cast of opera singers and singing actors, and its mixture of fairy tale and the universal appeal of the mythological, with all its range and depth of meaning, is captivating for audiences of all ages."
The production was rehearsed and conducted by Maestro Bernard McDonald, Associate Professor of Music, G. Dewey and M. Maine Larsen Chair in Opera at Simpson College. A native of Dumbarton, Scotland, his studies include piano performance at the RSAMD; opera at the Guildhall School of Music and Drama, London, and CCM; musicology at the University of Glasgow; and a doctorate in conducting from Indiana University.
In a November 2, 2021 email to Henry, composer Jonathan Dove explained, "I used the accordion in The Enchanted Pig partly because I'm simply fond of it: I enjoyed using it in my earlier opera Tobias and the Angel and a later one, Swanhunter; in The Adventures of Pinocchio, I used two accordions (inspired by buskers I once saw in Naples); and I recently wrote a freebass accordion concerto, Northern Lights. I was also attracted to the accordion in this piece because it is a folk tale, and the accordion has strong folk associations. In a small six-piece band, it is extra-useful because it can provide harmony, and a variety of colours."
Henry explained, "It's always a treat for me to travel and play my favorite instrument, especially with other classical musicians. The accordion/piano part (consisting of 142 pages) was a challenge to learn and play, and I've spent a good portion of the previous month learning the accordion and piano parts, but I like a challenge. Maestro McDonald is a superb conductor and music director, and I found it easy to follow his baton. Very clear, and he's also a very encouraging director. Great to work with. Regarding the music, I thought the piano part was especially meditative, and I performed it as a prelude for the October 17th Sunday service at House of Prayer Lutheran Church in Escondido, California."
To hear Henry's Sunday prelude from The Enchanted Pig, go to YouTube.