The Accordion in Frida the Opera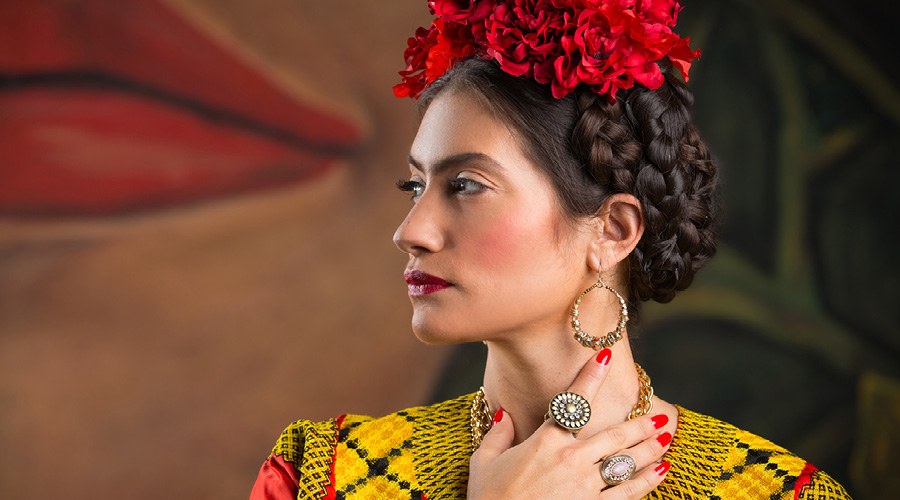 September 2019: Henry has been selected to perform the accordion part in the Atlanta Opera's productions of Frida by Robert Xavier Rodríguez. Music rehearsals begin on September 24th. The performances are scheduled for October 5, 9, 11 and 13. To purchase tickets, go to Atlanta Opera website.
USA Today noted, "[Frida is] an exciting, long overdue musical biography. Raw, wonderfully dangerous theater."
The Atlanta Opera's website explains, "[Frida is] a fantastical theater piece combining pantomime, puppetry, movement, and vocal performers, Frida enlists mariachi instruments to heat up this blend of tango, zarzuela, ragtime, 1930s jazz, and vaudeville. The story conjures a vivid portrait of the courageous revolutionary and magical realist Frida Kahlo as she struggles with her torrid marriage to Mexican muralist Diego Rivera."
---
ACT I
Scene 1—The Street outside the Escuela Nacional Preparatoria, Mexico City, 1923. Three Calaveras, death figures from Mexican folklore, introduce the scene. Schoolgirls enter. They are accosted by the unruly male gang of Cachuchas, led by the young Frida Kahlo and her boyfriend, Alejandro. Frida's sister, Cristina, upbraids Frida for her boyish behavior. The Cachuchas chase off the schoolgirls, and Frida watches as a Mother whose child has died begs a Petate (straw mat) Vendor for a mat to bury her son. Frida is moved by the poverty she sees. She then witnesses a celebration of the Zapatista movement and takes heart in the promise of the revolution.
Scene 2—Frida's Room, Coyoacan. Frida tells Cristina of her expectations of life upon coming of age.
Scene 3—The Bus Crash, Mexico City. Frida and Alejandro kiss and board a bus. The bus crashes, and the scene is enacted by the Calaveras to the tune of a corrida. Frida is severely injured, but she resolves to live and to begin her life as a painter.
Scene 4—Diego's Mural at the Preparatoria/Wedding. As Diego Rivera paints, his wife, Lupe Marin, poses. Frida and Cristina enter, and Frida presents her portfolio to introduce herself to Diego. Diego is fascinated by Frida. He leaves Lupe to ask Frida's father, Guillermo, for Frida's hand in marriage. At the wedding ceremony, Lupe dramatically appears and makes a futile attempt to win Diego back.
Scene 5—Diego's Studio. Frida critiques Diego's work as he paints a portrait of Emiliano Zapata. They are interrupted by revolutionaries, communists, businessmen and government bureaucrats. All denounce Diego and tell him his career as an artist is finished in Mexico. He fires his pistol at them, and the Riveras resolve to try their luck in the USA.
Scene 6—New York City. Frida and Diego attend a dinner party hosted by the Fords and the Rockefellers. Diego enjoys the adulation, and Rockefeller commissions a mural. Frida ridicules the rich in "Gringolandia" and gives a spirited interview to a group of reporters.
Scene 7—The RCA Building, Rockefeller Center, New York. In a split scene, Diego works on his commission, Man at the Crossroads, while Frida paints. She is in despair at being unable to bear a child. Rockefeller berates Diego for displaying his communist sympathies by including Lenin in the painting. The mural is destroyed, and Frida miscarries. She persuades Diego to return to Mexico.
ACT II
Scene 1—San Angel, Mexico. At home in adjacent blue and pink houses, Frida expresses her joy at being home in Mexico. Diego is miserable. Frida chooses to ignore the parade of women through Diego's house, but she is horrified to discover her sister, Cristina, among them.
Scene 2—San Angel, Mexico. The communist Leon Trotsky and his wife, Natalia, join the Riveras in Mexico. Diego and Natalia confront Frida and Trotsky over their mutual affection. Cristina expresses her guilt for betraying Frida. Frida and Diego come to the realization that their differences cannot be reconciled.
Scene 3—Frida's Bath. Frida retreats to the seclusion of her bath and the comfort of a female lover.
Scene 4—An Art Gallery/New York Apartment of Nicholas Murray, Photographer/Back in Mexico. Diego meets with the American actor Edward G. Robinson and sells him some of Frida's work. Diego then urges Frida to pursue her own career, without him. Frida models for her lover, and talk to him as he photographs her. Frida and Diego decide to divorce.
Scene 5—Frida Imagination. Haunted by her physical and emotional pain, Frida joins the Calaveras in depicting imagery from her paintings The Broken Column, The Little Deer and Self Portrait With Monkeys.
Scene 6—Finale—Frida's Hospital Bed. In a delirium, Frida relives episodes of her life, including the assassination of Trotsky, of which she and Diego were accused. Diego returns and sings to entertain her, finishing with a proposal to marry her again. She agrees, saying he must realize that she is now her own creation, independent of him. The Calaveras and the entire cast join her, singing and dancing in a joyful celebration, and she departs with a cry of "Viva, la vida, alegría, and Diego."