Henry serves as consultant for Acheophone Records: Swede Home Chicago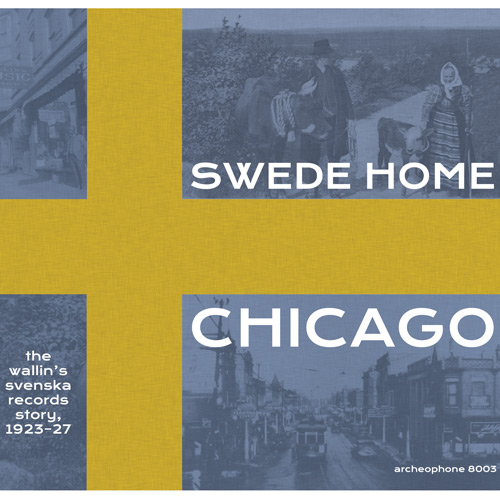 August 2021: Henry served as consultant for Archeophone Records' new release of a double CD complilation originally released on record discs by Chicaco-based Wallin's Svenska Records (1923-1927). Richard Martin, owner and producer for Archeophone Records asked Henry to listen to seven different tracks which featured accordion, to check to see if remastering was done properly. The double CD features Swedish folk music including accordion, violin, piano, handbells, plus vocal soloists and choir singing in Swedish.
The CD booklet notes explain: "Chicago, the most populous Swedish city after Stockholm, was also home to the first record label founded by a Nordic immigrant to the United States. Gustaf Waldemar Wallin, a former crofter from Sweden's rocky western coast, owned a music shop and launched Wallin's Svenska Records, issuing 28 ten-inch shellac discs (56 tracks) from 1923 to 1927. Performers ran the era's gamut: raucous vaudevillians; operatic tenors; accordion dance bands intermingling venerable folk tunes with hot jazz; sedate classical duos and novelty bell ringers; rousing vocal quartets and massed choirs; seasoned professionals and moonlighting amateurs. Further, Wallin's discs were recorded by two important entrepreneurs with Chicago studios: evangelist Homer Rodeheaver, who made acoustic records, and Orlando Marsh, who pioneered in the field of electrical recording. Comprising two CDs remastered from rare discs, Swede Home Chicago includes a richly illustrated 76-page booklet—co-authored by folklorists Jim Leary and Marcus Cederström, and Archeophone's Richard Martin—featuring an essay on the label's history, performers' biographies, track notes, Swedish lyrics, and English translations, combining to illuminate a vibrant bygone musical scene that expands our understanding of America's perpetual musical pluralism. Produced in cooperation with the Mills Music Library and the Center for the Study of Upper Midwestern Cultures at the University of Wisconsin-Madison."
Henry noted, "This is the third project I've had the pleasure of working on with Richard Martin. Our first collaboration was the four-CD series, The Complete Recorded Works of Guido Deiro, in which I served as the writer of the CD booklet notes. More recently, I also served as consultant for Archeophone's 2018 release: Alpine Dreaming (1920-1924), which also included tracks with accordion.
For more about this double CD album, and to listen to soundfiles, go to Swede Home Chicago.
For more about The Complete Recorded Works of Guido Deiro, see the four links below.