The Life Mission of Count Guido Roberto Deiro (1938-2019)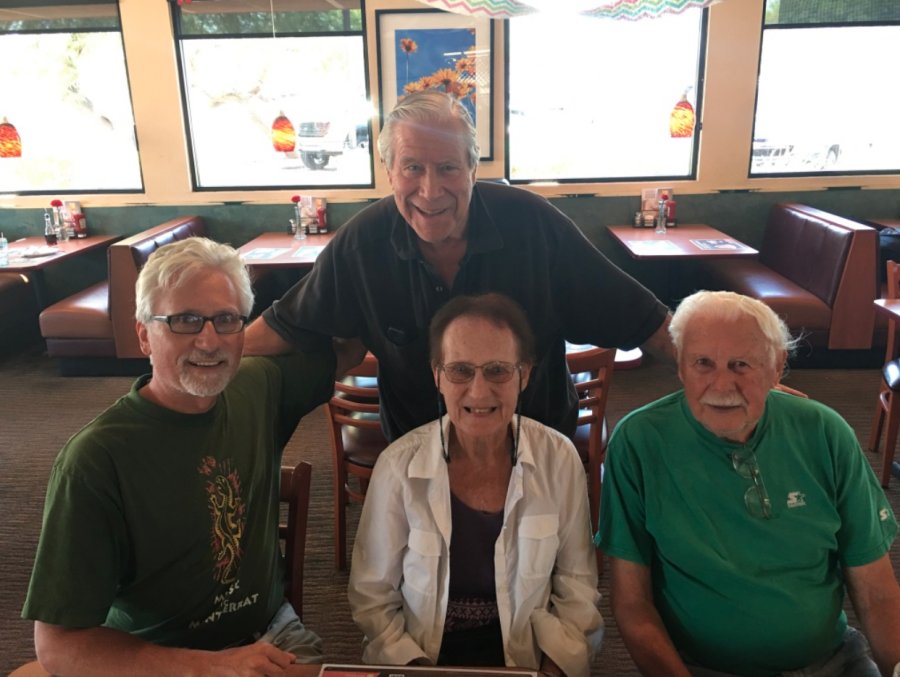 September 12, 2019: Count Guido Roberto Deiro, the son of the famous vaudeville accordionist Guido Deiro, passed away in Las Vegas. He was 81 years of age. Henry and Guido Jr. worked together on many projects regarding his father, and Henry has written the following tribute to his friend:
Nearly two decades ago, in March 2001, I performed in a recital at the City University of New York hosted by The Center for the Study of Free-Reed Instruments and The John D. Calandra Italian American Institute. The organizer of the event, Alan Atlas, asked me to play solo accordion works by the three great pioneers of the accordion in the early twentieth century: Pietro Frosini, Pietro Deiro and Guido Deiro. Of course, I had played a great deal of music by the two Pietros, but although I had heard of Pietro's brother Guido, I had never seen any of his music during my career. Luckily my friend Stanley Darrow, a prodigious collector of accordion music, had some of Guido's music in his extensive library, and I played Guido's My Florence Waltz and his Egyptian Fantasy at the gala Manhattan event.
Immediately following my performance, an elderly, white-haired, heavy-set, distinguished-looking gentleman wearing a tuxedo with a sash covered with medals came up to me and grabbed my hand. During a long and vigorous handshake, he exclaimed, "Bravo! Bravo! I have never heard anyone play my father's music as well as you since my father passed away fifty-one years ago! I want you to record my father's complete original compositions for accordion, and I will pay for the studio recording fees!"
This was my first meeting with Count Guido Roberto Deiro, and the beginning of a decade-long collaboration which ultimately helped reawaken the world to the greatness of Count Guido Deiro (1886-1950). Guido Jr. told me, "As a boy, I didn't really appreciate the greatness of my father. He passed away when I was still quite young. But now that I've accomplished so much during my life, I have only one more pressing desire: I have made it my mission to set the record straight about the accomplishments of my father, which have been lost during the passing of the last half-century."
During the next ten years, Guido Jr. and I worked together on a half-dozen projects to help educate the world about the accomplishments of his father.
2001: We created a website with hundreds of pages, hundreds of images, and dozens of sound files, for Guido Deiro

2003: I recorded Vaudeville Accordion Classics: The Complete Works of Guido Deiro, a double CD released by Bridge Records, which received excellent reviews, including a review in the prestigious audiophile magazine, Gramophone.

2005: I wrote a book which was published by The Classical Free-Reed, Inc., The Brothers Deiro and Their Accordions, a biography of Guido and Pietro Deiro.

2005: I presented a workshop and recital at A World of Accordions Museum and Recital Hall in Superior, Wisconsin, during which the museum celebrated the acquisition of two historic accordions formerly owned by Guido and Pietro Deiro. The founder and curator of the museum, Dr. Helmi Harrington, wrote a glowing review.

2007-2010: I wrote the CD booklet notes for The Complete Recorded Works of Guido Deiro, a four-CD anthology of Guido's own recordings from Edison Blue Amberol cylinders (1911), Columbia 78 RPM records (1911-1926), and the 1928 Vitaphone sound film, re-mastered and released by Archeophone Records.

2008: I edited and wrote an introduction for The Complete Works of Guido Deiro, a 192-page printed music book published by Mel Bay of forty-five of Guido's original compositions for accordion.

2019: I performed a solo lecture/recital about the lives and music of the two brothers Deiro at A World of Accordions Museum and Recital Hall at the "World Accordion Day" festival. A video of my lecture/performance was posted on YouTube.
Count Guido Roberto Deiro also accomplished other notable achievements in memory of his father.
c. 2000: He funded the restoration of the 1928 Vitaphone sound film of his father performing. (Part 1) (Part 2)

2001: He donated the substantial Guido Deiro Archives to the City University of New York.

c. 2010: He wrote a screenplay for a proposed movie about his father's life.

2019: He wrote and found a publisher for his book about the story of his father and Mae West, titled Mae West and the Count: Love and Loss on the Vaudeville Stage.
I am very sorry to hear of Count Guido Roberto Deiro's passing, but I am very happy that Guido was able to accomplish what he told me that he wanted to do nearly two decades ago: to educate the world about the great accomplishments of his father. With the publication of the story about his father and Mae West just a few months ago, Guido Jr. had achieved his goal. His mission had been accomplished.
I am grateful to have been a part of his life mission. During one of our last telephone conversations (I think it was February 2019, as I usually called him at least once a year for his birthday in February), he went on for about five minutes telling me that he couldn't have done all this without my help. He was very appreciative of my efforts to help him educate the world about his father's accomplishments. Guido Jr. will be missed. May he rest in peace.